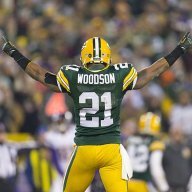 Joined

May 15, 2017
Messages

434
Reaction score

33
I'm sorry but Bush (27.0% of the snaps played) and Simmons (33.9%) didn't play enough to be considered a huge factor in the success of their respective defense.

The Ravens defense was successful despite Queen playing not because of it.

I'm not opposed to the Packers spending an early rounder on the position if the right situation presents itself but there are more important positions to be addressed in my opinion.
I'm sorry but snap count can be misconstrued. We can all agree that Rashan Gary is pretty talented but his snaps were limited due to rotation. Some of his lower snap counts in games last season were 30%, 26%, 43%, 41%, 28%, and 40%. I don't think any of us would say that he was a non factor to our D in any of them because of his limited snaps unless you watched each game and came to that conclusion yourself.