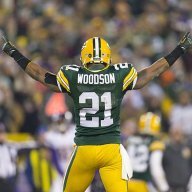 Joined

May 15, 2017
Messages

434
Reaction score

33
Neither Devin Bush (who played less than 300 snaps) nor Patrick Queen (who was terrible as a rookie) had anything to do with the Steelers and Ravens finish in top three on points allowed though. Kenneth Murray played less than 400 snaps for the Cardinals as well.

It's true the Buccaneers' duo of Lavonte David and Devin White gave the Packers some fits but they weren't the main reason Tampa finished eighth in points allowed either.
Patrick did play bad but let's not act like he was a non factor. The guy still had over 100 tackles, 3 sacks, 2 FF, and an INT. We have to look past the individual stuff and not down play what these guys do for the overall D. You cant tell me that a guy flying around the field with 4.4- 5.0 sec speed doesn't give you coverage sacks and turnovers because the QB can't hit the easy outlet. Sorry but Bush has been a beast since he's entered the league and was a monster before he got hurt. The others are still growing but you'd be silly to think that none of them had anything to do with those Defenses being so good.