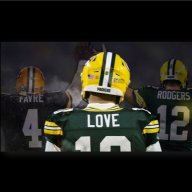 Joined

May 2, 2012
Messages

12,222
Reaction score

3,872
Bored, and sick of the Rodgers saga...let's put some "ink" down on some projections or predictions for what I think 2021 holds for the draftees/UDFAs of 2020...
JORDAN LOVE
- Plays a roller coaster of a pre-season, going to in at least one outing put together an amazing game and folks will get the buzz to why maybe Gute liked him. He will also however struggle...so pretty much a rather predictable "rookie" pre-season. I expect him to do better than many believe though. He won't see playing time unless Rodgers is not active in one way or another for a game.
AJ DILLON
- I think we see Dillon end up somewhere (without Jones injury) between 125-150 rush attempts. He'll average minimum 3.75 which will put him just north of 500 yards or so. The most interesting aspect of Dillon I predict will occur is like in his limited use we saw, he'll use his hands on 15-25 receptions as well. Dillon's sophomore season is going to see a lot of snaps, and he is going to be an excellent #2 behind Aaron Jones.
I'll predict a line of 140 rushes for 525 yards, 17 receptions for 120 yards and will altogether chip in 7 TDs (6 rushing and 1 receiving).
Dillon is a tough cookie to figure out and predict though I'll admit - used to heavy use and fully capable of such - don't be shocked if he sees more carries than Jamaal ever did and flirts with closer to 200 rather than the 140 I predicted - for reference Williams never rushed for more than 150 times save 153 times in 2017.
JOSIAH DEGUARA
- We saw a glimpse of all the action/snaps he was getting VERY early on in 2020, and then the injury. Josiah is going to see around 20 snaps a game IMO and will constantly be part of the offensive cogs that make the MLF system flourish. He will be a guy that shouldn't be measured as a success based on his box score - albeit at times he'll appear - no his impact will be in blocking, positioning and being that support cast member doing everything else for others and the system. I'll place a line on him of
2
5 receptions for 225 yards and will chip in a TD.
KAMAL MARTIN (AND KRYS BARNES)
- Gonna throw both into this slot as I see them both becoming more what they showed last year.
I predict both will end the year with 100+ tackles, Barnes is going to be much better in coverage than many thought and each are going to chip in a couple sacks a piece as well.
Neither of these guys are going to light the world unfire in 2021, but they will continue to be serviceable at worst and dependable at best with flashes of good sprinkled throughout.
JON RUNYON
- Chances are Runyon will start a few games or earn a starting nod in 2021 for us after a SOLID 2020 rookie campaign where he was called upon more than we'd probably have hoped for. He saw 190 snaps last year, while I believe he could start depending how we handle the beginning of the season with Bahk out I'll say he for the most part serves as primary back up at the guard spots but will see
300 snaps this season or so.
JAKE HANSON
- I think this is a pick we never see come to the gameday roster unless something unpredictable happens...he was a guy I loved in 2020 pre-draft for Day 3 - but Meyers is a gameday ready center right now out of college and I suspect that is precisely who will be our gameday 1 starter (with Jenkins and Patrick as backups on gameday offering more versatility than Hanson). Hanson remains a second season no doubt on our practice squad though I bet.
SIMON STEPNIAK
- He feels like to me who will become the next Yosh Nijman, but I don't know where he is going to wash out for us or if he simply washes out. We added 4 solid OL this draft period (Meyers, Newman, Van Lanen and Cronk a UDFA with great experience)...there simply are too many OL around which I feel should out produce Simon for this year - his best chance is PS in 2021 and illustrate promise.
VERNON SCOTT
- The fact we didn't draft a pure Safety this year had to make Scott smile (Uphoff an UDFA is a legit darkhorse though)...but Scott being active for 15 games last year is a promising sign that we like him. While no one wants to see him delve into a starting role, it would appear Scott's roster spot is his to lose and I don't think he does - he sees the roster, plays STs and sees only deep limited action with solid starters ahead of him on the depth chart.