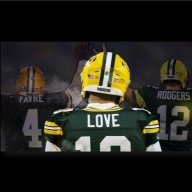 Joined

May 2, 2012
Messages

11,631
Reaction score

3,488
So a reflection on this class and discussion occurred here late last season:
https://www.packerforum.com/threads/2019-draft-class-beginning-to-prove-it-in-2020.83791/
Now like I did for the 2020 class, going to take a stab at predicting the 2019's third NFL season coming up. Many argue that this season is when most franchise's crystalize their opinion of precisely what you have in a player - good or bad. Few players are still unknowns heading into their fourth seasons, with fewer yet making massive change of directions career wise at that point (happens just not a lot of shocking suprises).
Rashan Gary
- Well he basically doubled his snap count to just shy of 45% this last year, played even higher in the playoffs and illustrated time and time again just why the team was so high on him and "wasted" a draft pick on him while we had both Smiths and Fackrell his rookie year. He's easily going to eclipse 50% of the snaps this season - as he is too good not to find ways to get him on the field for us. Last year had 5 sacks, 34 tackles, 5 TFLs and 11 QBHits...
I believe he ups across the board by about 25-30% - I'll predict he sees around 55% of the snaps, 7.5 sacks, 44 tackles, 8 TFLs and 19 QBHits

Darnell Savage
- Dude has played over 80% or more of snaps in the two seasons he's been here. Honestly, no one could have expected quicker and as good of play as he has provided and he is still growing for sure. I see a lot more of the same consistent high level play from him with nearly mirrored stats except maybe a bump in INTs slightly and I think he slips another sack in there as well. Last year he had 75 Tackles, 4 INTs, 12 PDs, 1 Sack -
I'll go 80 Tackles, 5 INTs, 15 PDs, 2 Sacks this season.


Elgton Jenkins
- There is nothing needed to be said. He is arguably top 5 OL under 26 years of age in the league IMO and will continue to be. He will start all 16 games barring injury, will do so for us at minimum two different spots and grade out high yet again.
Kingsley Keke
- Here is the guy I have circled for the biggest increase in performance/snaps/development of this group for this upcoming season. That is saying something for a guy that already made a massive jump having never started a game first year, to 9 last year. 9% snaps first year to 40.6% second year. Doubled his tackles and play in many eyes. Put forth a 2020 campaign with 21 Tackles, 4 Sacks, 1 FF, 3 TFL and 8 QBHits -
I believe Keke sees the field about 55% or more of the snaps, 33 Tackles, 5 Sacks, 5 TFL and 12 QBHits this year.

Ka'Dar Hollman
- Ka'Dar I think is a guy with a ton of promise, but it is going to be him or Josh Jackson I think this incredibly competitive DB room forces to try and find a home elsewhere. ATM, I don't think Hollman makes the season here. I do like his odds at resurrection elsewhere though.
Dexter Williams
- Dexter to me is that type of RB that holds down the #4 spot his entire career when a team is healthy, and is called in and trusted with reps when injury hits. Patrick Taylor and Kylin Hill both have more to offer than Williams I believe for MLF's system, but I'm sure if we can stash him on PS we will given his familiarity.
Ty Summers
- Summers is fighting to serve as the team's depth option and ST contributor to cling to a spot on the roster. If Campbell, Barnes and Martin all appear strong and healthy heading into the season - we could see it come down to ST play on who is kept in the LB room behind McDuffie who I think gets minimum one year here given draft...Burks and Summers battle for a spot is intriguing. In the end Summers I think stays and has experience called to play and "hold" average fort down for us a few times. Depth guy in 2021.
Your predictions and thoughts?