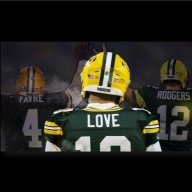 Joined

May 2, 2012
Messages

11,662
Reaction score

3,505
Everyone knows I'm on the Newsome or Samuel train (however Stokes intrigues me too) at #29. Essentially our defense has our greatest needs, anyone believing otherwise better say Offensive Line or keep their mouth shut LOL.

That all said, I've been one to bang the drum for a few Tackles in the draft at that Day 2 level....think Brown, Smith, Christensen, Little types...but honestly while there are no guarantees personally I don't know if I'd place a serious bet if asked to that they come in and can start Day 1 at either LT while Bahk is out or RT at a high level.

That list for me personally of pure Tackles is:

Sewell, Slater, Cosmi, Mayfield, Eichenberg, Radunz*, Darrisow, Jenkins - and to be fair I love Dillon Radunz, but I know many feel the same of him that say I do of Brown or Smith.

This becomes a large problem in that unless we trade around, none of the above should or most likely will be there at #62.

In this draft (2021) specifically I find myself constantly desiring to leave the 4th round (5 picks presently) with 2 OLs if we go CB at 29 or 2 CBs/DBs if we go Tackle at #29. Problem I'm presently facing is the dilemma of which is the better scenario for the team build?

I don't personally see as massive of a fall off in the Corners like I do at Tackle, yes both will have starters found Day 2 and arguably even to some degree Day 3 out the gates...but I have much more faith in finding a hopeful (nothing guaranteed) plug and play Cornerback in that 62-140 picks range than I do a Tackle personally.

That leads me to my latest weekly mock. I find myself ignoring more and more what I think we might do and do more what I'd do. Here is the latest:

#29 - Samuel Cosmi - OT - Eichenberg and Radunz were both available as well...I only see Eichenberg and Cosmi as first round grades personally and eventually chose Cosmi. Tons of starting experience at both Tackle positions, his now available RAS score was a 10.00 - If him and Newsome were both setting there I would have the toughest decision choosing - luckily Newsome was gone in this mock.

#62 - Paulson Adebo - CB - The what once was CB2 on some high high ranking draft analysis boards for the 2020 draft, showcased his chops at the pro day. His 40 time speed dipped below 4.4 which shocked me, as while he plays fast, I didn't know how well his straight line would be. It was him or one of the top slot guys in Molden here...Sullivan is coming back...for now I'll lean to grabbing outside help and I do believe Adebo is a 2nd round level grade.

#92 - Quinn Meinerz - iOL - I'm there finally like some others. This cat is special, and I believe he instantly solidifies our OL, allows Jenkins to play where he is best suited at, Turner can be that swing guy at guard when not needed at a Tackle position, with Runyon there to rep at Guard if needed when Turner slides. I like Quinn to come in as Center but could see him groomed as a Guard depending how or where our OL washes out. Some will scream overkill this early, but I'd argue our offense was INSANELY efficient because of our line and our HoF QB. Ensuring that line does more for us than any RB or WR weapon picked up.

#135 - Daelin Hayes - Edge/Down - After watching him handle himself slid inside at Senior Bowl I LOVE him as a hybrid replacement/swing type guy for our front - easily can put a hand in the dirt and be comfortable, or stand up and even do some coverage calls in the flat. Not a pick of need but a pick to my board here.

#142 - Kary Vincent Jr - CB - Slot/Hybrid future I see in this guy. Intense speed is attached to him, he just needs some serious polish in his play style to not have to rely on his speed to make plays. I could see him push Sully for that slot spot out the gate.

#173 - Bobby Brown III - iDL - Run defender with solid anchor. His pressure skills and rush packages need some coaching and sculpting but easily can provide a solid run defense assistance in his early years. I have him rated a touch higher than expecting him here, but easily within reason to see him here.

#178 - Tre' McKitty - TE - His senior bowl illustrates a TE ready to showcase what he can do, despite never really being used to his fullest potential in college. Willing blocker and skilled receiver...he's kinda that mix between Lewis and Tonyan....I just hope that means he stays middle of the road. Well worth the pick at this spot in the game, especially if the team moves on from Lewis.

#214 - Josh Ball - OT - The tackle from Marshall I've circled time and time again as one of my Day 3 favorites of this tackle class, or offensive line class in general really.

#220 - Simi Fehoko - WR - The big tall WR that can fly...but has never produced at Stanford. I'm very mixed on Simi and it is tough to decide where he goes. His measurables scream a Day 2 guy, his production screams Day 3 borderline guy. I nab him here this late for what he might be, more than what he is.

#256 - CJ Verdell - RB - This short but built well (amari rodgers esq) runner attacks holes violently, to his detriment with wreckless abandonment sometimes. He offers a skilled pass game back play coming from Oregon and will be a few years away from being asked to be a big contributor, but his time spent maybe as our #3 could be immensely valuable watching two very different backs work in front of him.


Personal Takeaways:

The Negatives:
For me zero linebackers taken is TOUGH for me to swallow...and honestly Simi at #220 I could easily justify changing to Eubanks, Britt or Deng and not picking a WR at all and feeling that builds a better team than the flyer on Simi.

Also the dice roll at CB, and I already know some are going to say a reach. Yes I believe Paulson Adebo is the real deal, that said Covid messed up his 2020 plans...and yes you are drafting a surefire prospect to many, but a prospect nonetheless with zero live snaps of late. Vincent or could easily have been a Shakur Brown type guy at that spot too, also a dice roll vs expectations or needs along our secondary. HIGH ceiling type guy for sure though.

The Positives:
I leave this draft no longer worried about the offensive line and defensive front + my hopes are raised at CB albeit realistically. We drafted a Day 1 starter on the outside of the OL and a Day 1 starter on the inside of the OL in my opinion. The cheapest way of going about fixing the departure of Linsley, cut of Wagner and injury of Bahk - All the while adding two CBs, that I'd bet one pans out like we hope.

The future and depth build of 2022 is underway with McKitty, Fehoko and Verdell. All 3 illustrate high potential and roles - with all three coming into a situation of not needing to deliver right out the gate, a luxury rarely afforded a rookie at skill positions.
Last edited: