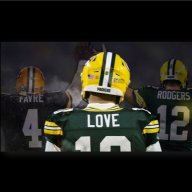 Joined

May 2, 2012
Messages

12,893
Reaction score

4,297
So of course a LOT could change, and will change but I'm nearly in full blown draft mode...won't be till Packers season is officially done though.

Now I will say I'm operating under the impression Rodgers and Gute have mended some major fences and I feel as if he is back next year....so keep that in mind.

No Trading in this one...

Round 1 / #32 - Linebacker - Nakobe Dean 6'0' 225lbs Georgia
Nakobe is a guy I have pegged as possibly there at #32...but could go as high as 20 or so in my mind. He is special. An incredibly reactive captain in the middle type linebacker that has the speed and agility to wreck offensive gameplans. Some would say a tick undersized, but remember folks Devondre Campbell is 6'3' and listed at a mere 232. Nakobe's profile and frame probably will be around that same weight in the NFL. I personally don't think we get Campbell back this year, and Dean is a real true swing and providing Barnes with that powerful and athletic counterpart he had in Campbell - he won't be able to replace Campbell's 2021 season performance (rarely awesome honestly) BUT this is an incredibly well coached and NFL ready LB that I think will quickly grow into a centerpiece of the Defense.

Round 2 / #64 - Safety - Lewis Cine 6'1' 200lbs Georgia
I struggled to pick Cine...merely because I love what Amos and Savage can be...however future cap issues who knows what happens PLUS no one has truly provided pressure or competition to either of them and their roles. Cine is too special of a safety to overlook if there at #64 and when I saw that no WR caught my eye that was left at this stage in the draft it was Cine or a TE in Likely or Ruckert...with consideration to EDGE Kingsley Enagbare whom if you saw my last draft I like his projection. Cine however is a versatile safety who has gone up and succeeded against top flight offenses his entire college career...very comfortable dropping down and working underneath zones and quickly diagnoses plays to cancel out YAC.

Round 3 / #96 - Defensive Lineman - Perrion Winfrey 6'4' 297lbs Oklahoma
A JUCO transfer to the Sooner program, he quickly worked his way into the starting lineup and was a starter for his last two seasons at Oklahoma. Recorded over 5 sacks his senior year where he was asked to play everything from a 0 - 5 technique...which could lead him to really any role if added to the GB DL room. Watch his tape and you will love his first step burst, the issue will be controlling that as there is tape to be found of him not staying disciplined. Excellent piece to add and assist Clark, especially since Lowry will probably be a cap casualty possibly.

Round 4 / #134 - Wide Receiver - Christian Watson 6'5' 208lbs North Dakota State
Let me introduce you to a WR many may have no clue of if you never pay attention to the FBS, that is Mr. Christian Watson. This young man comes from one of the more consistent programs in college football, albeit the FBS level - and while NDSU has produces some NFL prospects, wide out hasn't typically been one of them. Christian is a freak for his size, which at 6'5' makes him stand out alone....add in a confirmed 4.44 (in high school) speed and for his size his speed is insane. Many feel he has gained a tick of speed and will easily beat that 4.44 figure and may slip into the upper 4.3s depending. His route running will need that NFL polish, but an excellent high ball catcher and exceptionally dangerous once the ball is in his hands....with the bonus of being an experienced and dangerous kick returner as well. I personally love what possibly Aaron Rodgers could get out of such a prospect. I would have strongly preferred a WR earlier....but Dean falling to us at #32 and Rodgers back was too much to pass....now is when board and pick line up and made Watson the first WR nabbed.

Round 4 / #136 - EDGE - Deangelo Malone - 6'4' 240lbs Western Kentucky
There is a strong possibility Green Bay could be looking at a 2022 without either Smith back (Z for sure is done IMO). That means the pool of EDGE guys will most likely be stepped into for the draft (maybe multiple times). DeAngelo IMO is clearly one of the best front 7 defenders in the entire C-USA that is in the draft. Was the 2019 C-USA DPOTY and repeated that feat again in 2021. Dude racked up 16.5 tackles for loss, 88 tackles and eight sacks! His profile projects to the next level as an early career pass rush sub package type player, with a ceiling that points towards a possibly every down OLB/EDGE - however IMO will need to put just a tick more muscle on his frame and grow in his edge setting technique and abilities to get to that point.

Round 5 / #173 - Offensive Tackle - Obinna Eze - 6'8' 315lbs TCU
A Nigerian native with a tremendous amount of starts at Memphis (where he was before transfer) and then at TCU. His length is incredible and when paired with his size he is an imposing protector and enforcer when on the attack. Not incredibly "quick" with his pass protection twitch, but his agility and speed is deadly when called upon to run block and attack the second level. I foresee a shot at having another Yosh type project worse case that takes a few years to hone his craft into his massive frame OR if he handles the switch he could be given a chance to compete at RT as well having excelled at LT in college.

Round 6 / #224 - Wide Receiver - Velus Jones Jr - 6'0' 190lbs Tennessee
Spent seasons through 2019 at USC before going to Tennessee for 2020-2021. He worked primarily out of the slot and a brunt of his targets were 10 yards or in as his quick feet and solid route abilities cause problems for opposing coverage to keep him covered in tight areas. Despite the short target range, his 13.0 and 12.7 average yards per catch illustrate how he excels once that ball is in his hands. Extremely savvy in his juke and acceleration moves at times remind me of watching Moore from Purdue (last year's draftee). One thing I liked when analyzing this past season was in big games he did not become irrelevant, as a matter of fact that was when usually you'd see him on the statlines more. Against Georgia, Kentucky, South Carolina, Alabama, and Purdue he found the endzone. He also had his best reception games (6 or more, doing that six times) against Purdue (10!), Georgia (8), Ole Miss (6), South Carolina (6), Mizzouri (7). Like Christian Watson, Velus is an experienced Kick Returner...having broken 700 total return yards twice in his career early on, and nearly again this past year at TN where he also had a returned TD of 96 yards.

Round 7 / #249 - Interior OL - Ben Brown - 6'5' 315lbs Ole Miss
Brown started at RG for the Rebels...however over the time there has experience starting at both tackle spots and even center. A versatile cog like him against some excellent competition in college is worthy of watching your boards for. He is a Day 3 to UDFA type guy, and with our OL depth I want to force him to come here not get to pick another location where he may have a better shot at starting quicker.

Round 7 / #255 - Cornerback - Allie Green IV - 6'3' 202lbs Missouri
Late round, I'm going to crack at a tall, strong cornerback that excels on the perimeter and if we're honest being a little bit of a **** to the opposition both by chirping and a physical edginess he plays with that can truly get in a WR's head. A press man coverage corner that prefers to punch and offset his opponent's ability to even explode to the next level...and his strength if he lands such an arm punch will displace all but the largest framed receivers. The con in his game comes with all of that positive aggression as his play outside the contact window can lead to some of those yellow cloth things flying around...however if he can figure how to harness his attitude and aggression a little more at the next level - he for sure could have a career in the NFL given his frame and athleticism.


Biggest negative takeaway of this draft if it plays out this way: no promising sure things when it comes to offensive weapons in 2022. Yes Jones Jr. & Watson both exhibit serious returner potential which could produce early on, but I'd guess if a betting man they won't be ready for a massive role in year one. Of the two Velus could potentially see the field more although isn't the most skilled of the two solely because if Cobb isn't back and Amari continues to grow slower than we all hoped Velus could sneak into a slot role quite quickly.

Biggest positive takeaway...honestly the defense cannot help but to have gotten better. Four of the first five picks all are those "fell to us" type guys at their respective pick spots...and all will battle for snaps, Dean arguably would walk in as one of our starting LBs and don't be shocked if Malone would show Rivers and Garvin some serious heat for depth at OLB.