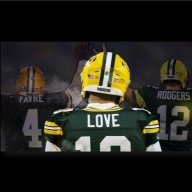 Joined

May 2, 2012
Messages

10,973
Reaction score

3,102
The moment this season started slipping away from us I stated I was firmly in the camp of hoping to trade back if Michael Mayer or a top OT isn't there...while I could argue for picking an Edge or even a iDL if the right one is there...I'm still in that same seat (perhaps I am not wearing my seatbelt we will say lol) but the same seat nonetheless.
Now while my "crystal ball" of course is murky at best the deeper you get in the draft rounds I said what the hey...regular season is over in college, our season is IMO over as Packer fans and this is one thing which cheers me up when life just sucks.
So the WAY TOO EARLY first mock for 2022 of which I delve into each prospect picked with an explanation and brief elaboration on the player and why I like them where they are. As always I don't blindly trust the simulator if I strongly disagree with a guy being there as reasonable I won't do it....example would be Michael Mayer being there at pick #30 I would not honor that pick.
Presently (this will change IMO) we hold the #14 pick:
#14 - Eagles call and want to keep their train rolling, they need a for sure #1CB with Slay's cap hit exploding to $20+M and Bradberry a FA...they want one of their red circled CBs and move to get it at a cost. It costs them their #31 their #63 and their 2024 First Rounder for our #14 and a 6th rounder in 2024. I ONLY made this because Mayer was gone, so was Paris Johnson and Broderick Jones. Personally I envision the perfect chance for trading for us is if we wash out ahead of Colts/Falcons and one of them bite for a QB still left OR as this example plays out and that is a DB hungry team because I absolutely LOVE the top CBs in this draft, outside chance someone trades with us for a WR but I think less likely.. FTR They nabbed Porter Jr after watching Ringo go few picks earlier.
#31 - Darnell Washington TE Georgia (first round)
Hear me out, I FULLY admit this pick will NOT make everyone warm and fuzzy...BUT this is a potential pick that oozes with Gute characteristics and you cannot get any further down the rung in the first round and still get a TE fully capable of blocking tackles, leveraging zone blocking and cut seams when LBs attempt to cover them or FLAT OUT punish DBs trying to. He is young to boot too...something we know Gute covets. This bad boy stands
6'7' 270lbs
and is a mere Junior. While yes he saw limited production his first two seasons; 17 catches, 320 yards and 1 TD (an astounding
18.8 yards per catch
though!) This year he put up 26 catches, 417 yards (16.0 ypc) and 2 TDs. I will never say he is better than Mayer, because I truly believe he isn't BUT this man IMO has the chance to produce far more from a receiving threat than Mayer. I cannot wait to see what kinda of RAS he produces, cuz I'm assuming its going to be pretty special...check out his athleticism on display here:
You must be logged in to see this image or video!
#44 Darnell Wright OT Tennessee (second round)
Yup...I did it - I drafted a guy that played nothing but Right Tackle his last collegiate season. However, I already believe our future LT is either Bakh, Jenkins, Yosh, Tom...and now add Wright possibly too. This guy this past year started nothing but RT, year prior nothing but LT and year prior to that RT and his freshman year five games at RT and two at RG. Versatility is there, let's add a guy I strongly feel is already RT starting day one depending how things shake out - which I guess I'll share what I envision happens. Bakh gets restructured and stays as does Rodgers, Jenkins gets top guard money and Yosh is sadly paid and leaves to go elsewhere. This leaves us with Jenkins best suited inside and Tom leading candidate at RT. One injury and not having Yosh or a new Tom for 2023 could be destruction....enter Wright. Worst case I feel he is Day 1 our 3rd best Tackle on the team or could be Day 1 starting RT for us. I'd LOVE a healthy Bakh, Jenkins, Myers, Tom, Wright day 1 of 2023 season personally.
#63 Brandon Joseph S Notre Dame (second round)
Personally I LOVE Brandon Joseph and while other scouts have cooled on him some and even seen him fall to the 3rd or 4th top Safety spot for some he and JL SKinner are neck and neck for my #2 spot and a top 50 prospect arguably as well. His position and strengths elsewhere doesn't leave a fall to the bottom of the 2nd out of the question so I without question or hesitation grab him here. After two excellent years at Northwestern tallying over 125 tackles and 9 interceptions. He didn't produce nearly at that level for ND but wasn't used in the same fashion. I see Brandon as a big play capable safety that is IMO the type of Safety who will continually play excellently albeit perhaps not at the level of Pro Bowl each season. 6'1' 200lbs. Green Bay is between a rock and hard place IMO at Safety...we probably won't have the money to resign Amos...we are locked into a 5th year with the regressing Savage...we could slide Douglas to safety and target a CB
#75 Xavier Hutchinson WR Iowa State (third round)
I don't see this as a desperate need but as many of you know I LOVE mid-round WR prospects (Doubs last year was one of mine) and this cat and Rome Odunze are two names to know that may claw their way to not be fitting of that title as both are on cusp of being 2nd rounders. Here I nab Xavier out of Iowa State, because while Green Bay has potentially the answer with Watson and/or Doubs the trade we made Day 1 gives us some luxury and with Rodgers here one more year I'll grab him (and possibly Love in 2024) yet another weapon. This young man is a DEADLY weapon against offenses, has enough speed to beat you there...his release packages are diverse and with a truly diverse way to beat his man he keeps stacking years after years:
2020 - 64 receptions / 771 yards / 12.0 YPC / 4 TDs
2021 - 83 receptions / 987 yards / 11.9 YPC / 5 TDs
2022 - 107 receptions / 1171 yards / 10.9 YPC / 6 TDs
I'll go there and say Watson/Doubs/Hutchinson could be a poor man's Higgins/Chase/Boyd in Cinci especially if Rodgers hand stays good and his health holds up. This situation of drafting a WR by end of Day 2 I will say I think only happens if Lazard is not resigned...which I sadly don't think happens (I do feel Cobb will be if Rodgers is here).
#110 Adetomiwa Adebawore EDGE Northwestern (fourth round)
I LOVE this cat's (pun intended) projections at the next level. He is a little shorter than some but at 6'2' 280lbs...but what this man has done being tasked as a standup edge, 5T, 4i, 3T is nothing short of impressive. The question is can he be given a role or position to focus and refine and still excel in such a fashion as he did for the Northwestern Wildcats. One of the highest revving motors from the edge in this draft and wins with natural leverage point mixed with technique due to his condensed frame. His structure and experience makes him to me an incredible hybrid prospect that might reduce in or could give a team three rushers in a lighter box set with him inside.
#141 Jaxson Kirkland OT Washington (fifth round)
As many know before he pulled his name last draft some felt doing so might cement Kirkland as a top 40 or so pick lock. However, while Jaxson did nothing to make his stock worse...others have excelled and arguably passed him. Is he the elite level pass protector many saw as a 3rd round or so top shelf guy last year...or is his 2022 campaign more what he is which some are saying RT could be his ceiling with LT not an option. He attracts me for a few reasons and main being versatility and the chance he is the elite guy many saw rising in 2021...in 2018 he started 14 games at RG, 2019 started 11 before injury again at RG, 2020 started every game at LT, 2021 saw him at LT...this year he returned from early injury and started at LT for one game and then LG ever since. Newman is regressing and Runyan I like but I don't know if I see future STUD for him....Kirkland adds insurance along four of the five spots with starting potential. I don't believe he is this years' Tom for me but its close as like Tom I could see him go from the 3rd to the 6th. Personally I don't see letting him past the fifth.
#199 - Latavious Brini CB Arkansas
A guy that played two years starting for Georgia before transferring for the 2022 season with playing time possibly being lost this year. He's got a 6'2' 215lb frame to work with I along with many see a box safety in his future. Fact is there is a reason Georgia wanted this cat so bad, but outside CB play with his aggression just isn't where his home to many should be...he can do it, but his role is best in a bigger box role where he is lined up with TE or RB coverage and can assist in the run defense while also being more capable than a small LB in coverage in flats and seams.
#203 - Braeden Daniels OT Utah
Many have asked me who is your Day 3 "darkhorse" favorite...Braeden is a name that comes to my mind right away. With 42 total starts (18 LG, 13 LT and 11 RT) his versatility again screams to me. To me he is an inside option whose reach I think may come a tick short, but to have a guy with higher level tackle experience as a reserve while focusing on inside spot competition I only think is a strong addition to the team.
#207 - Daiyan Henley LB Washington State
You want another guy to watch on Day 3...this guy. Yes six years in college thanks to Covid with the last one being at WSU after years at Nevada. He amassed the last two seasons 200 tackles, 113 of those solo, 4 sacks, 4 PDs, 5 INTs and 3 FFs. Side line to side line range with some argue maybe a little weakness against the run and might need some protection...I personally think there is a lot more there than most - like I saw more coverage ability in Barnes than many did coming out as note. Henley is a low risk possibly high reward guy with the build at 6'2' 232lbs and speed to be a ST contributor as well out the gate and possibly be that LB4 when Barnes I feel gets paid elsewhere that doesn't have two clear better options ahead of him.
There you have it in short we add a TE that could be day one starter, a 2023 WR3 possibility on Day 2 who may become our #1 someday, a Day 1 RT and a possible if needed guard starter on Day 3 between two guys and not too mention a high level safety many say can start out the gate as well. Topped off with a potential edge help setting up a 2023 campaign with a much better OLB room especially with Gary coming back too.
Last edited: