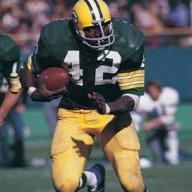 Joined

Jan 21, 2017
Messages

11,340
Reaction score

2,274
I have a hunch that the Packers could still be in heavily on Darren Waller. Here's why.

1) It always felt strange that the Packers would go "all in" without doing more to address the weapons around Rodgers. The Packers demonstrated throughout the offseason that there was a real interest in bringing in or retaining superior weapons for Rodgers. They tendered a contract to Adams. They were involved with Allen Robinson. And...

2) Waller's name was part of the Adams trade discussion, but the NFL does not allow players to be trading in exchange for another player on an unsigned franchise tag (i.e. Adams). Thus, it's clear they want him, and it's not necessarily the case that Vegas was 100% closed to the idea-- it just couldn't be part of the Adams' deal.

3) Waller wants a new contract, but there has been no movement on that front. He hasn't practiced throughout camp due to a "hamstring injury," but it's rumored to actually just be a "hold-in" resulting from the contract dispute.

4) The Packers draft was mildly surprising in that they did nothing to address the TE position despite Tonyan's injury. They've done a lot of talking building up Tyler Davis this offseason; perhaps that is in part just posturing as they negotiate behind the scenes?

5) The Raiders clearly want to win now, but they have two high volume receivers (Adams and Renfrow) on the team already and their backup at TE, Moreau, is a starting caliber player. McDaniels also obviously learned from BB, a man who wasn't afraid to move on from talented players.

6) Waller just switched agents, which could create some movement.

I would still put the odds below 50% because NFL trades just tend to be rare, but if it happens don't be shocked.