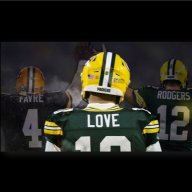 Joined

May 2, 2012
Messages

12,222
Reaction score

3,872
Buddy of mine always love posing discussion points which then of course cause us to drink way too much bourbon and talk about things for way way too long. Now we don't typically go down the BIG or MASSIVE unlikely scenario type stuff as that isn't Gute or the Packers' style - arguably shouldn't be often times.

Here are the three moves bounced around...thoughts on them?

#1 - Kevin King...familiar and capable...at what point and price do you sign him as a FA?
Compensatory impact is over for signings of Free Agents...so he wouldn't hurt anything there. Last year we nabbed him for $5M...with each ticking day he plays the gamble of taking less and less...do you offer him same as last year to have one of the strongest CB rooms with him as your #4? $4M? $3.5M with incentives?

Adding a dependable #4 CB is perhaps one of the quiet and overlooked by many ways of upgrading this defense which has just simply been upgraded time and time again this off season through signings and now the draft. We have the space...I'm in at $4M....negotiate incentives to reach higher and I think everyone would understand doing the move with no CBs drafted in the draft and our 4th being either SJC, Ento or newly signed Keisean who hasn't really done anything special outside of special teams.

***Other avenues for same position do exist in the veteran CB market but King has the familiarity.

#2 - Sign a veteran tight end like Jared Cook or Kyle Rudolph...
The 2022 campaign offensively in many ways might go the way of Tonyan as much as it does the way of the WR room. If Tonyan comes back fully healthy and hits the ground running as he did in 2020 and lesser degree in 2021 -this season might just be special for Aaron and the team. However, like having King come in as a depth helper...a Cook type signing would offer a TE if Tonyan takes time that offers a more receiving threat than Lewis and still proven capable TE in line.

#3 - Believe in DL room without Lowry enough to trade or cut him....and turn him into another addition.
I don't think anyone envisioned Wyatt being there from the sounds of it on draft night....so here we sit with Clark, Reed, Wyatt and Slaton and Heflin without even mentioning Lowry (or the rookie drafted in the 7th Ford). IF Green Bay feels confident in the direction of Wyatt, progression of Slaton and fit of Reed....Lowry offers immense cap savings which perhaps Gute and Co. would love to turn into someone else at a different position?