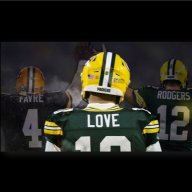 Joined

May 2, 2012
Messages

12,929
Reaction score

4,328
Well here's second week of pre-season:

Best Offense:

1. OT Zach Tom: 84.5
2. QB Jordan Love: 82.6
3. TE Sal Cannella: 82.6
4. TE Nate Becker: 80.6
5. QB Danny Etling: 78.6

*The most notable about this to me is the continued ascension of play from Cannella and Becker showing up his first week here with not just a solid 70+ grade but a 80+ grade. Becker was a lights out blocker in this preseason game. Tom allowed zero pressures across 40 snaps. Etling's is boosted quite a bit with the outlier 51 yard TD run, but still Love had a very efficient and productive game and it was illustrated by the grading this week.

Best Defense:

1. OLB Ladarius Hamitlon: 87.5
2. S Micah Abernathy: 82.9
3. CB Kiondre Thomas: 82.5
4. S De'Vante Cross: 74.7
5. LB Quay Walker: 71.5

*The depth behind our top two Safeties has been a question mark...and new comer Abernathy looked lights out in this one. Everyone will go to his splash play of the incredible interception while falling along the sideline, but two things of note for me first in coverage the guy seemed to constantly be in position and that tackle for loss play was incredible instincts. Was he lucky or was that normal for him...depending on the answer might be the difference between him forcing his way on to the roster (PS possibly) or not.

Worst Offense:

1. TE Tyler Davis: 25.2
2. TE Alize Mack: 39.9
3. G Sean Rhyan: 42.2
4. WR Samori Toure: 44.6
5. RB Dexter Williams: 46.5

*Tyler Davis experiment is nearing its end IMO. Some guys just fold when the lights come on, regardless of how much they showcase otherwise. Rhyan had terrible pass blocking day, defenders caught him leaning constantly it seemed and it showed far more than anyone probably expected.

Worst Defense:

1. DL Jonathan Ford: 26.8
2. DL Devonte Wyatt: 29.7
3. LB Ray Wilborn: 46.2
4. LB Ty Summers: 46.8
5. OLB Tipa Galeai: 49.3

*Tipa is not doing him any favors to make the 53 after many expected him too - he is making pressures when allowed to rush but is lost in coverage and worthless against the run....and Summers days after we cut Brooks and not him goes out and looks lost. Wyatt crumbled in his first taste of the NFL...his 26 snaps were essentially non-existent from him.
Last edited: