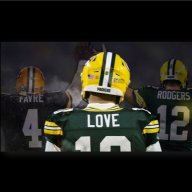 Joined

May 2, 2012
Messages

12,231
Reaction score

3,877
So some have noticed I don't always follow my own thoughts, but try to follow team tendencies perhaps more than I should...so in light of that here is MY mindset applied as it is presently.

So now about a month and a half from the draft here is the first mock SOLELY with the mindset of what I would do if I were Gute, with ultimate power.

*One thing I am doing since we have a bunch of comp picks this year, PLUS knowing we have some coming our way next year - I'm strongly eyeing certain picks by teams mid 2nd to the mid 3rd round - I want 4 picks in top 100 or 3 in the top 75. I want to push the pedal down and hopefully get us and AR one more ring before he retires, but I'm rare in that doing so doesn't mean offensive selections. Two picks I have my eyes on are Seahawks at #56 and Dolphins at #81. Seahawks are VERY short picks, but that is also their first pick of the draft so chances are they will listen to calls but you are gonna need to give up some serious equity. Dolphins have a TON of draft equity but it is all Top heavy...after 81 they have two picks remaining. Either a tiny slide from 92 (toss in a 7th) could slide up 9 spots OR package like a 5 and 6 this year plus a 3rd in 2022 if the right player is there and I'd be fine with it.

The following scenario did use The Draft Network, BUT I ignored what IMO were illogical drops by a player. Example Kary Vincent available in the 5th at our pick is just not logical so ignored.

Condensed list of what we walk away with:

#29 - Greg Newsome II - CB Northwestern

#56 - Jabril Cox - LB LSU (Gave up 4th/5th 2021 & 3rd 2022)

#62 - Ifeatu Melifonwu - CB Syracuse

#92 - Tylan Wallace - WR Oklahoma State

#135 - Darius Stills - DL West Virginia

#174 - Adrian Ealy - OT Oklahoma

#215 - Robert Rochell - CB/S Central Arkansas

#221 - CJ Verdell - RB Oregon

#251 - CJ Marable - RB Coastal Carolina

Primary UDFAs I want IF go undrafted:

LB Willie Eubanks - The Citadel
RB Ben Mason - Michigan
WR Ben Skowronek - Notre Dame
CB Dicaprio Bootles - Nebraska
S Lamont Wade - Penn State
CB Zyon McCollum - Sam Houston State (dude is 6'4' and raw!)
S Qwynterrio Cole - Alcorn State (gotta love going back to Alcorn for the Pack)
DL Forrest Merrill - Arkansas State


Draft Strengths IMO:
Secondary woes should be solved...arguably grabbing both King and Sullivan's replacements before we hit Day 3. The defense in general gets a ton of help. Jabril Cox has the rare skillset to be SPECIAL in this league. Stills immediately could be our second best DL.

Draft Weaknesses IMO:
You cannot answer the call of every position competently and this draft OL just didn't fall the way I want it to. After round 4 I am unsure you have any surefire Tackles left (that I love) except perhaps Josh Ball (Marshall). We leave draft day with only Ealy added to the offensive line - and really it is the Melifonwu/Wallace picks and the Cox trade that cost us another OL selected no doubt. Ealy offers immense chance though at being a starter, but is limited to RT, but most likely slides inside.




Notes:

We all can agree, that I clearly feel the defensive side of the ball is the largest concern...this also of course appears to plan on Preston going nowhere (something I used to assume otherwise).

Our cornerback issues are gone hopefully as we get two of my top 10 CBs in the draft and a Day 3 CB/S prospect that after an ACL tear in high school crushed recruiting headed to Central Arkansas and EXCELLED. *FTR Amari Rodgers was who I wanted at #62 REALLY bad....but he went just few picks earlier.

Aaron Rodgers had to wait till our 4th pick and the 3rd round but we nab a special Wide Receiver in Wallace that is fast, plays bigger than he is in attacking the ball at the highest point, illustrates big play consistency and can be a receiver type unlike any we have. Won't be pressed into having to be THE guy in the offense, but we now have some insurance for after 2021 with a guy some say is capable now at being a team's #3.

Jabril Cox immediately makes Oren a thing of the past and excites the daylights out of me with how he and Barnes/Martin could excel for years to come. Jabril on my board of potential LBs is #3 behind only Collins and Parsons, barely edging Bolton out. Sideline to sideline type coverage ability...hold on folks I think you will like this one.


So there, that is a 100% pure Tyni mindset and approach. I choose defense over offense nearly every position and nearly thought about not picking Wallace.
Last edited: