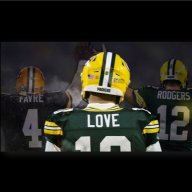 Joined

May 2, 2012
Messages

12,180
Reaction score

3,843
How many actual first round prospects do you have this year? <-- I love this discussion every year with others addicted to draft prep/scouting and such.

While it is still touch early for me to set anything in stone with a chisel I will say I'm comfortable declaring these prospects are or will 100% be on my 1st round list (barring injuries possibly or massively unique story breaks):

QBs - Stroud
RB - Bijan
WR - Jaxon Smith-Njigba
TE - Michael Mayer
OT - Paris Johnson / Skoronski / Broderick Jones

iDL - Carter / Bresee
EDGE - Anderson / Murphy / Wilson / Van Ness
CB - Gonzalez / Porter Jr / Ringo / Smith
S - Branch

Presently I have 18 locked in.

However, I'm deep diving further into these few that I feel are right on the cusp:

Darnell Washington TE - This is actually an addition to this possible list as late as last night....I spent some serious time watching this man work and I'll just say it, I think his best player comp is Marcedes Lewis when he came into the league. Even with Bowers at Georgia Darnell hauled in 28 receptions for 454 yards and 2 TDs this year. His career YPC average at Georgia is an astonishing 17.2 - which doesn't surprise anyone who watches his tape; yes he blocks like a light OT, but this man when called on illustrates an athleticism at 6'7' 270lbs that simply put shouldn't exist.

Josh Downs WR - He may be one of my favorite slot prospects in recent memory and honestly wouldn't argue with someone believing he has the traits and offerings to deliver so well at the next level to push him into a first round grade lock. Measurables may sway me too, but measurements I try to only let confirm things or separate late rounders...not the high ranking guys unless terrible.

Rashee Rice WR - I've shared before I think he may be my Michael Pittman level prospect crush this year. 6'3' 206lbs, has speed to kill you, footwork in his breaks to kill you, can work slot or outside and his hands are solid. There may be too much for me there to NOT slide him up to a first round grade.

Jordan Addison WR - I'll be honest he plays small IMO. Highly productive guy, but isn't physical enough for me despite production for me to see a guy I think for sure could produce WR1 level in his future. He's close though, and don't get me wrong I think you draft him he probably wins out our WR2 role maybe from Doubs (if roster doesn't add a FA), but it wouldn't be by a ton or could be more just a split style.

Cam Smith CB - He is the only CB I'm struggling with maybe not being a first round grade.

Felix Anudike-Uzomah EDGE - I struggle NOT falling in love with what this prospect may become. Arguably I only see Van Ness having a high ceiling than FAU truthfully, but he's also got a lower floor than all the guys I listed as 1st round locks...he's like the opposite of the prospect below with a VERY high floor but is nearly to his ceiling. Based on ceiling view alone Felix is a surefire 1st round...but that lower floor would make some heat felt from fans as he may not hit his stride till year 3.

Isaiah Foskey EDGE - As many remember I red circled this guy as a Packer in the first round....that was when I figured we'd be in the playoffs and closer to the 20th or later pick....and to be fair that was before college season hit its stride and a lot of film watching. Foskey is the opposite of Felix, as a day 1 walk in prospect I argue he may be the EDGE3 in this draft...but when you factor in him as a whole prospect and project, that's where I see his limitations. However, Foskey's tape really is a tale of two tapes...some games this man was seriously a wrecking ball against ELITE competition...but then also likes of Dawand Jones and Paris Johnson just flat dominated him.