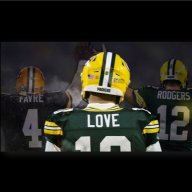 Joined

May 2, 2012
Messages

12,929
Reaction score

4,328
With my mocks I like to enter them with scenarios in place...for reference in this one:
Rodgers stays. Adams, Campbell are the tagged or signed main FAs. We cannot afford to fit Rasul on board and Preston sees restructure or extension and stays. Of course the cheaper ERFA or RFAs like Lazard, Barnes and Yosh are all returning as well.
First Round Pick #28
- We trade back. Yup, in this case there were quite a few guys one could argue we grab or would want. Olave, Dean, Dotson, Cine, Winfrey, Bell and Woolen are all there as is Faalele, Leal and Mafe. However, Denver picked Malik Willis at #9, and they want to load the roster up in a big way and have the draft equity for the trade. They give us their #40 and their #64 in order to grab our #28. With a lot of guys Gute likes left, he does a trade back, with the mindset to be ready to spring forward should things start falling.
Second Round Pick #40
- Gute grabs arguably our CB3 with
Tariq Woolen Cornerback out of UTSA
coming our way. At 6'4' and 205lbs the size is there, which is one of the two biggest unteachables a CB can have. The other is speed, and folks Woolen is a speed freak with the size he has yet is expected to post a 4.34 or better. Yes you read that right, a guy his size is expected to flirt with the lower half of 4.3s. So the unteachables are about as good as they can possibly be if you got to design a dream CB. A WR convert to CB, his ball skills are better than many and most assume once he is coached up for coverage instincts he could be an absolute lock down CB that every DC would dream of having. His year one might be a learning curve more than most, but I and many others would argue he has the highest potential ceiling despite a little of an unknown floor level of ANY CB prospect in this draft.
Second Round Pick #59
- Gute begins to supplement a massive need along the front of our defensive with
Josh Paschal out of Kentucky.
This "EDGE" defender is more of a Lowry/Keke type edge I see with hand down more than a stand up edge OLB in our system and with his size and experience in the hybrid Kentucky defense makes him more than capable with his frame of 6'3' 278lbs to do that. His versatility and strength is a rare mix and the cherry with him is he has been deadly along the ST fronts contributing to a blocked field goal this past year.
Second Round Pick #64
- Gute answers the call of what some were wondering with the pick at #59 of who will be our third OLB (losing Z) and future pairing with Rashan Gary; while also continuing to strengthen the defense with arguably the most ready to start player available and that is
Drake Jackson out of USC
. Unlike Paschal, Drake is that stand up edge defender who has the strength and shown his edge setting is there, while also adding quite the disruptive presence in the passing game from the OLB position. The reason I like him over say a Myjai Sanders who might find himself available at this pick too is Drake is a youngin - this cat won't turn 21 even until April 12th of this season which is tremendous for a team to see where he is caliber of play wise while being one of the younger prospects at his position.
Third Round Pick #92
- The first offensive pick is coming to Green Bay and it isn't a WR, nor a offensive lineman...with Adams back and the fact that he will eat up the majority of targets out of the WR room anyways (with justification) Gute instead decides to grab what might very well be the future TE when Lewis leaves and Tonyan is not coming back anyways - the pick is
Jeremy Ruckert out of Ohio State,
6'5' 250lbs. I personally think he will be gone prior in the pick #80-#100, so I'd be tickled with him here personally. All Ruckert has done was deliver consistency whenever called on in the passing game but was more a weapon in the run game and red zone primarily. You're talking about a guy that in 2019 saw just 14 receptions but 4 TDs, 2020 saw 13 receptions but 5 TDs and then 2021 he doubled his yards and receptions but put up just 3 TDs...however clearly this is a guy that the QB knows and trusts to make the catch despite necessarily targeted a ton. Ruckert's one handed TD catch in the back of the endzone against Wisconsin is perhaps the catch that showcases this ability the best.
You must be logged in to see this image or video!
Fourth Round Pick #130
- Gute dips back in the offensive side of the ball to protect Rodgers better and nabs
OT Andrew Stueber out of Michigan
. Stueber is 6'7' 338lbs and projects very well as a RT, to me not a LT unless his footwork gets a touch better, but that is perfectly fine because RT or sliding inside (something he proved he can do well in 2020 when tasked with playing guard) for us is his future anyways. Instantly this injects serious competition on the right side of the line and adds a guy with the versatility and ability to possibly be that swing G/T for us of the future as the worst outcome, if not a starter out the gate.
Fourth Round Pick #139
- Gute will get cheers from some for now grabbing a WR, while others will jeer for it taking this long...however with a team already with a clear #1, most likely a possession guy in Lazard coming back...all we need is the top end guy to replace MVS and arguably we have a better WR room than last year if all stay healthy and Amari has grown.
Romeo Doubs out of Nevada
is the pick here and this dude has the speed to keep the DBs worried while showcasing the route skills that to me he projects to possibly "click" as a versatile WR in the NFL quicker than MVS did when he came out in the draft. 6'2' 200lb well framed fleet footed WRs are not everywhere you turn and it is that strength that provides him to be an above average YAC type WR as well.
Fifth Round Pick #170
- Here's a pick like Ruckert, that would be of value IMO but others would say could even be a reach.
Matt Henningsen DL out of Wisconsin
is the pick and we now see a clear message sent by Gute that we cannot continue to expect Clark to do it all...and the loss of Keke and possibly others he wanted to inject new blood into the front in Green Bay. Henningsen in 2021 was a beast for Wisconsin breaking his tackle records and delivered pressure delivering 3.5 sacks. A guy that wins a lot with positioning and technique; constantly controls his pad level to prevail but also has the strength to push, control and collapse a pocket. He holds starting potential IMO, but won't be asked to do that if Lowry is still here and Paschal possibly as well....but I love a front room with Clark, Slaton, Heflin, Paschal and him entering 2022...love that. 6'4' 290lbs are his known measurables.
Seventh Round Pick #225
- This is a pick I've said before I like late and that is
Amari Carter Safety out of Miami
. You want a guy that flirts with the edge of nasty/dirty vs intense THIS IS YOUR GUY. Harness this and you have a safety prospect here that should deliver excellent ST play and holds the potential to be a starting level safety project in his future...but if he is in there trust me WRs running over the middle...well anyone will need to keep their head on a swivel because he LOVES hurting people.
Seventh Round Pick #246 - Ali Fayad EDGE out of Western Michigan
is the pick....BUT with the caveat I love this guy and this is a BPA type pick for a guy that is a little undersized and comes from a smaller school but has produced in a big way. 6'2' 250lbs (I think he is lighter though) he produced 12 sacks and 17 tackle for loss in 2021!! He is the type of guy that could easily fight his way up the boards if he combines/tests well for teams....he won't leave Day 3 IMO, but should he stay around that 7th/UDFA range and is here he is too much to pass up DESPITE the need of this position arguably not being necessary in this scenario with Smith, Gary, Rivers, Garvin, Tipa all here and drafting Jackson...but we don't know how Rivers will be after injury maybe we let walk and Tipa is very undersized....Fayad could be an excellent depth churner.
Summarized this draft IMO for 2022 this draft brings in a starting #3 CB most likely to compete with a cheaply resigned Sullivan, two immediate contributing depth guys that will see plenty of snaps in Paschal and Jackson for our defensive front, a TE that easily comes in as #2 behind Lewis for a year, a WR that can and will deliver as our #3, and a OT that could push for starting role in 2022. The rest are in my mind probably going to provide 1 surprise contributor, another that sees gamedays active and contributes on special teams, probably another that makes 53 but rarely gameday while another is a PS stash. It may not hold the flashy appeal of a top flight WR drafted or deliver a surefire #1 at any position, BUT in this scenario where we've pushed tremendous amounts of cap to ensure we don't have any needs at a #1 anywhere this is a tremendously powerful draft class for contributing depth (not just body depth) plus massive upside starting potential with many into 2023 and 2024 when these will be some of the only guys not cut risks due to money issues.
Last edited: