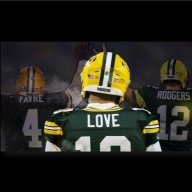 Joined

May 2, 2012
Messages

10,973
Reaction score

3,102
Simmer down...I'm only making this thread to track IF Bo becomes something it has a placeholder for discussions. Many of us liked him in his draft class, albeit as a late round flyer. He ended up going in the 7th round to SEA.
We signed him off the SEA practice squad right at the end of December.
I've had a few discussions with my contacts closer and while it is very hard to get any actual insight to the storylines we all care most about (Rodgers/Lazard/Amos/Bakh and such) I was reminded in one about the "Rutgets kid I was a big fan of" as the one guy put it.
He reminded me of the addition and said the staff and Christian Watson are pumped to have him in house and looking forward to 2023. Many may not realize it but Bo and Christian were very close the entire prep period up to the combine, worked out at the same facilities and competed each other in good nature sense for fastest times, highest verts, shuttles and such. Remember Bo is an OOBER athletic, but smaller framed guy....Bo recently said despite him beating Watson in the combine numbers Watson did run in the 4.2s at times while they trained.
You must be logged in to see this image or video!
Also don't forget per Pro Football Focus that draft class Christian was one of only 9 other WRs with better YAC production than Melton.
The failed experiment of Amari Rodgers no doubt has left a poor taste in everyone's mouths on smaller framed WRs...but Bo is much lighter and far more built like Cobb (5'10' 192) and many see Bo fighting hard for that Cobb type role in house next season with him possibly not back. Sounds like Christian and Bo are back to working out together and it seems this might include Love in the offseason too some.
Bo led the Seahawks in the preseason in receiving but was put on the PS. Seattle for all their struggles has a fairly decent WR room with Metcalf, Lockett, Goodwin and than factor in solid trio of TEs in the passing game of Fant, Dissly and Parkinson there simply wasn't a ton of room and Dee Eskridge, Laquon Treadwell and Cade Johnson got nods over him for bottom roster spots.
Packers in 2023 even IF we add a veteran presence has a wide open WR room...arguably the only locks for gameday actives are Watson and Doubs....after that you have only Toure arguably ahead of Melton as Jeff Cotton has to be the bottom of the five presently.
Not predicting anything crazy out of Bo personally but don't be shocked if with his insanely high physical gifts, familiarity with Watson clicks perhaps here more than he ever did at Seattle and be that 350-450 yard type slot WR that Cobb has been depending how the roster washes out and he eventually progresses - it might be 2024 before he truly gets the snaps, but outside chance is there for sure now with our WR room even with additions.