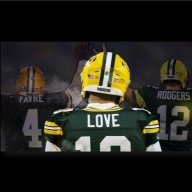 Joined

May 2, 2012
Messages

11,616
Reaction score

3,476
So everyone is getting in the mindset of the draft coming...let's do a brief exercise and re-visit the last five drafts and touch on the best Day 3 picks in each. Many folks grossly undervalue the Day 3 picks...let's see just what we got:

2016 - Picks Were: BLAKE MARTINEZ, DEAN LOWRY, TREVOR DAVIS, KYLE MURPHY

To me at least this is easily Blake Martinez. He led the team in tackles his first year as a starter (second in the league) and was in the top four in total (comb) tackles 2017, 2018, 2019, 2020. For a Day 3 LB - he is easily an NFL starter in the league, and I suspect will be for a while longer. Saw a second contract in the league, which is competition in Lowry did as well and Davis has been a serviceable guy in the NFL. Solid Day 3 overall in 2016, but Blake clearly takes the cake.

2017 - Picks Were: BIEGEL, JAMAAL WILLIAMS, DEANGELO YANCEY, AARON JONES, KOFI AMICHIA, DEVANTE MAYS, MALACHI DUPRE

Ah yes, the year of many skill position darts thrown....two hit...Jones however is the clear winner here. A rare breed of RB was found in the 5th round and is easily on EVERYONE's top 10 list, and would crack a ton of Top5 present I bet too. An absolute STEAL...and arguably Jamaal was as well in the 4th...but dang after an efficient 2016 Day 3....2017 across the board was rough, but where it hit, it hit BOMBS.

2018 - Picks were: JMON MOORE, COLE MADISON, JK SCOTT, MVS, EQSB, JAMES LOONEY, HUNTER BRADLEY, KENDALL DONNERSON

This one isn't hard for me at all, MVS. The dude has only been one of the purest deep threats (albeit with drop issues) in the league. YPC is video game worthy and in 2020 down the stretch of last half dozen games his growth was clearly seen by even his critiques. Definitely thrust into too big of a role early in his career, but coming into his own. The others....two serviceable special teamers and two guys fighting to prove they deserve a future (Looney and EQSB) still...not a great Day 3, arguably more realistic though, guys that see their whole rookie contract out as depth, with some having a chance of a future

2019 - Picks were: KEKE, HOLLMAN, DEXTER WILLIAMS, TY SUMMERS

ATM and what I think everyone will say even in two years is Keke. He has truly exploded since being drafted, and is a little more than I think even some of his draft day fanboys thought he would be. Solid above average Day 3 with all of them still on the team, albeit one (Williams) treading water barely to stay afloat.

2020 - Picks were: KAMAL, RUNYAN, HANSON, STEPANIAK, SCOTT, GARVIN

Arguably all save the middle two showed at times when called on why Green Bay drafted them. ATM, I gotta say Runyan showed the most value and provided the best assistance holding down reserve spots along the line for us. Projection; Kamal and Scott both could have a lot to say as they mature in their play.

Anyone got one or multiple they'd change?