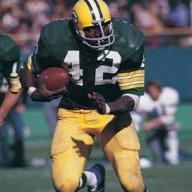 Joined

Jan 21, 2017
Messages

11,089
Reaction score

2,015
Regression comes for all teams.
In 2019, the Packers' defense was fueled largely by an unsustainably high number of takeaways. In 2020, the number regressed significantly, and the defense suffered as a result.
In 2020, the Packers' success was mostly fueled by their offense. They led the league in scoring offense, both per game and per drive. Their per drive figure in particular was historically good. It is unlikely that they will repeat at such a high level. I certainly expect the offense to be very good, but probably not as good.
So where could the team make tangible gains to off-set that regression?
Coaching:
I think most fans would agree on at least the suspicion that Mennenga and Pettine can be improved upon by guys who will make more of the talent they're given. Particularly on defense, there's no reason to think that a unit with Kenny Clark, Za'Darius Smith, Rashan Gary, Jaire Alexander, Adrian Amos, and Darnell Savage couldn't be better than 14th in scoring defense (especially when the offense almost never puts them in bad spots). Slayton and whoever they hire at DC are not guaranteed to improve upon their predecessors, but they have at least given themselves a chance.
Personnel:
Offense: Apart from Rodgers, the foundation of this defense is the offensive line. As such I think they would do themselves a favor by shoring that up. Secondly, they will need to make sure they have the backfield to maintain a potent rushing attack. Beyond that, it's about adding pieces that enable to them to add more wrinkles to the system.
C/LG/Depth: They either need to bring back Linsley and keep that LG/C combo intact, or use Lucas Patrick at center and add depth, or add a starting caliber iOL to pair with Jenkins in whatever configuration works best.
RT/RG/Depth: Without knowing their plans exactly, it's hard to be specific. It could be that they plan to use Turner at RT and Runyan at RG, and just need to continue adding depth. Or if could that Runyan isn't the future and they need a guard, or that Turner isn't the future at tackle and they need the latter. But regardless, I think Wagner is a cap casualty and they need to make sure they shore that side up.
Backfield Options: Whether it's keeping Jones, keeping Williams and drafting someone, signing from outside and drafting someone, or whatever, they need to keep the backfield stocked. This offense is predicated on rushing and passing out of looks that are indiscernible to a defense. If you don't have the personnel to run the ball, the whole thing starts to crumble.
Motion Man: This offense has a big role for a WR/RB with speed and the ability to gain YAC in the jet/orbit motion game, screen game, and generally from the slot. Ervin, Austin, Taylor, and Shepherd combined for nearly 500 snaps. If they could find a legit talent to fill the motion role plus normal 11 personnel responsibilities, that could be a 60+% player and a major facet of the offense.
H-Back: Josiah Deguara was probably going to play 400-500 snaps had he played healthy. This offense will take advantage of pass catching ability at H-Back.
Y Tight End: Marcedes Lewis played 42% of the snaps in 2020 because he's really, really good a what he does. If he wants to come back, I'd do it in a second, but if he retires, finding a legit in-line blocker will be important. They don't have one on the roster.
Defense: This breakdown assumes that Amos is kept but that basically every other FA or likely cap casualty is gone (King, Lowry, P. Smith, Kirksey, Sullivan, Adams, Greene).
Corners: This is the biggest need on the entire roster. King and Sullivan are probably gone, and even if they weren't they need to be improved upon. Corner is not a position where you can just work around being bad. You have to have good corners in this league in 2021. This FA class is flush with slot guys. I would hunt for a bargain there, and then also draft a couple, with the first being as high as round 1.
Front Depth: With Clark, Keke, Z. Smith, and Gary all back next year, the front line guys seem to be in good shape, but depth will need to be back-filled. One glaring absence are interior linemen who can hold up at the POA.
Linebacker: Barnes and Martin flashed enough that one or both may have a role into the future, but neither were good enough to the point that you don't add more talent here. As they're young, a veteran would make sense, but veterans are expensive. Perhaps with the position being devalued, they might find a bargain on a veteran.
Special Teams: The team needs a more reliable long snapper. I don't think they will move on from Scott just yet. But they absolutely need to find a player with return skills. The blocking was not always good, but there were so many occasions when Packers returners left yards on the field.
Positive Regression:
The metrics that tend to regress, either for the good or bad, in any given year are: record in 1 score games, giveaways, and takeaways. The Packers were 3-3 in games decided by a touchdown or less, so they weren't lucky or unlucky. Their giveaway number was very low, but that is driven mostly by interceptions, and Rodgers just doesn't throw many interceptions. So we can expect that to be stable. Takeaways is where they could make up some ground. Their 18 total takeaways in 2020 was good for 26th (down from 25; 8th) in 2019. If that bounces back the other way, it could make a difference.