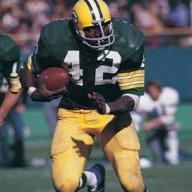 Joined

Jan 21, 2017
Messages

10,420
Reaction score

1,349
As I was thinking about the playoff field this year, and the QB's who lead these teams, a thought occurred to me-- certainly not an original one, but one I found striking nonetheless.
Here are the quarterbacks in the playoffs this year, and their draft position:
Aaron Rodgers, 1.23
Patrick Mahomes, 1.10
Josh Allen, 1.7
Tom Brady, 6.199
Ryan Tannehill, 1.8
Lamar Jackson, 1.32
Russell Wilson, 3.75
Philip Rivers, 1.4
Drew Brees, 2.32
Baker Mayfield, 1.1
Ben Roethlisberger, 1.11
Jared Goff, 1.1
Taylor Heinicke, UDFA
Mitchell Trubisky, 1.2
Additionally, here are all the other QB's taken in the top 5 in the past 10 seasons:
Joe Burrow (1st)
Tua Tagovailoa (5th)
Kyler Murray (1st)
Sam Darnold (3rd)
Carson Wentz (2nd)
Jameis Winston (1st)
Marcus Mariota (2nd)
Blake Bortles (3rd)
Andrew Luck (1st)
Robert Griffin III (2nd)
Cam Newton (1st)
And here are the other really good QB's who didn't make the playoffs:
Deshaun Watson: 1.12
Justin Herbert: 1.6
Matt Ryan: 1.3
Matthew Stafford: 1.1
Dak Prescott: 4.135
Kirk Cousins, 4.102
Derek Carr, 2.36
Consider finally the top guys in QB rating this season:
Rodgers was the 2nd QB taken and went in the 20's.
Watson was the 3rd QB taken and went 12th.
Mahomes was the 2nd QB taken and went 10th.
Allen was the 3rd QB taken and went 7th.
Tannehill was the 3rd QB taken and went 8th.
Brees was the 2nd QB taken and went 32nd.
Wilson the 6th QB taken and went 75th.
Cousins was the 8th QB taken and went 102nd.
Brady was the 7th QB taken and went 199th.
Carr was the 4th QB taken and went 36th.
Jackson was the 5th QB taken and went 32nd.
Herbert was the 3rd QB taken and went 6th.
Not a single one of them was the first QB taken in his class. Many of them were not the 2nd QB taken in their classes.
It seems to me that the league looks for the most finished products at the very top of the draft, rather than for traits that can be developed. Smart teams then capitalize by taking guys who are more talented, but less complete, and developing them.
Bottom line-- I think the league looks at drafting QB's the wrong way.
Who are the guys that have surprised the most in recent years? Mahomes, Allen, Herbert, Watson. What do those guys have in common? Fantastic talent.
Last edited: