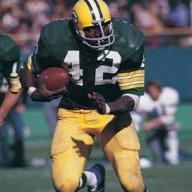 Joined

Jan 21, 2017
Messages

11,549
Reaction score

2,467
Ok, it seems that things are essentially settled for 2021-- the Packers are going to take one last run at the Super Bowl with Aaron Rodgers and a loaded roster.

But now that the deal is signed, we can see that things are decidedly unsettled for 2022.

Rodgers negotiated himself into a restructure that will force the Packers to do one of two things next offseason: extend him, or trade him.

To keep him as is would mean that Green Bay would have a 46M$ cap hit to work around, which is virtually impossible given the rest of the players on the cap. An extension could lower that number. But if he won't sign an extension, they would have to trade him. The acquiring team would get him for 26.5M in 2022, and the Packers would eat 26.8M in dead money (or they could spread it out if it's post 6/1).

So it seems that a trade is the most likely outcome. So my questions are: to whom? and for how much?

Who Might Pursue Rodgers?

-Denver Broncos: Obvious candidate in that they are in the AFC, have a lot of talent on the roster, and no prospects at QB.

-Las Vegas Raiders: Gruden is always eager to upgrade at QB, and if 2021 doesn't go well, he's going to be desperate.

-Indianapolis Colts: If the Wentz reclamation project blows up, they are going to be in the market for an immediate solution.

-Miami Dolphins: Tua would have to really bomb, but if that does happen, they may try to pivot to someone who can help right now.

-Pittsburgh Steelers: This doesn't really feel like a Steelers move to me, but they could easily be in the market for a QB.

-New Orleans Saints: Being in the NFC makes this less likely, but they are an aggressive FO with a need at the position.

-Carolina Panthers: Also NFC, but they have an aggressive, motivated owner and probably don't have an in-house answer.

-Philadelphia Eagles: Another NFC team, but one that could likely use a QB upgrade sooner rather than later.

-Tampa Bay Buccaneers: Again-- NFC, but if Brady retires and Arians wants to keep going, they won't want to go the rookie route.

-New York Giants: If Jones stinks, but the FO survives, they may be ready to take a huge swing on a guy who can save their jobs.

-Bottom Line: It is highly unlikely that all of these teams will be in on the Rodgers sweepstakes, but there are enough potential suitors that even if a few of them don't materialize, there will be real competition (which suits Green Bay very well). I would expect that there will be about three serious contenders for his services from the AFC, and that those will be the teams with a real shot. I'm sure that the Packers will entertain offers from NFC teams, in order to drive competition, but without ever seriously being willing to deal him within the conference.

How Much Might Rodgers Return?

-Matthew Stafford: The most recent touchstone we have for a franchise QB getting traded is Matthew Stafford. Stafford was traded in return for Jared Goff, a 2021 3rd round pick, a 2022 1st round pick, and a 2023 1st round pick. So how does Stafford's value as a trade chip compare to Rodgers'?

---Stafford: 33 years old, 96.3 Rating in 2020, 20M cap hit in 2021, 23M cap hit in 2022, FA in 2023
---Rodgers: 38 years old, 121.5 Rating in 2020, 26.5M cap hit in 2022, FA in 2023

So Stafford has the edge in value when it comes to age and control. He's 5 years younger, and the Rams acquired him with two seasons of affordable control, which allowed them to pick him up without immediately extending him. Rodgers will be significantly older and will have only one year of control for the acquiring team, which probably means that whoever trades for him will want to extend him immediately.

On the other hand, if Rodgers has a 2021 season similar to his 2020, he will be viewed as a much higher quality player. The gap might not be quite as massive as fans would think, because the league likes Stafford a lot more than the public, but it's still sizeable.

So given the balancing factors of Rodgers being older and less controllable, but still significantly better, I would guess that the Stafford haul is the floor of what the Packers could get for Rodgers-- two 1st round picks plus some extras. It could be higher than that, but I would be surprised if it turned out to be less than that.

Caveat: The one issue that I could see arising here for Green Bay has to do with Rodgers' willingness to sign an extension. If there are, say, five teams that are seriously competing to trade for Rodgers, that will drive the price up. But if teams will only trade for him with an extension in place, that could give him some leverage. If he says "I'm only signing an extension with Team X," it drives down the competition, and hence the price. Teams may still be willing to call his bluff, and he might have more multiple teams that he's willing to sign with, but that's one issue that I could see creating a problem.