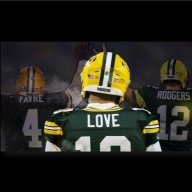 Joined

May 2, 2012
Messages

11,108
Reaction score

3,173
I think that people get too hung up, generally, on "#1" versus "#2" and would do better to think in terms of roles.

What does the offense need at the position?

Well it would seem that they need an X who can beat press, they need someone who can consistently separate against man coverage, they need speed in general and particularly vertical speed, they need a power slot who can do dirty work in condensed formations, they need yards after catch/contact skills, they need traditional slot WR skills.

So what do they have currently? They have that power slot and traditional slot in Lazard and Cobb. That's about it.

So in what remains of FA, via trade, and in the draft, they need to start adding those roles that they currently lack. Let the production of #1 vs. #2 vs. #3 come out in the wash-- get the skill sets into the building so that the offense can execute as intended.
Many don't care to look at needs and roles and holes like this though…they just flat refuse.