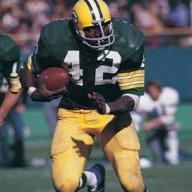 Joined

Jan 21, 2017
Messages

11,371
Reaction score

2,305
For me, when it comes to prospects, there are a few basic categories.

1) The guys I know and love and want my team to draft.

2) The ones I'm less familiar with, but like for whatever reason (maybe they just have good peripherals).

3) The players I'm indifferent towards or totally unaware of (lots of them in my case).

4) The guys I don't know well but lean against (maybe they just have bad peripherals).

5) The "Do Not Draft" guys-- players that I do not want at their projected draft cost and not just because of their position (e.g. another QB for the Packers).

So in that last category, here are my guys:

--Bernhard Raimann, OT, CMU: Where to begin. Raimann will be 25 for the majority of his rookie season. He's raw, having played only one season at tackle. His arms are beneath the 33" threshold. He's coming from a lower level of competition. So super old, super raw, and lacking length. Hard, hard pass.

--Abraham Lucas, OT, WSU: Largely considered a day 2 player, Lucas is an air raid tackle who is underdeveloped as a run blocker and will be 24 as a rookie. You'll notice a theme here: unless it's late, late, I do not want developmental prospects who are old.

--Christian Watson, WR, NDSU: If Watson is truly a fringe 1st round player, I do not want him. He's 23 and raw in his ability to play WR; if you're an old prospect, you better not be a project. He has amazing gifts, but he didn't play to his size in college. I was in on him when the cost was lower, but at this price you can have him. A guy like Jalen Tolbert is the same age and less physically gifted, but he's far more advanced in the details of the position and could be had 1-2 rounds later.

--Boye Mafe, ED, MINN & Arnold Ebiketie, ED, PSU: Both of these guys are in the same bucket for me as over-aged prospects who didn't come on until very late in their careers. They are both attractive prospects at the right price, but as fringe 1st rounders the juice isn't worth the squeeze for me. I struggle to trust players who didn't emerge in college until they were 22/23 years old.

--Devonte Wyatt, iDL, UGA & Phidarian Mathis, iDL, UA: I was never a huge fan of Mathis, but this pains me in regards to Wyatt, who I think is really intriguing overall. But both of these players are 24. I would not draft a 24 yo in the 1st round (you're talking about a guy who will be 29 by the time he's on a second contract), nor on day 2 unless they are special (and Mathis isn't close to special).

The theme here for me is obviously age. And that's two-fold. The obvious problem is that they would project to have shorter careers. But that's actually secondary in my mind. The bigger concern to me is that they had the benefit of being much older and more mature/developed than their competitors. You have to discount the tape grade of a 23 year old beating up on teenagers. And they typically have very old breakout ages (they wouldn't have waited this long to come out if they had broken out earlier), which tends to project poorly in terms of future success.