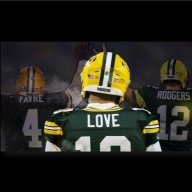 Joined

May 2, 2012
Messages

10,988
Reaction score

3,110
So I'm not going to discuss all of them, but the guys that I think fit Packers and timing of when we will be picking on possibly - which FTR I don't think we take one with either of our first two picks. That said, I also think we target an inline type TE given we have both Deguara and Dafney. Now I say all this with the "darkhorse" option being that we don't pick a TE till a Day 3 type guy due to the organization liking Bronson Kaufusi and Tyler Davis along with a TE they liked in Alize Mack in his draft year but he went elsewhere...but now is in the fold after being signed after season ended.

Personally though I think there is a real possibility that sitting there at the end of the 3rd there is a chance that a TE offers a better offensive weapon and addition than any WR on the board, so the guys I'm going to discuss are guys I have a 3rd round possible grade on or lower that I like:

In order as I have them ranked of those being shared here:

Jeremy Ruckert out of Ohio State, 6'5' 250lbs
IMO should not see the 4th round

I personally think he will be gone prior in the pick #80-#100, so I'd be tickled with him with our 3rd rounder. All Ruckert has done was deliver consistency whenever called on in the passing game but was more a weapon in the run game and red zone primarily. You're talking about a guy that in 2019 saw just 14 receptions but 4 TDs, 2020 saw 13 receptions but 5 TDs and then 2021 he doubled his yards and receptions but put up just 3 TDs...however clearly this is a guy that the QB knows and trusts to make the catch despite necessarily targeted a ton. Ruckert's one handed TD catch in the back of the endzone against Wisconsin is perhaps the catch that showcases this ability the best.

Jalen Wydermyer out of Texas A&M, 6'4' 255lbs
IMO a 3rd/4th rounder

He is the more offensive receiving threat version of Ruckert with just a touch less refined blocking chops - but is a guy fully capable of being an inline blocker or excels it seems with his production over his years to be a threat for any offense he resides in (started as a freshman out the gate at a high level school). Wydermyer is right there with Ruckert (albeit behind slightly) as one of the more complete and seemingly high floor type TEs in the draft. He has put up in his three years 6,6 and 4 TDs while averaging right around the 500 yard figure each of those years as well...yes he is only a Junior so young as well. I expect at the A&M Pro Day he will do some testing and illustrate to some how his measureables will be solid. This is a guy that with Tonyan out and Lewis's age can line up in line or be split out which plays to MLF's system and adds a weapon for Rodgers in 2022.

Jake Ferguson out of Wisconsin 6'5' 250lbs
IMO a 4th rounder

Mr. Consistency would be my nickname for what Ferguson has done at his time in Wisconsin. Not a flashy offensive team his whole time there, he still consistently put up starter figures each of his four years there (another starting freshman). His four years get this, he never had less than 30 receptions (46 was high), never had less than 300 yards (456 high freshman year), had 2-4 TDs every single year and was a solid blocker in their run game more and more as he grew and matured each season. His limited games 2020 season was VERY IMPRESSIVE putting up 30 recepts, 305 yards and 4 TDs in just 7 games.

Jelani Woods out of Virginia (before Okla St.) 6'7' 257lbs
IMO a massive wildcard but STEAL in 5th but I'd take in 4th if I want to be sure to nab him

Jelani is my darkhorse favorite and the combine measurables has now put him on more lists of such as well. Jelani originally was a QB hopeful at Oklahoma State, but switched to TE where they used him as a blocker primarily given his incredible length and strength. Pictured solely as an inline blocker after his senior year was done, he elected to transfer and prove he could be a weapon as well - that bet on himself has paid off as he put up awesome numbers at Virginia in 2021 - 44 receptions, 598 yards and 8 Touchdowns. It is worth noting in Okla State he was a TD threat in the redzone getting a TD 4 times on just or at a rate of once every 8 receptions. This cat showed up at the combine and put up 24 reps on bench, higher than many OL prospects including the behemoth Faalele...so have no fear in his strength, but he also proved he can scoot for a big guy by running a 4.61 forty (folks that's nearly as fast as Davante, faster than this years prospect David Bell) and his 10 yard split was just .05 slower than Kyle Pitts' - this dude can scoot.

From this point down it is tough to find a well rounded TE IMO. The above guys listed IMO are the types that if you made me rank their skillsets across the board don't have any massive holes or bad spots and would get like a 6/10 at the lowest in blocking, hands, routes, agility, strength and such....from this point on we are sacrificing at least one or two facets of the game that we hope will grow...but here are my late rounds flyers:

Cole Turner out of Nevada 6'6' 249lbs
IMO worth a 5th rounder...but don't expect a blocker extraodinarie year one

This dude is a receiving threat and his last two years at Nevada with better QB play (Carson Strong) he put up gaudy numbers for a TE really... Over 600 yards both years, 49 and last year 62 receptions amassing 19 touchdowns those two years (NINETEEN). His vertical isn't anything special (sub 30) but his body positioning and ability to highpoint off his tall frame and 33 inch arms is illustrated time and time and time again. A team selecting him instantly has a TE that can surely handle receiving packages, but will need some time both building his strength but working on his blocking technique as he just wasn't asked to do it much; that said when asked he is a very williing blocker, but is an effort blocker alone and wins solely off that and not by his strength or technique - build that up just some and he quickly could be a Tonyan 2.0 for Green Bay.

Daniel Bellinger out of San Diego State 6'5' 253lbs
5th/6th Rounder IMO

Remember when I said Wydermyer was just the slightly less version of Ruckert...well Bellinger is the same thing for Jelani Woods IMO. Slightly smaller, but in that framework has strength in excess - putting up 22 reps on bench illustrated that to everyone watching the combine. Unlike Woods he never was tasked to showcase his receiving ability much, but in 2021 did break 30 receptions, put up 357 yards and chipped in 2 TDs (one a 73 yarder)....that was why the combine and measurables were important for Bellinger - he needed to showcase he has the athleticism to be that threat even if he wasn't really tasked with it a ton in college. Bellinger did just that, posting a 4.63 (again beats David Bell and gets even closer to Davantae's), awesome cone drill figures (WR level), 34.5 inch vert and over ten foot broad. His RAS is awesome at 9.46 - so the raw athleticism is there and his 2021 glimpse at being a receiving threat to me is enough to believe something could be there.

Peyton Hendershot out of Indiana 6'4' 250lbs
7th/UDFA Priority

Peyton is my 7th/UDFA priority type TE in this draft. A guy that came into IU and put up figures early in their offense...2019 had an explosive production year with 52 receptions, 622 yards and 4 TDs...2019 dipped some due to limited games but he still managed 4 TDs that season and this past year on a TERRIBLE team Peyton was one of the bright spots. 46 receptions, 543 yards and 4 TDs. The flag on Hendershot came in 2019 when he had charges filed on him due to a domestic issue...he pled guilty to criminal trespassing and the other charges were dropped. It sounds like he has taken a lot of steps in a remorseful way since these issues. He had to take a batterers courses as part of the plea, but has continued to be active in the "domestic violence" world and speaks out against it and what he has learned and become due to all of this. Interview process will be critical for Peyton to ace with teams, but if teams get the sense he truly has grown in the two years since and it is all behind him and has made a better version of himself than Peyton is 100% worth a flyer or UDFA priority signing IMO.