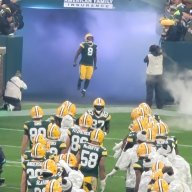 Opinions are like A-holes, we all have one.
Joined

Oct 30, 2012
Messages

23,018
Reaction score

2,813
Location
Thats my point..he signed it.. Now did the team promised something? Thats why its an issue now?
They might have, but if it's not in writing, well.....I guess it doesn't mean much. I am still guessing they tried to pacify Rodgers after the Love pick with something like "you know, if you aren't happy in a year or 2, we can talk about trading you to another team". Rodgers took that as a "promise".
The other aspect of this is his trade value. His trade value would be a lot higher if the Packers could trade him under his current contract terms. Technically, they can, but he will make it clear that he won't play. So all these draft picks people expect the Packers to get for him are going to be reduced when a team finds out how much it's going to cost to sign him to a new deal. His latest attitude doesn't help the Packers in negotiations either.