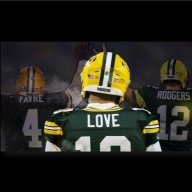 Joined

May 2, 2012
Messages

11,662
Reaction score

3,509
See that's interesting about blocking because I'm seeing that being a general weakness for Likely because of his limited usage there. Maybe not enough to be a huge concern, just needs refinement (converted WR)

It's hard to say, but I think just the Conference alone pushes him into the 3rd Round, maybe not to #92, but who's to say if he breaks past the top #75 we would've trade up slightly to ****** him.
I have Likely in the mid-late area Round 3. I don't think he's refined enough for a top #64 selection. Again a player is worth what someone is willing to pay, that includes draft capital.
Honestly I don't think any truly are 2nd round guys. I think TE group deserves to start getting picked in 3rd - which means a few will be nabbed early in the second for teams that especially like a guy most likely.