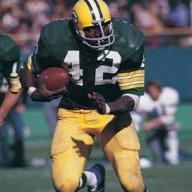 Joined

Jan 21, 2017
Messages

11,371
Reaction score

2,305
We've all got prospects that we just really love. Guys that really pop to us on tape or that we are confident will be good for any number of reasons. These aren't necessarily the guys you think are the best in the draft or even the best at their positions, but they're "my" guys. And of course, by saying "my" that doesn't mean that I was the one who discovered them or the only one who really likes them.

Now here's the catch-- you may only choose five. That's it. Hone your list down. We know you love more prospects than that, but the limitation makes it a fun challenge.

1. George Pickens, WR, UGA:

-9.37 RAS athlete with an impressive 1.50 ten yd split at 6'3" ~200#.
-Just turned 21 years old last month.
-Led the UGA Bulldogs in receptions, yards, and touchdowns as an 18 yo true freshman (49/727/8).
-Legitimate vertical threat who understands how to stack coverage.
-Incredible contested catch player and amazing hands generally (2nd lowest drop rate in the SEC since 2019, 2.1%).
-Legitimate X receiver skill-set; one of the best prospects in the class against press coverage.
-Tons of untapped potential and depressed value after missing majority of 2021 season.
-Absolute dog of a blocker and very effective at doing so.

2. Daxton Hill, DB, MICH:

-9.07 RAS athlete at safety; 9.95 at cornerback.
-32.25" arms and 6'8" wingspan.
-Won't turn 22 until September.
-In 20 games over the last two seasons, has 16 PBU's and 3 INT's.
-Played slot, box safety, split safety, and single high for Michigan (under NFL coaches in NFL system).
-Has legitimate cornerback ability-- could play anywhere.
-Physical, reliable tackler despite weighing 191 lbs.
-Reportedly high football IQ.

3. Travis Jones, iDL, UCONN:

-9.40 RAS athlete.
-Well distributed 325# on 6'4"+ frame and 34+" arms.
-22 years old, which is refreshing in a class with so many over-aged prospects.
-Was immediately productive for UConn and persisted despite playing for lousy teams.
-17% interior pass rush win-rate was the same as sub-rusher Josh Paschal and better than Perrion Winfrey and Devonte Wyatt.
-Misunderstood as pure nose tackle-- aligned often at 3T for the Huskies and has legitimate versatility to play from the 5 in.
-Plus skill sets as both a 1 gapping or 2 gapping player.
-One of the most dominant players at the senior bowl.

4. Drake Jackson, ED, USC:

-8.60 RAS athlete with long arms (34") and big hands (10.25"); near 7' wingspan.
-Just barely turned 21 years old this month.
-Logged 11.5 TFL, 5.5 sacks, and 3 PBU's as a true freshman in 2019.
-Highly flexible top side rusher who capably uses his length to counter.
-Has length and athleticism to rush or drop into coverage on any given play.
-Willingly added or shed weight in college to adapt to different defensive roles.

5. Nick Cross, SAF, MAR:

-9.87 RAS athlete at safety with legit size (6'0" 212#), speed (4.34; 1.46), and agility (4.21; 6.85).
-Still only 20 years old and won't turn 21 until September.
-Big time ball production all three years for the Terps: 18 PBU and 6 INT over three seasons.
-Tons of special teams snaps and production in college.
-Another guy who played everywhere: slot, post, split, and in the box.
-Has the size and strength to thump, but is a reliable tackler.
-Ideal skill set for a two high defense that uses split safeties and swaps responsibilities.
Last edited: