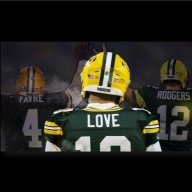 Joined

May 2, 2012
Messages

10,973
Reaction score

3,102
So I ran over 40 simulations today at The Draft Network and about a dozen at PFF's mock generator. Zero science of course, but was curious what would happen.

As projected I strongly feel now at 22 contrary to 28 we are guaranteed one of the top 5 wide outs in the draft IMO that fit our need; London, Williams, Wilson, Olave and Burks. It would seem to be that order as well is at least predicted the most...again nothing of course sceintific...I did cross check this with many of the newest mocks out there by the "pros" at this and it jives that many feel it is Olave, Burks or Jahan Dotson that we will grab. I didn't mind Dotson at 28 IF the other 5 were gone, but my hunch is if the 5 are gone by 22 that means there is a STUD defender at EDGE or DL that I'd take instead.

Enough talk here is my recent mock and some in depth reasons or explanations, while a few are brief:

Round 1 Pick #22 - Chris Olave WR Ohio State
Once I settled in after all the simulations to see "odds" this exact mock threw two QBs in the first 20 picks which I think given NFL history is likely (Willis and Pickett). That actually placed before me a pick between Olave, Burks, George Karlaftis and Devonte Wyatt. Personally I just don't think Wyatt makes it here so it was tough for me to look past Karlaftis and his freak hybrid ability to be OLB or down inside...in the end I add Olave, and honestly I'm so split between he and Burks that I truly went Olave purely from a route running standpoint - he is more of a craftsman there, but doesn't IMO have the YAC ability of Burks (dude is a beast!).

Round 1 Pick #28 - Perrion Winfrey iDL Oklahoma
This pick honestly came down between going Daxton Hill or a choice between Perrion and Leal along the DL. In the end I chose the guy I feel screams another Kenny Clark - with maybe a tick less presence against the run, however don't say he isn't good there because he is. His explosive burst was on display at the combine and back at the senior bowl (MVP). Day 1 contributor without a doubt in my mind. Dude is a JUCO transfer story that is worth telling and I'm excited to see it continue in Green Bay.

Round 2 Pick #53 - Travis Jones iDL UConn
Folks are going to roll their eyes...well some might...others are gonna nod their heads and smile, something Kenny Clark, Lowry and Barry will be as well. DL is a WEAK spot on this roster, and when I see Tariq Woolen (CB) athletic freak go at 52 and early seeing my two top edges entering the 2nd in Mafe and Ebiketie gone...not having an OT high on my board and same with safeties I simply go as high up my board to a point that intersects a weak/need and we double dip on the defensive trench. A bigger body than Perrion at 325lbs, Jones is a BEAST of a bull with agility for days that shocks you. A once was weakness is instantly revamped and DEEP...honestly Heflin and Slaton should both be nervous....shoot even Lowry maybe by year's end.

Round 2 Pick #59 - George Pickens WR Georgia
So I struggled with this pick...Christian Watson would be my dream double dip if we did, but that joker is NOT making it this far and didn't. I do envision a scenario where this spot could hold David Bell, George Pickens and Metchie as the top three available WRs...I also know solid chance of my board showing a SOLID CB or EDGE...which it did in Enagbare and Drake Jackson both there at Edge, plus Derion Kendrick CB was there. In the end Pickens there is the potential steal of the draft, and despite his injury history I truly think may end up someday being one of the top 5 WRs from this class if healthy and stays on the field. As if double dipping at DL wasn't enough to make folks heads spin, I have Gute doing it again with WR.

Round 3 Pick #92 - Jeremy Ruckert TE Ohio State
I've shared enough times on him by now won't type up anymore. He starts opposite Lewis day 1 and is a 50/50 odds to make it to this pick IMO.

Round 4 Pick #132 - Akayleb Evans CB Missouri
Day 3 starts and Gute picks a position that is simply tough to have enough of, and that is CBs. Rasul is said to be signing...so is this really necessary...well Evans 100% has experience in the slot and outside so (knock on wood) we see another injury or Rasul drops down to earth and isn't what he was last year, Evans has a good shot at being a contributor early. A 6'2' nearly 200lb frame running a 4.46 doesn't grow on trees...and research this young man and you will find a high character man that Green Bay will no doubt love and embrace.

Round 4 Pick #140 - Kellen Diesch OT Arizona State
Some will say this is at least a round early on Kellen, I 100% disagree and nab one of my favorite mid-round tackle with RT starting year one potential IMO. Slightly shorter arms then I would like but athleticism is there and potential is packed into his entire frame. A position group that minimum needed depth may have just found the swing tackle back up or more.

Round 5 Pick #171 - Yusuf Corker S Kentucky
A guy I've not really touched on, but am a fan of. Came to KY as a four star receiver and DB, and went DB and has started 37 of the last contests while there. Most frequently used as a boundary safety in KY two high shells, he also however was called in their late rotation to play the high post and did so successfully. He isn't a guy out the gate that will have amazing coverage ability, but is an excellent run supporter and does exceedingly well reading and attacking run plays - with ability to make the tackles to boot.

Round 7 Pick #228 - Ali Fayad EDGE/OLB Western Michigan
A raw, but HIGHLY productive OLB prospect from Western Michigan that if you put on his tape you at times don't understand how he gets it done, he just simply does. He leaves WMU with nearly 30 sacks to his name and 53 TFLs across his career. He has exceptional strength but isn't a speedy or explosive EDGE, technique and strength moves while also setting the run edge will be how he sees the field early if he does while he is coached up and rush packages are added.

Round 7 Pick #249 - Christopher Allen EDGE/OLB Alabama
His break out year was 2020 where he produced and was a starter...2021 he was being pushed hard by others, and then got hurt against Miami early in the year. He is a Day 3 flyer that you hope is more that 2020 guy that illustrated serious potential to be an excellent OLB depth at the next level as his floor with sky the limit ceiling. Worth the gamble.

Round 7 Pick #258 - Austin Deculus OT LSU
I've also wrote about this guy a lot. Doesn't get the attention he deserves and could shock folks at how well he does at the next level after now holding the most career starts by anyone at LSU. 34.375 inch arms and a RAS of 8.27....he is the epitome of potential you look for in the 7th.


There she be...and this is probably one I'll sit on for a while and not do any mocks for a bit. I'm busy trying to refine my boards and really separate clusters into actual dividing lines atm.