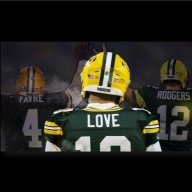 Joined

May 2, 2012
Messages

10,495
Reaction score

2,854
I'll get back in the habit of this if able the entire preseason.

Top 5 Offensive Guys:
1. C Josh Myers: 92.2
2. OT Zach Tom: 80.2
3. OT Caleb Jones: 76.5
4. WR Danny Davis: 73.3
5. OL Sean Rhyan: 72.2

*My takeaways or thoughts. I constantly was watching the right side of the OL intently and I was so excited to see how freaking well Tom was doing, not shocked as again I had him red circled higher than Rhyan as an overall OL (had Rhyan as a better guard option). I think Tom could arguably have the inside track to conquer a starting spot even if Jenkins plays....Runyan or Newman (my choice) should be very worried. The surprise guy on the OL front for me was confirmed by the grades. I thought the mountain of a man Jones moved better than I thought he could, his hands were very efficient and his lean seemed to be the only thing that got him in trouble...otherwise when he stayed bent and anchored he was nearly impossible to move on the rush and no one wanted him attacking them on run plays. Danny Davis is making a serious push for PS, and I still say if we keep 6 he is one of the three guys battling for 2 practice squad spots IMO.

Top 5 Defensive Guys:
1. LB Isaiah McDuffie: 75.2
2. DL TJ Slaton: 73.9
3. CB Keisean Nixon: 73.4
4. CB Shemar Jean-Charles: 72.5
5. LB Ellis Brooks: 71.7

*McDuffie illustrated the stud run stopper all of us that studied him before his draft knew he was. What I liked was a few times how fluid his hip shift seemed on passing plays or his read and ability to take right coverage/pursuit angles to flats making very efficient use of his speed (he isn't a blazer). Many of us projected McDuffie would make Summers expendable...and I think this is confirming that more and more an option. Let me just brag on my boy that I called my darkhorse for the 53 the MOMENT he went undrafted and we nabbed him...I was a big fan of Day 3 pick of Ellis Brooks and he had a very solid day at the yard in CA. Don't look now also folks but TJ Slaton against quite a few 1s (Lance led group) did some freaking stud level stuff....DL weakness of years past is quite possibly one of the deepest position groups now on the Defensive side of the ball.

Bottom 5 Offensive Guys:
1. TE Tyler Davis: 30.8
2. RB Patrick Taylor: 38.8
3. RB Dexter Williams: 50.8
4. WR Ishmael Hyman: 54.1
5. TE Sal Cannella: 54.7

*Davis destroyed the one drive playing tipping game instead of catching the ball...and Patrick Taylor like many feared is simply going to be passed up by Goodson and most likely a healthy Hill as well. Taylor will be a PS lock IMO though and is still young and knows our system to be there when needed. Dexter is on this list yes (but over 50 isn't terrible) but I bet it is based more on a couple missed blocking assignments I saw...otherwise when the ball was in his hands he for sure showed he can still do things....he isn't going to be here beyond preseason but still good to see.

Bottom 5 Defensive Guys:
1. LB Ray Wilborn: 26.1
2. DL Chris Slayton: 30.3
3. DL Jonathan Ford: 30.9
4. CB Rico Gafford: 37.3
5. DL Akial Byers: 39.7

*I want, I think the staff wants, Bisaccia wants....so many people want Gafford to provide something deemed enough to keep him around for his ST potential....but it was a BAD day in the neighborhood for him. Ford shouldn't be on this list IMO...I noticed a few plans he jumped out to me, my guess is a few of the big rush plays were blamed on him and his good was overcome in the grading scale for sure. I still like his chances on PS.

Few notes outside of these from Tyni:

Dallin Leavitt injury I hope isn't a major one because that guy I truly think if healthy is going to be top or second to top spot for most ST snaps for the team all season. He was a ST BEAST in Oakland and played solid depth back up at Safety...I love this young man and pray he is back up and running soon. That fumble hit epitomized how he can and is willing to impact a game.

Jordan Love is being ignorantly blasted for the wrong things. Ignorant fools look at the three picks (only one was a bad decision or even close to his fault...) the most concerning aspect of Love was the flat misses on the short outside passes. They wouldn't have changed much from the stat line or such, but gotta clean that up. Otherwise the dude moved the team in the Niner territory all but one of his drives...got absolutely screwed by Tyler Davis and then Doubs catching....hitting ground and then "not catching" it apparently...but further yet losing and turning it over...it was an odd play but I liked how he threw it away from the defender to where Doubs could catch it (and did...really).


Enagbare looked good...and looked more like the Day 2 level guy I had him graded it...can he keep stacking solid days on solid days? That is the only question....he is looking like a solid depth guy behind the big two.

Etling showcased why they were okay with releasing Kurt Benkert...there is a little more polish, a little more finesse and a little more ceiling it appears to Danny than some of us may have realized.