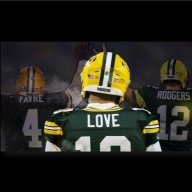 Joined

May 2, 2012
Messages

10,973
Reaction score

3,102
Been a ton of discussion of course about filling our hole at WR - how much capital we have to spend on it, where do we go with the plethora of picks. I'm quite confident despite a weak class of QBs, there will be a minimum of 2 taken before our pick at #22...maybe another. This will only assist in the dropping of WRs, it also helps that there are four clearly higher prospects at EDGE (Aidan, Kayvon, Travon, Jermaine) and three to four clear best OTs (Ekwonu, Neal, Penning, Cross) that are locks IMO to go before. Throw in Sauce, Stingley, Booth IMO as locks too and Jordan Davis...you're quickly approaching 15 prospects...leaving 7 slots, and 5 concensus best WRs (Williams, Olave, Wilson, Burks, London...Dotson another for 6). I strongly suspect one of those first 5 will be there....and I do think Gute sits with the 22nd pick.​
BUT Gute isn't one to sit still and there are some guys that just scream Packers IMO at other positions which need assistance and in this mock Gute uses his resources and ends up trading not just once but twice to move up...in some moves that some will argue we gave up too much on.

The first trade is IMMEDIATELY after the Burks pick - Gute immediately has Arizona on the phone facilitating a trade to send our 28th (1st) and our 92nd (3rd) to them in exchange for the 23rd (1st) and 201st (6th). On pick value charts it is going to seem GB got taken (GB792 vs ARZ769) but Wyatt is a guy Gute and Co. sees as the future, even beyond when Clark is no longer in his prime.

Day 1 ends and Gute is already in works trying to make trades work with Jags...but doesn't happen. 35th pick swings to us in a trade with the Jets, where again GB gives up some premium value...sending both of our 2nd rounders to the Jets in exchange for their 35th and 117th (4th)...the pick value was GB680 vs NY610...again though Gute & Co. see a guy they love off the edge in Ebiketie and go get him. Yes Preston is back...but you still don't have a clear trusted #3 EDGE/OLB and many feel Arnold can not only be that but a Day 1 starter if a team needs it.
22. Treylon Burks WR, Arkansas - T

he YAC BEAST out of Arkansas comes to GB. His skillset translates to GB so well as he is a Deebo Samuel type and cold weather simply doesn't impede his game nearly as much as a burner or pure route technician relying on breaks and such (although he is solid there too). Far too many will look solely at his measurables and the "slow" forty...watch some tape you ignorant fools, dude is a BEAST of a weapon and unlike anything GB has had IMO ever in my lifetime.

​

23. Devonte Wyatt IDL, Georgia -

Wyatt brings starting level skillset, to a team that will be blessed to not have to force too much on his plate too fast if needed. This isn't a massive pick for 2022, although watch out because it could become so, but is more so in preparation for 2023 while making us better immediately. Lowry and Reed are both expiring contracts after this season...leaving just Slaton and Clark essentially on contract still - massively athletic DL, capable of handling serious snapload out the gate is too much to pass up and Gute makes it happen sacrificing picks and eliminating us from a large chunk of time pick wise (no 3rd now).

​

35. Arnold Ebiketie EDGE, Penn State -

The targeted attacks keep coming....and no doubt when fans see Day 2 start with an alert that Green Bay has traded up, folks are looking and thinking it is for George Pickens or Christian Watson, and initially I have no doubt some may be mad when the name pops up - but many will be ecstatic and others will come around as they watch highlights and hear the analyst explain why this pick is SO GOOD for GB. Ebiketie is a guy that has grown each of the last three years as his role grew first at Temple and than last year for Penn State - where he amasses 9.5 sacks, 2 FF and a ton of tackles and pressures. ELITE movement skills and speed (RAS 9.1) easily projects that he can offer drop off and cover calls as well - the only thing he will need to work on is diagnosing run plays and not letting his speed "hurt" him breaking past run plays.

​

117. Kevin Austin Jr. WR, Notre Dame -

The LONG wait from #35 is over...and GB hears a WR name called.

Breaks the mold of GB's trend of only picking players that have been consistently productive in that Austin has just one year of production in college, but to his credit it really was the first year ND asked him to be involved in the offense and excelled at it. He is an exceptional athlete (pretty much any measurable will attract the eyes), and his knack for tracking vertical shots down the field separates him from many others. Coan wasn't always the best deep ball ******, but Austin's inflight adjustments without breaking stride resulted in many big plays. He isn't a YAC beast like Burks, but runs violent and has above average strength for a WR making it a challenge for smaller DBs trying to bring him down. With a burst in his first 10 yards and 4.43 speed, he is just quick enough to play the backend MVS role with better hands to grow as he progresses in his NFL career.

​

132. Zach Tom OT, Wake Forest -

Zach is a the prototypical diverse OL draftee GB salivates over. 33+ inch arms, experience primarily at both LT and Center with the skills to slide inside or flip sides to RT if needed. High RAS, high character guy that will instantly push wherever GB wants him to play (except LT or C given who we have there).

​

140. Akayleb Evans CB, Missouri -

Akayleb is a guy I always had on my radar...his RAS pushed him up the list and I finally watched as much game film as I could. He is an extremely intriguing prospect of a more solid cut framed CB, that plays the timing of the catch very well but isn't a ball hawk. Physically imposing CB that can really make his presence known if he can engage in press, but at times showed hesitation or issues when up against a true route technician. He is a physical guy willing and trying to lay big hits on, but form can be an issue here not breaking down for the tackle at times and would rather take a shot at the "big play". Refining and controlling that concept I think will be key to him seeing the field more or quicker at the next level...and could be the difference between him impacting the team on STs or not.

​

171. Tariq Carpenter S, Georgia Tech -

The hybrid Day 3 LB...well Safety....well LB....is a guy that was used in coverage a lot but is built like a LB. Some say he played as light as 190lbs at GT...but bulked up more and more in this final year and at combine he came in at 6'2' 230lbs! He has elite level LB figures for Speed at 4.52 forty (a 1.55 10 yard split), 39 inch vertical is incredible and his broad is over eleven feet. His shiftiness isn't his strength but the speed and burst makes up for it. You want a drop down box safety that cannot be manhandled by TEs in coverage or even blocking at times, Tariq is that unique situational sub package Safety that can easily be used by Barry - especially if he excels on STs as nearly everyone feels he will. He's a safety built like a light LB, that has the vertical of a CB...and faster than nearly any TE he could be tasked with covering.

​

201. Mike Rose LB, Iowa State -

Here's a LB again that I really like on Day 3. Rose isn't the fastest long speed guy (4.7 forty), but his 6'3' 245 frame is VERY agile, works through blocks due to this quite well, can flip and rotate fast (shuttle 4.2 and cone 6.94...tape supports this too). Explosive broad jump and his first few steps are quick enough to handle short coverage responsibilities and his hands folks are there when a chance presents - with 6 INTs in the last three seasons and one season (2020) where he snagged 5!.

​

228. Blaise Andries OT, Minnesota -

Everyone wants to talk about the other Minnesota tackle Faalela...but Andries is a 9+ RAS tackle prospect that has manned numerous positions including RT when Faalela opted out of the 2020 season. 34 inch arms and elite movement abilities pop for this leaned out 6'6 311lb OT/OG prospect. His movement skills and diverse positional offering is right up GB's alley of historical OL guys brought in. He could be a reserve across many like Patrick was or be slated to really learn and craft himself into a RT option and battle with Yosh - especially if Zach Tom (earlier pick) is slid into the RG battle and backup Center role.

​

249. Ty Chandler RB, North Carolina -

Picked him because he is my namesake LOL...joking. A guy that has produced every year it seems (first four years at TENN) 400 yards rushing last 4 years (305 in 2017) and over a dozen receptions all five years including his final year at UNC. This pas year he was a 1300+ all purpose guy with 14 TDs and a 14.4 YPC guy out of the backfield (mainly thanks to a 75 yard scamper to be fair though). Surehanded, Kickoff return experience and a guy comfortable taking a handoff or being asked to catch. 4.38 speed also...so if he gets a seam he can quickly pick up yards in a hurry on a defense.

​

258. Kirt Hinish DT, Notre Dame -

At this point I like Hinish out of Notre Dame purely from the fact he is a strong nosed bull that brings his lunch pale to work and does what is asked of him. As a ND fan, I feel ND never optimized his use as much as they might have been able to but he showed out at his pro day putting up elite shuttle/cone drills, 4.96u forty time and 31 reps on bench. He is a strong stout 6'2 frame that does well with his pad level, but isn't a dynamic athlete. He can be a consistent and predictable workhorse, and for the stretch of his rookie contract there is value there IMO for that.

​
Last edited: