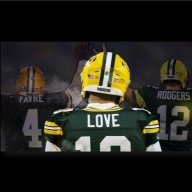 Joined

May 2, 2012
Messages

10,417
Reaction score

2,817
I know many are annoyed with my mocks, and to be fair the amount of time I spend analyzing picks and such far out weigh the quick weekly exercises of mocking a draft out that I share here...in hindsight I'll hold off sharing those weekly next year and only post maybe one each month (Jan-Apr).
That all said I am locking in two mocks as my final thoughts. I'll try to share more about each pick since last ones. RAS scores will be shared for each and a few key positional measurables which I or Green Bay tendencies have illustrated are important (check out
@Dantés
draft thread for awesome breakdowns of some of these for a few positions).
Final further thought is, yes both my final mocks involved trading. I know some despise the trade concept in mocks...but GUTE clearly despises sitting still and I 100% believe we will trade up OR see a trade back (and later up) type drafts. So here we go:
FIRST OPTION - TRADE BACK FROM 29
#29
- I predict in this scenario we attempted some trading up for specific players - Newsome, maybe Bateman...but nothing worked out. None of the 5 first round CBs on board is there still (Surtain, Farley, Horn, Stokes, Newsome) Barmore went just picks prior and Newsome/Bateman and others are gone. Bengals are one of the teams calling...they want a weapon for Burrow (clearly one of the slot/short YAC guys (Moore/Moore/Toney)). They offer their 2nd (#38) 4th (#111) & 6th (#202) for our 1st (#29) and 7th (#256). Draft charts will show it has slightly in Bengals favor, but Gute does it and instantly prepares to move again when time and deal is right.
#38 - ZAVEN COLLINS - 6'4' 259lbs - LB
- TULSA (8.73 RAS) 4.66 40YD DASH - 1002 BROAD
I have a sneaking suspicion we are in for a position surprise pick (not OL, CB or DL) - and that increases in this trade back scenario. Personally I think Nico Collins, best WR on board (both Moores and Toney are gone) and would be tough to pass...as would Dillun Radunz. BUT I think, despite disagreeing with it somewhat, the team truly believes King's signing removes a CB from Day 1 and willing to wait till late Day 2 or early Day3. Likewise I believe there is solid OL options later. So....the insanely athletic and young Zaven Collins is sitting there and has his name called (Jamin Davis is another real option as well). For me Zaven has no business being as fluid and swift as he is at 260lbs. His forty time actually was tick slower than I figured as his film says he moves 4.5 minimum - but whatever I'll take film and play over shorts and straight line any day. Big play, big hitting, can cover - turn interceptions into TDs....he is everything Green Bay fans have wanted at LB - this addition to the defense could be argued as having a MASSIVE impact as we reflect in a few years. If Kamal's excellent grading from 2020 was no fluke, and the story that is Krys Barnes continues - WATCH folks what was our biggest liability for years, could end up being a serious strength.
Next pick is #62...Gute and crew attempt to wheel and deal up but never quite find the deal vs the reward type move.
#62 - TOMMY TOGIAI - 6'2'' 296lbs - iDL
- OHIO STATE - (8.58 RAS) 4.49 SHUTTLE & 7.2 CONE
40 BENCH REPS!
Look up Kenny Clark's RAS score, and shuttle/cone/bench figures. You will be blown away at Tommy's even more so than I was. I love what Tommy brings to the field and if his measurables and his flashes translate with NFL coaching into what he should become WATCH OUT. We have in just two picks bolstered our front 7 an insane level...but by doing so we have ignored CB and OL. Mayfield was picked right after at #63 but as me and Dantes agree his measurables pull him off GB's board (at least this early). Another couple guys Tommy is pulled in over of note is Ifeatu Melifonwu and Paulson Adebo.
***THE POUNCE HAPPENS***
Pundits are screaming CB and OL, fans are as well....and at #73 Ifeatu Melifonwu comes off the boards to Carolina Panthers...and Gute knows now is a must move.
We call up the Washington Football team that has 2 3rd round picks and offer a deal many will say is too much, draft boards call it about even though. We send our 3rd (#92) the 4th (#111) and a 2022 7th to them in exchange for their 3rd (#74) and 7th (#246).
#74 - PAULSON ADEBO - 6'1'' 198lbs - CB
- STANFORD - (9.56 RAS) 4.45 40YD DASH - 4.13 SHUTTLE & 6.69 CONE (while putting up 18 bench reps - 1 less than Zaven Collins!)
Paulson is one of my favorite CBs. Should have stayed in the 2020 draft and probably been a first rounder...then covid opt out...he had a lot to prove at his pro-day and he did. Could he be gone by this point, yes...could he be here, yes. Personally couldn't watch him continue to fall - way too many boxes he checks. King signing doesn't change my thought process and I still want a better #2 outside guy - by the end of 2021 season, don't be shocked to see Adebo there more than King. The hardest player passes at this pick for me were Tylan Wallace (WR), iOLs Quinn Meinerz, Josh Myers & Trey Smith, and tackles Carman and Brown.
It's a long wait till #135, but Packer fans have to feel good at the closure of Day 2 when they go to bed. They got the long awaited top flight LB we've never drafted. Kenny Clark finally actually got true blue help (no offense progressing Keke) AND we walked away with a viable #2CB candidate for the future....sure a OL pick would have been embraced heavily...or a flashy skill position weapon would have made fans smile...but this was a good draft so far.
#135 - WALKER LITTLE - 6'7'' 309lbs - OT
- STANFORD - (8.91 RAS) 4.59 SHUTTLE & 7.44 CONE
While his 24 reps (nearly beat by Adebo) doesn't illustrate sheer strength, Little is everything you'd describe in an NFL tackle body wise and when he's been healthy or played (covid opt out) he has looked the part. I see it as a 50/50 call whether he will be here at this pick...but if he is this is a no-brainer type pick which personally I feel there is no arguing against. If he is healthy, he starts in the NFL.
#142 - CADEN STERNS - 6'0' 202 lbs - S
- TEXAS - (9.59 RAS) 4.41 40YD DASH (VERY QUICK SPLITS) 42 VERTICAL - 4.13 SHUTTLE
Little (emphasize little) bit of a luxury pick and also a pick be interesting to see how GB uses him, does he roam at FS more and allow others flexibility or could he push for more of a slot position either in Nickle or Dime type sub packages? He is a versatile, athletic and widely experienced defensive back that will play the run well, roam in zone well and has proven capable in man. This is arguably the first pick that is not a position of need, but one that the value is for sure seen. Tre' McKitty was probably one of the toughest ones I wanted to pick here, I'm very high on Tre...but TE isn't a place of need and should be left for late rounds or UDFA - lot of questions will be answered this year on Deguara, Tonyan, Jace, Dafney and even the quiet signing of Bronson Kaufusi.
#173 - JOSH IMATORBHEBHE - 6'2'' 218lbs - WR
- ILLINOIS - (8.97 RAS) 4.53 40YD DASH - 46.5 INCH VERTICAL (THAT IS NOT A MISTAKE)
Dude is straight up a Power Forward playing WR. For his size and strength (24 bench reps) this dude can out jump ANY defender, and I mean ANY. His raw skillset is rivaled perhaps only by DKMetcalf on a whole as he isn't as fast as DK, but oh my word can Josh jump and to go along with that he has solid hands and strength to go with it. If Josh can flesh out his route and release packages - the sky is this man's limit and could be a starting WR in the league someday. GB really is a perfect fit as he isn't expected to come in and be the #2, but that door is open should he excel.
#178 - BOBBY BROWN III - 6'4'' 315lbs - iDL
- TEXAS A&M - (9.82 RAS) - 4.58 SHUTTLE & 7.62 CONE
Nearly 20 lbs heavier Tommy Togiai, Bobby brings a different nearly NT type abilities to the DL and instantly his addition really makes Lancaster most likely a cut. Bobby is a 1-technique type guy, that is experienced handling double teams. While offers more on early down situations, his "never ending" motor can impact the passing game as a middle pester and pocket mover. With him and Tommy both added, we could see some fresher Kenny Clark 3rd down situations which opposing OL and QBs will fear preparing for.
#202 - JOSH BALL - 6'8'' 350lbs - OT -
MARSHALL - (7.79 RAS) 4.7 SHUTTLE & 7.77 CONE
Josh, once a highly recruited FSU tackle...had some criminal issues cause self-evaluations and eventual transfer to Marshall. There Ball illustrated why he was once highly regarded and could when all is said and done have quite the story of redemption. The chances of both he and Little busting is slim (maybe one) but not both. Ball is the insurance we shore up our OL depth worst case, but with a chance he pushes for a starting role in year one or two.
#214 - AVERY WILLIAMS - 5'9'' 197lbs - CB/KR/PR
- BOISE STATE - (7.76 RAS) - 4.43 40YD DASH - A 4.00 SHUTTLE (YIKES) AND 6.88 CONE
Avery is a guy I was late to review or study. Full admittance saw his measurables and a Day 3 pick I'd rather not mess with for CB help. BUT, that isn't why a Day 3 flyer on him is worth it. Williams is one of the top experienced returners in the draft...6 returns for TDs is nothing to slouch on...add in a fluid and agile CB to a position group depth is never a bad thing makes him worth this pick. BUT ONE FURTHER REASON, dude was a 1,000 plus yard running back in high school. I desire to test him at the jet sweep/motion guy role as well.
#220 - JIMMY MORRISSEY - 6'3'' 303 lbs - iOL
- PITTSBURGH - (9.00 RAS) 4.47 SHUTTLE & 7.39 CONE
Jimmy Morrissey's journey to becoming the Pittsburgh undisputed starting center as a walk on is awesome. Can lightning strike again, and he come in and prove capable at the next level?? I'm split, but what I'm not split on is his approach to life and his measurables make me not want to bet against him that's for sure. With this pick Green Bay can arguably say they've done a ton to add to the OL room that lost Linsley, Wagner, Taylor and Bahk for a portion of 2021 most likely. They are confident in Runyon and no doubt growth of others...but Little, Ball and Morrissey sure make the team, coaches, fans sleep better.
#246 - ELIJAH MITCHELL - 5'10''RB 201lbs
- LOUISIANA - (9.51 RAS) 4.35 40YD DASH - 4.2 SHUTTLE - 6.94 CONE AND CAN JUMP 37.5 INCHES
Elijah Mitchell from Louisiana is a running back I strongly think is slept on by far far too many. Now that 40 time may have caught enough attention for a few more minutes spent on him than teams previously had, but my hunch is unlike what some pundits say, he will get drafted. Would also be a candidate for the jet sweep/motion role in MLF's system while he grows into a running back in the backfield (but offer that as well). Experienced back racking up 3,864 yards from scrimmage in four years and 46 touchdowns; while splitting carries with two others!
SECOND OPTION - TRADE UP FOR "OUR GUY"
When you move up there is always a cost to pay...only 8 picks occur in this scenario.
#21 - GREG NEWSOME - 6'1'' 192LBS - CB
- NORTHWESTERN - (9.66 RAS) - 4.39 40YD DASH (1.5 10YD SPLIT) - 6.9 CONE AND 40 INCH VERTICAL
This pick comes with a cost, last year it took a 5th with our first to move from 30 to 26 for Love. This year Gute wants Newsome and makes it happen sending a 4th, 6th and our 1st over to the Colts for the 21st pick. Newsome has a 0.00 passer rating when targeted on 3rd downs, RAS score through the roof, locks down an entire side of the field....literally to me has the chance to be our second "Jaire" out there. Welcome to Green Bay, where we have our #2CB of the future - and our #2 of the past for one year as well. The CB position in one pick went from a liability to a strength in my opinion.
#62 - SPENCER BROWN - 6'8.5'' 311lbs - OT
- NORTHER IOWA - (10.00 RAS) - 4.4 SHUTTLE - 6.96 CONE AND 29 BENCH REPS (The dude even jumped 31.5 inches)
Yes, I'm this high on Spencer Brown and believe the majority of NFL offices will show they are as well on draft day(s), he will not see Day 3. The dude has incredible everything; 34.75 inch arms, athleticism like a TE at 300+ pounds, agility through the roof to the point of what should be impossible for a guy of his size. Very clean and technical tackle that just oozes high football IQ. Wagner replacement. His length and tackle prowess is what caused this pick rather than sliding iOL like Quinn Meinerz who was also still on the board. Our OL room is much more capable of answering the bell inside atm than it is outside with Bahk injury and Wagner gone.
#92 - ALIM MCNEILL - 6'2'' 317lbs - iDL
- NC STATE - (8.52 RAS) - 4.65 SHUTTLE - 7.68 CONE 5.00 40YD DASH
I found it nuts at how quick in his 10 yard split he was @ 1.68 - that is insane folks for a guy his size at his position. Backside pursuit with his motor now makes sense. Alim is a compact explosive guy in the middle that is used to handling and pushing doubles, still impacting a play rather than being eliminated. He is instantly our second best run defender in the trenches IMO and have reason to believe will grow with pass pressure.
#135 - TRADED AWAY
#142 - IHMIR SMITH-MARSETTE - 6'0'' 181lbs - WR
- IOWA - (6.80 RAS) - 4.5 (CLAIMS 4.43 AT PRO) 40YD DASH - FAST 1.55 10YD SPLIT - 37 INCH VERTICAL - SOLID BROAD AT 10+ FEET
Ihmir is a guy most know I've circled as a favorite for that 4th-5th round spot. VERY experienced in the return game is something which can possibly be used out the gate..but he exhibits excellent potential as a WR with his route tree, releases and ability to high point the ball consistently. Honestly, I think Ihmir could blow some minds and go in round 3 the more I watch, and I guarantee I've watched far less than any actual scout. Lot to be hopeful and like about Ihmir's future.
#173 - DREW DALMAN - 6'3" 299lbs - CENTER
- STANFORD (9.84 RAS) - 4.52 SHUTTLE - 33 BENCH REPS - 7.33 CONE
Dalman is an excellent candidate to waltz in to the center battle and shock some folks with how skilled and ready he might very well be. I and I know Dantes both have noticed and discussed him a time or two...and while yes, zero is guaranteed with Dalman - I honestly would place his odds of being our C1 or worst C2 well above Jake Hanson (draftee from last year I liked) and possibly I'd argue Patrick only has a leg up due to experience and familiarity. I believe someone, maybe Dantes labeled Dalman the Linsley Clone....watch enough of him and you'll see where that is coming from honestly. At this pick, zero guaranteed, but Dalman worst case will add depth at a position of need.
#178 - BOBBY BROWN III - 6'4'' 315lbs - iDL
Same pick as other draft above - see those notes.
#214 - AVERY WILLIAMS - 5'9'' 197lbs - CB/KR/PR
Same pick as other draft above - see those notes.
#220 - TRADED AWAY
#256 - LANDON YOUNG - 6'7'' 310 lbs - OT - KENTUCKY (9.17 RAS) - 4.89 SHUTTLE - 7.7 CONE WITH A 1.72 10YD SPLIT!
While his shuttle is over the typical mark we like, the rest of his traits illustrate an excellent prospect as far as agility, athleticism and length (arms are just under the 34 mark). If drafted be interesting if a team attempts an interior slide given his arms plus his agility marks? Could become a swing guy given traits and tackle experiences. Very well worth the gamble and "dart" tossed.
There you go, I'm locked as mocks. No more mocks. Will discuss prospects of course, but last mock thread post for 2021 Draft.
Last edited: