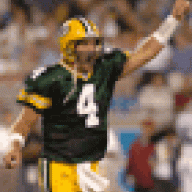 Joined

Dec 9, 2004
Messages

203
Reaction score

0
Location
Found this on another message board:
TUESDAY, Feb. 1, 2005, 10:23 a.m.
Inside knowledge on Favre's status?
Green Bay Packers receiver Donald Driver said in a radio interview this morning that he believes Packers quarterback Brett Favre will decide to retire and not play another season in the National Football League.
Driver made his comments on Sirius NFL Radio on "The Opening Drive" show with Dan Reeves and Chris Moore. Sirius is a satellite pay radio service.
Driver, who is in Jacksonville for a Super Bowl promotion, was asked if Favre will return to play next season.
"I don't think so," Driver said. "Everyone has been asking me that question. He's a real close friend of mine and we've been talking back and forth, and I think he's pretty much going to hang 'em up. I always told him, if you're coming back just because of that playoff game, don't show up. But it you're going to come back to try and win another Super Bowl, we'd love to have you."
The Minnesota Vikings defeated the Packers, 31-17, on Jan. 9 to send the Packers out of the playoffs this season.
Driver said he thinks Favre has made up his mind and said the Packers' request to know his intentions before the draft, April 23-24, forced Favre to decide on retirement.
"I think so," Driver said when asked whether Favre had made up his mind. "I think he was trying to wait until the draft, and I think coach Sherman wanted to know right before free agency because there are a couple of quarterback free agents that they want to look at if Brett decided not to come back. I think they forced him to make a decision. When you force one of the greatest quarterbacks in the NFL to make a decision, he's pretty much going to let you know that he maybe is just hanging 'em up."
Favre, 35, has played for 14 seasons in the NFL, 13 for the Packers.
-By Bob Wolfley
If Donald is right, it's going to be a sad day in Packerland

I would rather hear it from Brett, but this doesn't sound good.