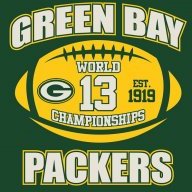 Joined

Dec 5, 2004
Messages

3,159
Reaction score

467
From Sports Ill.com Dr. Z's latest diatribe on Brett. Seems to forget that without Brett its unlikely we're in the playoffs at any time in the last 13 years:
The facts on Favre
Pack QB a HOF'er, but makes too many bad decisions
Posted: Friday July 1, 2005 3:18PM; Updated: Friday July 1, 2005 4:24PM
You must be logged in to see this image or video!
Brett Favre thought he was enjoying a nice, quiet offseason, but here he is, a Mailbag cause celebre, and we're just barely out of June.
Jon of Chicago feels Favre "makes rookie mistakes and relies too much on arm strength, rather than reads." He noticed that KC Joyner, the guy who wrote the chart book I mentioned last week, shares his opinion. How about me?
Well, now we've hit the trifecta because I agree with both you and KC. Favre's a great competitor who will get my vote when his name comes up for Hall of Fame selection, but he just throws too many bad passes in crucial situations.
After finding a lone kindred soul, we now move to Kregg of Waterloo, Iowa -- who, according to Andrew, marches in the vanguard of many e-mailers who want to know what, exactly I have against Favre. Kregg uses some statistics to back up his contention that Favre's pick percentage is better than that of Elway and Marino and a whole bunch of QBs of older vintage.
First of all, you can never compare current interception percentages or rating points with those of past quarterbacks because the game was different then. More down-the-field throwing, more chances taken, fewer dumpoffs, which work wonders in boosting the old rating numbers. Now let's match Favre's picks against those of Elway and Marino, whose careers most closely parallel his.
Using the league's interception formula (percentage of interceptions out of passes thrown) Favre is at 3.23, Elway at 3.12 and Marino at 3.02. But here's the intertesting thing about those statistics. Both Elway and Marino threw more picks per attempt during the first half of their career than in the second. Young QBs tend to be more of the wild, gunslinger variety. They learn caution as they get older; they figure out how to dump the ball off and avoid throwing into coverage.
Favre's stat line, though, shows the opposite. Under Mike Holmgren, during Brett's first seven years as a Packer, his pick percentage was lower than in his six post-Holmgren years. I don't think he's getting the same level of coaching. I think he's allowed to get away with too many sloppy habits, which are always covered up, occasionally even admired. Remember that weird toss that everyone loved, when Favre was way across the line and heading for the Vikings' end zone last year? He laughed about it, the announcers laughed about it. All it did was keep the Pack off the scoreboard.
I guess I tend to be tough on Favre because everyone else brushes off his miscues. It's part of the hype. How about the Eagles game two years ago that knocked Green Bay out of the playoffs? One magazine did a whole piece last season on how Philly's fourth-and-26 completion, which supposedly cost Green Bay the game, caused a complete restructuring of the Packers' defense.
What was not pointed out was that the play sent the game into overtime, and then Green Bay lost it thanks to a very bad Favre interception, on one of those looping bazooka shots of his. But this was not the prefered post-game angle.
Wow, I've eaten up almost a full-sized column on Favre, and this is after I promised Andrew and Aimee and Jimmy and the gang down at St. Stanislaus' that I would try to keep it short this week. One-word answers from here on, folks. Except for my next missive, which, hands down, wins my E-mailer of the Week award. Maybe. Pending future developments.
SI Media Kits | About Us | Add RSS headlines
Copyright