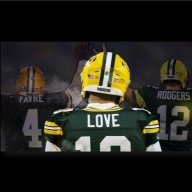 Joined

May 2, 2012
Messages

10,973
Reaction score

3,102
Well before final cuts start pouring out look back quick at the final Preseason game:
Best Offense:
WR Samori Toure: 77.1
C Josh Myers: 71.9
OT Rasheed Walker: 71.4
TE Tyler Davis: 71.2
OT Caleb Jones: 71.1
One of the debates internally I'm sure is a similar one to what I'm having also in projections and that is do we keep a 10th OL since Jenkins and Bakh are not guarantees to be ready week 1. Caleb Jones is a mountain of a man showing early signs of perhaps being special...and Walker in the final preseason showed why many of us felt he has possibly potential NFL starter in him albeit a year or two away maybe. I think in the end we gamble keeping 9 and hope one of the two clear waivers at least - and are plugged on PS.
Tyler Davis's only good game still for me is too little too late, but I suspect given his ST contributions and the apparent infatuation MLF has for him and sounds like Aaron also he will most likely be on the 53.
Toure yet again shows out when the lights come on and isn't making it easy at all for the team to choose between him and Winfree for a possible 7 WR slot...what hurts Toure is he is not the ST contributor that Winfree is and I suspect we will be choosing Winfree over Toure and praying Toure is on PS after no one claims him.
Best Defense:
S De'Vante Cross: 87.9
LB Quay Walker: 71.1
LB Krys Barnes: 69.8
OLB Kobe Jones: 66.7
S Tariq Carpenter: 66.6
Tariq struggled through some injuries this year but it was nice to see him have a decent night on an otherwise rougher outing. The dude can tackle for sure and his hybrid build I think long term truly could be special. Quay and Barnes continue to strengthen my thought of the ILB room being one of the strongest and yet deepest in skills we've had in years (McDuffie and Campbell)...
Kobe Jones/Ladarius/Tipa/Garvin....sadly two of those guys are probably going to have to be on the 53 maybe even three of them...Garvin has shown the most in the actual seasons, but none have even done enough to say they deserve more snaps than Enagbare...Jones showed out a touch in KC making one final push to make initial 53.
Worst Offense:
Bottom 5 offense
TE Nate Becker: 43.4
QB Jordan Love: 46.5
WR Juwann Winfree: 48.4
RB Dexter Williams: 48.7
TE Alize Mack: 51.7
FTR, many are wondering on PFF's grade of Love as he truly threw the one pick and then did solid the rest of the game leading drives that moved the ball consistently...either way that aside neither of the TEs (Becker and Mack) did a ton to make initial...BUT I think Alize Mack and his ST options make him the perfect PS stash. Winfree struggled to get open on routes, but still was targeted six times and only able to haul in one.
Dexter's low grade is highly influenced by the weight of have one pass pro chance, resulting in a sack. Dexter is at best a PS stash for us.....but Goodson and Taylor are both lightyears ahead of him IMO.
Worst Defense:
LB Ty Summers: 28.1
LB Isaiah McDuffie: 30.5
DT TJ Slaton: 34.8
CB Keisean Nixon: 39.8
OLB Kingsley Enagbare: 46.8
Summers saw an abysmal game again and eventually was cut as we all know day or so later. Enagbare finally didn't excel..and is probably a good thing for the young rookie - success doesn't breed growth like struggles do at times.