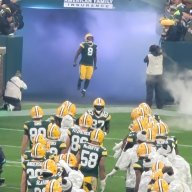 Opinions are like A-holes, we all have one.
Joined

Oct 30, 2012
Messages

22,603
Reaction score

2,594
Location
That's probably because QB is the only position in which one guy plays the entire game
Huh?
You basing that on snaps? You don't think that all the other 21 starters on offense and defense and the 3 starters on Special are worried about the Packers bringing someone in that could potentially take their jobs?
How many other times has a very good QB, that wasn't threatening to retire for 3 consecutive off-seasons, seen his team use a first round pick on a QB? I'm also pretty sure he's not concerned about being unemployed.
Again, trying to draw the line perfectly to fit around AR doesn't change things at all. Actually, Rodgers should have been the guy to laugh off the idea of being replaced more than any other guy would, based just on your rationale for why it was odd that the Packers drafted Love.
Let me flip the question on you. How many other times have you seen a Starting QB be offended by a team drafting or signing another QB, so much that he threatened to retire?