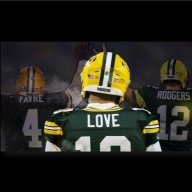 Joined

May 2, 2012
Messages

10,423
Reaction score

2,823
Well....we know who was cut/released (outside chance more come) for the most part. The compensatory picks were announced and the vision is clearer on needs and such. With that in mind here is my latest mock with all this knowledge now known. Now, this mock does involve something I am becoming stronger and stronger in my belief of doing and that is trading back. Primarily driven by the fact our highest needs IMO have depth (iDL and OT along with CB...and WR isn't shabby either).

Now it is very possible we have to stay where we are because the perfect scenario is a team deciding to swing for a QB and the chance at a 5th year option is what drives the most likely scenario for this. The teams that this could involve are Colts (no first rounder presently this year), Browns (Clear Baker's days are possibly done), Seahawks (if they don't go QB at #9), Saints (if they don't go QB at #18) are the main four possibles IMO - with Steelers still an outside chance (if they don't go QB at #20 due to signing Trubisky...but jump back up). IF I'd have stayed at #28 the pick I turn in most likely would have read Bernhard Raimann or honestly the same name it reads below:

#28 - Traded to Cleveland who take Desmond Ridder for their #44 (2nd) and their #99 (3rd) giving up our #28(1st) and our #171 (5th).

#44 - DeMarvin Leal iDL 6'4' 283lbs (RAS 7.77) Texas A&M

With Bernhard taken between our then 28th pick and the now 44th pick I go to a diverse offering upfront disruption that goes by the name DeMarvin. This cat is a lighter mold than Clark but has experience all over the front and can be disruptive in moving the pocket, sacking the QB and setting up strong against the run. This cat is quick and showcased a 5 flat forty time and a shuttle that was near elite level. Most experienced at 3T but can do it all, I love his potential to instantly surpass what Keke was doing for us, and I feel might rival Lowry even sooner rather than later as well. Leal is one of my favorite athletic trench guys that can play multiple spots. He's had three productive seasons in college and his past one (Junior year) he broke out in a big way.

#59 - David Bell WR 6'1' 212lbs (RAS 3.98)

He did not test well at the combine...but this young man has been one of the most prolific and productive WRs in the Big Ten not just for one year but three....and stacked awards like no one else - 2019 Freshman of the Year, 2020 First Team All Big Ten, 2021 First Team All Big Ten, 2021 First Team All American and 2021 Big Ten WR of the Year. Even in the 6 game shortened 2020 campaign this joker put up 625 yards on 53 receptions (nearly 10 a game) and his best TD total of his college career with 8. INCREDIBLE production. Oh and keep in mind that even when Rondale Moore was there this joker led the team in receiving for 2019 and 2020 NOT Moore. Yes he ran slower than you'd like (4.65), but his hands are very good, range is excellent, route savviness is there and will grow and it is clear he has knack for simply delivering. Would I want to hitch my WR1 wagon to Bell...no. However, I cannot imagine the potential he holds working in the same group with Adams, catching balls from Rodgers and a piece for MLF to call plays towards...

#92 - Jeremy Ruckert TE 6'5' 252lbs Ohio State

I've been screaming for him for a long time now. He can block, he can catch when asked and IMO could come in Day 1 and be the opposite Lewis TE in Green Bay....he even ran nearly 200 snaps in 2021 out of the slot spot, previously that wasn't something Ohio State did a lot of with him. I've said it before but his efficiency when the target is tremendous with 71 targets he has 53 receptions and freaking 12 TDs. Just a specimen of stone built type TE that can hit and lock up nearly any defender he engages and trust me you do not want to face him with the ball if you are an undersized DB. He is a younger version of Big Dog essentially with IMO better hands and similar route running abilities (mainly a zone destroyer). After going DL in the first, Gute makes Aaron smile quite wide with two out the gate guys to work with as weapons in the passing game and running game (Ruckert).

#99 - Josh Jobe CB 5'11 182lbs Alabama (RAS: NA)

This was the first pick where a guy that intersected need and BPA didn't jump out at me above the rest. Jobe has the potential to be a top 10 CB of this draft class...yet some project struggles with timing his pressing and aggressiveness can get him beat at times. However, he has been a top level CB for one of the best teams in the best overall conference. With need a real thing at CB, this pick in the end was too much to pass up at this pick (collected in that trade). Rasheed Walker OT, Tyreke Smith EDGE and Jaylen Watson CB were arguably my others debated...had we not already added a WR Alec Pierce or Khalil Shakir would have most likely been the pick.

#132 - Isaiah Thomas EDGE 6'5' 266lbs Oklahoma (RAS: 8.07 as LB or 8.68 as DE)

Thomas offers a diversity off the edge that is very attractive. Most experienced at working out of a 5 technique, he however illustrated time and time again the agility, ability and footwork to come from a stand up OLB position as well, which is where I think he will grow at - however offers a serious ability to slide inside and with his experience deliver awesome pressure and run defense if needed as well. I love his projection regardless of how Barry decides is best use for him...

#140 - Danny Gray WR 6'0' 186lbs SMU (RAS: 8.81)

This pick is Danny now, however if we add a veteran WR to work or battle to be our #2 I don't necessarily see Gute double dipping like this...however as it sits Cobb is on the 18th hole of his career, Lazard is going to if he keeps steady play into a contract elsewhere next year and Rodgers growth is still an unknown. We added Bell, but Gray is a different type receiver offering legit speed running a 4.33 forty while also putting up solid numbers in JUCO and then the two years at SMU (803 yards and 9 TDs in 2021). He comes to the NFL with a limited route tree similar to MVS, as it was his speed which garnered his tosses and ability to make himself free, his foot burst however could be a crucial attribute to make his route growth expedited when it comes to this. He could serve as the field stretcher MVS did early in his career and has the hands to capitalize more efficiently than Marquez seemed able to do (albeit so long as Rodgers doesn't struggle to hit him in stride like we saw multiple times with MVS).

#228 - Austin Deculus OT 6'5' 321lbs LSU (RAS:8.29 Arms: 34.375)

After a massively long wait (trading away our 5th and not having a 6th) this pick starts a three pick series set to add youth, potential and depth at a depleted OL group due to injuries and free agency. Austin Deculus, leaves LSU as the record holder for starts (at ANY position) in the team's entire history (or since they tracked this). A rock of consistency at tackle for LSU, some project sliding him inside may serve him well...but his athleticism will surprise some and that potential versatility is worth a lot in GB. IMO could come in and push Yosh minimum for RT, which in turn even if that doesn't happen makes the depth better and Yosh as well in the process.

#249 - Ben Brown iOL 6'5' 312lbs Ole Miss (RAS: N/A Arms: 34.375)

Let's bring in one of Newman's old OL mates that has immense experience and diversity it seems. Having experience lining up at both tackle positions and even played center as well...projects to be an inside guy at the next level - could offer that G/C diversity that Patrick afforded us for years, but his arm length and experience even throws T into the possibility as well.

#258 - Nick Zakelj OT 6'5' 316lbs Fordham (RAS 9.72 Arms: 32.5)

Nick is a small school prospect that did earn a nod to the Senior Bowl but struggled in his time there to seem on level with the higher competition. That however doesn't detract from his desirable traits and abilities that seem there and just need honed and refined. His athleticism level isn't going to be an issue (look at that RAS) and will all come down to what he can be built into. Think Yosh project 2.0 type scenario. I'd expect a PS year, followed by active roster battles and a potential swing inside given his shorter arm length.

In the end many of the holes and/or needs are filled in this; providing Clark and Lowry with a bonafide assistance in Leal, the offensive gets not one but two WRs and a ready to go inline TE as well. The defense is further strengthened with a CB3 level guy in Jobe and the potential "x factor" of this draft class in Isaiah Thomas depending just what he becomes. In the end it is true you'd like to have thrown a dart at the OT position earlier in the draft, but if you're going to wait the likelihood of three darts connecting once does increase your odds of finding that late round gem for sure; and we do have 5 starters ready to go till Jenkins is back at least.