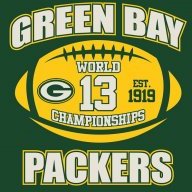 Joined

Dec 5, 2004
Messages

3,159
Reaction score

467
"One thing Will does so well is interacting with the kids, and being personal with each kid." This says more about Henderson than anything I've read before. What a great man.
You must be logged in to see this image or video!
Personable NFL player tutors area kids at city camp
Monday, July 04, 2005
BY DEREK LEVARSE
Of The Patriot-News
He's dressed in the same Sportsflex T-shirt as everyone else, but there's still no mistaking which guy is William Henderson.
If his 6-1, 250-pound stature didn't give away his identity as an NFL fullback, then it had to be the chin-ups he was doing on the frame of a pavilion at Sunshine Park.
Which naturally begs the question, what was a member of the Green Bay Packers -- raised in Virginia and a North Carolina alum, no less -- doing in Harrisburg?
"I love to work with youth," Henderson said. "And football is my love, my sport, my passion. I want to help bring to kids all that football has brought me."
And so Henderson made the four-hour drive from Richmond, Va., to Harrisburg and was the draw for the second Sportsflex Football Camp for Harrisburg kids that ran this weekend.
One of the more active NFLers in community programs, Henderson came to the local camp via a mutual friend of his and On-Target Management Group president Barry Wells.
Wells, a 1978 CD East graduate and member of the school's last championship football team, is enthusiastic when he speaks about the camp and the importance of instilling both football and academic fundamentals in kids.
"We want to get as many kids involved as possible," Wells said. "We want to make them better football players as well as better citizens. It's important to get them to take that energy and enthusiasm they have on the field and use it in the community and the classroom."
Though Henderson may not be a household name as far as NFL players go, those in Milwaukee and Green Bay know him for his extensive charitable work, particularly with kids.
His "Henderson's Heroes" program in Wisconsin works to bring disadvantaged youths from Milwaukee to select Packers games. In addition, his "Henderson's Gifts from the Heart" program also seeks to help out underprivileged children by holding Christmas parties for them.
Henderson also has extensive experience in helping run football camps, having organized a youth football camp in his Virginia hometown for more than a decade, using his own money to help fund aspects of it.
It's reasons like these that Wells was attracted to getting Henderson to come to his camp.
"A lot of camps have NFL headliners, but a lot of times they'll just sort of show up and leave," Wells said. "One thing Will does so well is interacting with the kids and being personal with each kid. That's something you can't put a price tag on."
Apart from getting to meet and talk to Henderson, kids at the camp got to do some other things they never thought they'd do -- namely getting to wear Henderson's Super Bowl ring.
A lifetime Packer since getting drafted in the third round in 1995, the 34-year old Henderson is well-spoken and personable. These traits translate into not only a good rapport with the kids he helps but also have landed him broadcasting gigs for Fox in the past.
Having seen his share of camps, Henderson came away from the weekend impressed with the camp in general.
"It's great to see a community that's so involved and seeing people that are ready to reach out and help," Henderson said. "There are some talented young men in this community and they have the potential to succeed in their careers and find ways to go to college and play. They have that love and desire to take their abilities and go out and do it."
As for Wells and the Sportsflex camp itself, things are looking up. Wells said that he has had discussions with the Big 33 Game executive director Mickey Minnich about joining forces. An affiliation with the high school football all-star game would help give the camp more exposure.
DEREK LEVARSE: 255-8250 or
[email protected]
The Patriot-News | The Patriot (Compact Edition)
The Express-Times
--------------------------------------------------------------------------------
Use of this site constitutes acceptance of our User Agreement. Please read our Privacy Policy.