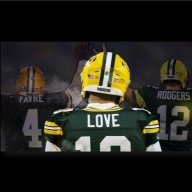 Joined

May 2, 2012
Messages

10,423
Reaction score

2,823
So this is opposite logic to what I personally like to do when discussing how to move around a draft, whenever I am moving I prefer a trade back first and then perhaps a Day2 move up and maybe a small Day 3 one...rarely am I an advocate of moving up because it will always cost more than I'm a fan of and steal future draft equity. However, if you hit often times it can make a massive difference. So if Rodgers is staying and a massive push for one/two years before Cap HELL breaks us....I strongly feel this is the type of draft we are pushing towards:

Round 1 - #28 - Nakobe Dean - Georgia Linebacker 6'0' 225lbs
Look, everyone wants a WR here given our dire straights there and IMO even if Adams comes back on a tag year - it is a massive need. However, if we sit at #28 there are a few players that should they be there and given our needs I cannot ignore and Dean is one of those players. Campbell showed what a high flight ILB can do for a defense and how well that pairs with Mr Reliable Krys Barnes (who is still growing himself). Dean immediately removes the need to find a Campbell replacement by spending tons of money on a FA.

Round 2 - #40 TRADE UP TO TAKE DENVER'S FIRST OF TWO SECOND ROUNDERS - This move costs us a 2nd in 2023, our 3rd this year and one of our two 4ths this year.*We could attempt to get them to give up a late late Day 3 pick...but not projecting that.

Drake London - USC Wide Receiver 6'5' 210lbs
Drake is arguably my second favorite WR behind Chris Olave for Green Bay fit and projection wise. This trade up scenario is likely IMO to be if for a WR to be London, Bell, Olave, Dotson as at least one or two of those will be there and all have their strengths. However, in this mock Drake was there and lordy this 6'5' (sub 4.5 forty suspected) WR can do it all. Is he a 10/10 yet in anything...maybe not, but I don't see a single hole and like Olave I see a starting floor for a rookie that is already the #2 on nearly any team that drafts him (with few exceptions) if not #1.

Round 2 - #59 - Phidarian Mathis - Alabama Defensive Lineman 6'4' 317lbs
This cat can simply step in and be an amazing presence alongside Clark right from game 1! Despite his size he can just like Clark slide over and play more a DE role, plug the middle, win with his feet, his strength, move the pocket...just simply does a little bit of everything and is easily in every top 5 of DL in the draft by anyone worth reading...he is only behind Jordan Davis (Georgia) IMO but Wyatt (Georgia), Jones (UConn) and Winfrey (Oklahoma) all deserve recognition and are my Top 5.

Round 4 - #139 - Cade Mays - Tennessee Interior Offensive Line 6'5 325lbs
While a tackle is something I'm wanting to leave this draft with for our future RT and who knows beyond Bakh's time here...but prospects available I couldn't pass over Cade Mays. Mays is a guy that has starting experience at literally all 5 spots, but has excelled at RG and is arguably one of the best RG's in the draft. This pick immediately puts Newman on notice, and worst case will push and grow Newman if he holds on to the starting role or could give Newman a chance to slide to the RT competition which could occur if Turner is released due to cap issues. Mays is a starting level guy, and yes it might suck picking a back up if he doesn't earn a starting role immediately when we are in a big push to win now, but if we sustain injuries again like we did, his value for iOL could be the reason we hold on and succeed vs not.

Round 5 - #170 - Cole Turner - Nevada Tight End 6'6' 240lbs
Overlooked by many merely due to playing at Nevada with a strong (pun intended) quarterback play while there....but Turner has done well in college and even as well at the Senior Bowl too. It is going to be very curious to see how he does at the next level. He projects to be able to be inline or flexed out. Has the willingness to block as much as he has trying to make the big play down the seam or after a release. Is he a year one starting TE....man that is a big task for any TE, but in the MLF system I wouldn't be surprised if he sees a ton of snaps that first year. IF Lewis is back for 2022, Turner is going to have an amazing chance to learn how to block from one of the best (similar to how we saw Tonyan get better since Lewis came).

Round 7 - #225 - Amari Carter - Miami Safety 6'2' 200lbs
Not the typical safety prospect given his stature and play style, but is definitely a guy that could play that "big" safety or dime backer role which has become more and more valuable in the league. Dude plays NASTY....honestly at times dirty fits best - harness this and remove the targeting calls will be the key with him...but dear Lord is there value with a guy his size but with athleticism to go with it that absolutely loves crushing opponents with the ball.

Round 7 - #246 - Samori Toure - Nebraska Wide Receiver 6'3' 190lbs
When it comes to Day 3 wide receivers I love to find guys that had to fight to succeed and put up stats despite factors like terrible teams, average or below average quarterback play and/or terrible coaching/situations. Toure was a University of Montana (which he flat produced amazingly well!!) transfer to Nebraska and despite being on a struggling team put forth solid stats still and proved against better competition in his final year of NCAAFB he has the chops to succeed. His role is mostly in that "big slot" spot but was moved around with success depending on matchups and such. His route running is solid and while his first few steps isn't amazing his long speed did prove a task for many DBs to keep him in front of them.

While this draft class is sacrificed in numbers with the trade up and hurts our 2023 draft as well....IMO we do come away with for sure three guys that will be everyday starters or extremely significant contributors (Dean, London, Mathis) with a bonus possible guy in Mays...and some massive wildcards in the final 3 which all in their own right could carve a role as well in our offensive/defensive systems.