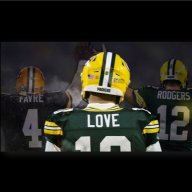 Joined

May 2, 2012
Messages

12,222
Reaction score

3,872
Okay, my mind cannot stop swirling around Green Bay's future so I gotta just put it in writing to hopefully be done with it for a while. Clearly injuries, player production or lack of can both play heavily in amending these thoughts moving forward...but right now this is what I think is going to happen.
I have to stress this is what I think, not what I want - so anyone just stop with the "how can you not want Jones resigned" because again this is what I think, not what I want.
The Unrestricted Free Agents:
David Bahktiari
-
RESIGNS WITH US
- In this league, you simply do not let arguably the best (at worst top 3) LT walk. You just cannot. I think we strive to make this a 2 year deal, but suspect David and his rep push for three - it however will conceivably have a somewhat decent out after 2022 for the team.
Corey Linsley
-
SIGNED ELSEWHERE
- I think he and his agent will hope he can entertain something shy of Alex Mack's deal inked at age 30 with ATL - and Green Bay already started thinking future with the extension of Patrick and the drafting of Hanson. Appreciate the service and time Linsley but you are one of the OUTS due to circumstances.
Kevin King
-
ENTERTAINS MARKET, RESIGNS WITH US
- Kevin is a tough player to peg his market value. Roller coaster type seasons, mixing in injuries can stall action in the market - but CB has also seen guys like him get overpaid as well quite often. I suspect King gets similar offers, maybe even slightly better offers, but ultimately he sees his role and chances here suit him best. What would suck is if King walks...Green Bay has literally let there 3rd surefire #2 go (Hyde, Hayward...King) and we are back on the board looking for someone to draft to fill it or pray they're already on the roster (Sullivan maybe...Ento makes big leap...Jackson clicks finally...)
Aaron Jones
-
SIGNED ELSEWHERE
- This sucks. Just sucks. Aaron is a special back, not a soul could convince me otherwise. Fact is though, very very rarely does paying a RB in this league BIG money pan out for team success - especially when you don't have other key positions covered on rookie contracts (QB, LT, OLB/DE). I just think in the end fiscally Green Bay is forced to let Jones walk, unless somehow they get him to entertain a sub-market deal. This one will hurt harder than any player walking from us...Jordy even was more palatable...
Jamaal Williams
-
RESIGNS WITH US
- Williams by all accounts came back this year much improved both physically and mentally it seems. Makes sense, contract year, wanting to prove he has #1 potential like many claim. He loves Jones but wants out from behind his shadow and at minimum be beside another RB as true duo than simply a great back up. Well, Jones allowed to walk allows him this chance. I think his agent and him will desire 3 year contract at most if not 2 so he can potentially get that one BIG payday a RB gets typically before age 30.
Lane Taylor
-
DOESN'T SIGN ELSEWHERE...ONLY RESIGNS HERE IF NEED ARISES
- I liken Lane to the Veldheer situation this year. IF we ended up not getting what we wanted in draft or FAs Veldheer's phone for sure would have rang. Lane has went from the surefire starter at guard in 2019...to suffer two injuries...if ANY team signs him next year I feel it is GB, but I don't think we do it unless pressed to.
Marcedes Lewis
-
SIGNED CHEAP.
...
MAYBE
- While a lot of this might depend upon the Deguara situation/projection, I feel GB is wanting to step away from Big Dawg - but it may be tough if Sternberger continues to not progress and Tonyan is really one of the only TEs leaving 2020 we trust to produce. It is possible we look to another 2021 FA on the cheaper side than Big Dawg...like a Blake Bell or a Luke Wilson type guy.
Tyler Ervin
-
RESIGNS WITH US
- Swervin Ervin is needed...his role is crucial to MLF system. Honestly, Ervin isn't finding big money elsewhere. Can we just lock this cat down for a 2 or 3 year deal - give him security and us his role - he won't be expensive. I would make our offer to his agent but not worry if he wants to explore market...if we do more moves, can always call and amend offer slightly lower

Montravius Adams
-
WALKS
or maybe...
RESIGNS CHEAP
- We simply I think are frustrated as an organization in this guy. The crazy thing is, at times dude looks like a beast...other times it looks like ANYONE could provide what he does....I think we offer him a cheap take it or leave it type deal - one he may end up having to take after no suitors exist elsewhere. There are worse guys to have fighting and pushing for depth. If pushed I say he walks.
Restricted Free Agents Thoughts...IMO Tonyan is only clear DO NOT LET WALK:
Lancaster, Sullivan, Redmond, Nickerson, Tonyan, Boyle, Greene

Sullivan -
This is an interesting position. Being undrafted, any tender placed is going to be quite small when it comes to impact if any fiscally. I think with King resigned, GB may see what offers roll to Sullivan from other teams and evaluate their desire to retain Sullivan. IF Sullivan can be retained at a decent clip and secured through a new contract this could be a special backfield for the first time in Green Bay with a solid #1 through #3 on our depth charts. IF King is retained, we have luxury of letting him walk though.
Tonyan
- We are NOT letting Tonyan walk, nope, negative, never. However, it washes out he will be a tight end for us in 2021 and locked up for a few years to boot.
Greene
- I think we play this situation similar to Sullivan.
Lancaster
- Unless some other team throws serious money at him (I BET DOESN"T HAPPEN) he is more likely retained than Adams (UFA) IMO.
Redmond, Nickerson and Boyle are not back I think at all.
Exclusive Restricted Free Agents:
I bet we bring back them all....part of me wants them to actually offer Lazard a 2 or 3 year reasonably decent contract now. He keeps progressing his value to contract in a year or two out will be VERY FRIENDLY if we do this.
POSSIBLE CUTS/RELEASES: To me Wagner and Kirksey are perhaps the ones on the warmest seat.

Ricky Wagner - Not worth what he'll cost, plain and simple.
Billy Turner - I think may be safe if we don't re-sign Jones...BUT would add about $6M saved...I'd be
Dean Lowry - Saves us about $3.4 Million - not giving us what we need anymore IMO and we need cash to make above moves happen.
Christian Kirksey - While I'm LOVING Barnes...all depends what we get to see in Martin...if they together show we could absorb letting him walk, that's a cool $6M saved.
Devin Funchess - Some have brought him up...but folks he has cost us next to nothing and will only cost us in 2021 TOTAL worst case 2.3M IF he is even a dependable #2B with Lazard well worth it. I don't think we move him...but would save around $1.3M so maybe.
Adrian Amos - Yes very friendly out at this time frame BUT I don't think this is an option UNLESS we throw money at Bahk, Jones and King - will need to come up with the money somehow.

Prediction Summary:

Resigns with us: UFAs: Bahk, King, Williams, Ervin. RFAs: Tonyan, Sullivan, Lancaster, Greene.

Cuts/Releases: UFAs: Jones, Taylor, Lewis, Adams, Linsley. RFAs: Boyle, Redmond, Nickerson.

Under Contract but Cut/Released: Wagner for sure, sense Lowry, Kirksey and Turner's seats are warming up.
Last edited: