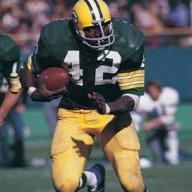 Joined

Jan 21, 2017
Messages

11,112
Reaction score

2,029
People love to grade drafts. In fact, they love it so much that they do it before there's anything to grade.

Typically, it isn't a great idea to grade a rookie class until they've been in the league for three seasons.

That means that Gutekunst's first draft class, 2018, is finally fair game. Technically there's one game remaining, but I'm bored so I'm going to jump the gun and post this pre week 17.

Here's my method.
A (4.0):
Homerun pick; hard to envision a better choice.
B (3.0):
Exceeds reasonable expectations for draft slot.
C (2.0):
Meets reasonable expectations for draft slot.
D (1.0):
Fails to meet reasonable expectations for draft slot.
F (0.0):
Total waste
Round 1: Weighted X4
Round 2: Weighted X2
Round 3: Not weighted
Rounds 4-5: Weighted X.5
Rounds 6-7: Weighted X .25

UDFA: Add +/-

The Selections:
Round 1, Pick 18: Jaire Alexander, CB, Louisville--
A (4.0)
Relative to what you expect from rookie corners, Alexander was good immediately. And he's taken a step forward each subsequent year to become one of the best players at his position in the league. An elite cornerback at #18 is a stellar pick.
Round 2, Pick 45: Josh Jackson, CB, Iowa--
D (1.0)
Jackson received a lot of hype as a prospect, but has failed to deliver in the pro's. Some have blamed scheme, but the Packers run plenty of zone coverage, which was his forte at Iowa. He hasn't been a total waste, but you're certainly looking for more than a 3rd stringer in the 2nd round (and he's not a great asset on special teams).
Round 3, Pick #88: Oren Burks, LB, Vanderbilt--
D (1.0)

The Packers targeted Burks because he had safety movement skills in a linebacker body. But he never found a home in college, and thus the pick was largely projection. It has not materialized for him in the NFL. That said, he's become a key special teamer, so he was not a total loss.
Round 4, Pick #133: J'Mon Moore, WR, Missouri--
F (0.0)

Moore had really intriguing movement skills for his size, but he just could not catch the ball. I often hear pundits talk about how drops are an overrated factor in WR assessment. That may be true, but then I see guys like Moore, Sammie Coates, or Hakeem Butler totally flop and I start wondering.
Round 5, Pick #138: Cole Madison, OL, Washington State--
F (0.0)

Maybe if circumstances had been different, Madison might have contributed to the Packers. But the fact is that he never really did.
Round 5, Pick #172: J.K. Scott, P, Alabama--
D (1.0)

When you spend a draft pick (especially one as high as the 5th round) on a specialist, the expectation is that they're going to be great. This year, Scott is 3rd from the bottom, league wide, in avg. net punt. Some of that could be coverage related, and he has proven to have the hyped hang time, but he's still not good enough to meet the expectations for his draft slot and position.
Round 5, Pick #174: Marquez Valdes-Scantling, WR, South Florida--
B (3.0)

Virtually all Packer fans would like to see a better WR2 option in Green Bay, but MVS has still been a useful piece of the offense with a distinct role as a vertical threat. The amount of production they've gotten out of him certainly exceeds what you could reasonably expect in the 5th round.

Round 6, Pick #207: Equanimeous St. Brown, WR, Notre Dame-- C (2.0)

Like the MVS pick, this selection might draw unfair ire from Packer fans who wish more had been done at the position since 2018. However, as a 6th round pick, St. Brown has been adequate. If you find a guy this late who sticks and makes the occasional catch, you did fine.

Round 7, Pick #232: James Looney, DL, California--
D (1.0)

I struggle to know how to grade picks that happened this late. But Looney only made the briefest appearance above the practice squad level, and didn't even stick at his position. This is also why these picks at weighted X .25.

Round 7, Pick #248: Kendall Donnerson, ED, SE Missouri State--
D (1.0)

Never rose above the practice squad level, and even at that only stuck there for one season.

UDFA Class: Gutekunst's first group of UDFA's yielded some nice finds: Tim Boyle, Tyler Lancaster, and Raven Greene. To find a roster-worthy QB, a rotational defensive lineman, and a solid dime linebacker is solid enough to warrant the "+."

When you add all of the GPA's together, weight them, and come up with a total, you get 2.25, or basically a C.

I think that's a pretty fair outcome. The first pick could not have gone better, but it was followed by a really terrible five pick run.

Add in the UDFA value, and I think an overall grade of C+ is fair for Gutekunst's first offering.


Last edited: