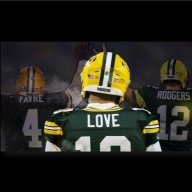 Joined

May 2, 2012
Messages

11,662
Reaction score

3,505
Adams, Cobb (CRAZY HIGH SALARY HIT HAS TO CHANGE), Amari Rodgers, Juwann Winfree, Chris Blair and Rico Gafford....
The chance we enter the season without Cobb and Lazard is possible...Rodgers likes EQ but I am betting tight cap makes that just not going to happen either on the resign front. Finding WR early on is going to be something I strongly think we see by end of Day 2 we will have one added...BUT I sense a double dip coming with a Day 3 swing being taken too. Here are some of my favorite Day 3 5th round or later guys (trying to avoid the possible 4th round droppers).
In no particular order:
Kevin Austin Jr Notre Dame 6'2' 200lbs
Kevin is the one prospect I'm listing that could not fit the billing of 5th round being there after his incredible combine. However, we are still looking at a prospect that essentially came out after just one year of actually doing anything at the collegiate level (albeit a SOLID year). He was in many ways the ONLY WR threat for ND and Coan this last year, yet time and time again came up with big 3rd down conversions and big plays all year. He lit up the combine and is an elite level measurable athlete, showcased it for one year....what does he actually produce year in and year out at the next level? This is a young man with massive/loads of potential but is a risk and that is why he falls IMO till Day 3. Add in one more season like he had in 2021 and the metrics he has, this is a Day 2 minimum level athlete...
Tre Turner Virginia Tech 6'1' 184lbs
Tre is like many of the rest of these guys on the list - productive for their schools, but never caught top flight hype or attention as elite WRs - what they did do was be productive. Tre out of the gate at Virginia Tech was a dependable option for a struggling offense. Led the team in 2021 and 2019 in receiving yards, was second in 2020 barely and as a rookie only Damon Hazelton beat him amongst WRs.
You must be logged in to see this image or video!
Tre ran a respectable 4.51 at the combine (faster than Adams did) and relies more on routes and play structure to make yardage happen. A skilled route runner with inside and outside experience could excel in being that depth and build guy in the MLF system ready to step in when needed and where needed (essentially the new EQSB that hopefully clicks).
Samori Toure Nebraska (from Montana transfer) 6'1' 191lbs
A small school transferred to Nebraska to bet on himself against higher competition and it paid off. On an abysmal team where he was arguably their only WR threat he continued to perform and put up solid figures. Finishing the 2021 campaign with 898 yards on 46 receptions (that is 19.5 YPC) and 5 TDs. That was after his 2020 campaign at Montana where he put up 1,495 yards on 87 receptions with a 17.2 YPC and 13 touchdowns! I'm very curios to see how he runs and what his other measurables are at the Nebraska Pro Day as we have no data yet there...but look for where Toure if he is available in the 5th on...I think this kid has "it" and could be the poor man's Lazard of the future should Lazard just simply not be affordable at his tender level.

Charleston Rambo Miami
Outside of the shortened 2020 season which throws things off a tick, Rambo had been productive arguably for Oklahoma two years in a row before transferring and capping off his college career in Miami with bests in receptions (79) yards (1,172) touchdowns (7) and not best but still impressive 14.8 YPC. He isn't a high jumper and didn't excel in the broad jump...and only ran a okay 4.57 forty. He does excel at body positioning, but the downside is there isn't much of a body there so it is possible this might be tough to be a good attribute at the next level. His release packages and route running is what led to his 2021 outpour statistically and is no doubt what will catch the eyes of NFL scouts and eventually IMO lead him to be drafted for sure.

Erik Ezukanma Texas Tech 6'2' 209lbs
This young man over the last three seasons has put up nearly identical and consistently productive seasons. In order of 21/20/19 years the following were his lines:
48/46/42 receptions
705/748/664 yards
4/6/4 TDs
14.7/16.3/15.8 YPC
Like Toure, I have him circled for Day 3 as a guy that has been highly prolific in the college level against above average opponents and is one of those 50/50 to succeed at the next level type guys. He is a big bodied WR measuring 6'2' and 209lbs (many say he played the season at near 220) that is DEADLY in space, and looks more like a RB with the ball in his hands than a WR - he even in 2021 had 10rushing attempts for 138 yards and 2 touchdowns. There is a lot to like in Ezukanma...has the long speed and the shiftiness to possibly do the sweep role in the MLF offense we didn't see a ton of in 2021 (but did in 2020) or become an excellent one/two punch with Amari (should Amari grow as many expect in year two).

Ty Fryfogle Indiana
Yes, this kid won WR of the year over Rondale Moore and many had him christened to be incredible in the future...Indiana's overall team in 2021 didn't meet expectations, nor did Ty. He is a highly motivated and once pegged as incredibly high ceiling guy. Depending what metric you hold him to the field in you'll christen him as ELITE or GOOD or poor honestly. His vertical (39) and his over 10 foot broad are towards the elite and top of his class that has been tested....his shuttle and cone however not good at all...and his forty time of 4.53 isn't going to light the cards up but again he isn't a top flight type guy and appears to rely more on football IQ, routes and play design to make things happen. However I actually say his hands are his top attribute and his time of their use, backshoulder throws are already tough to defend, add in a WR's ability to not illustrate they're coming till the last possible second - Ty does this very well.
Two smaller school guys that excelled at being productive...
Dai'Jean Dixon Nicholls State

Jaivon Heiligh Coastal Carolina