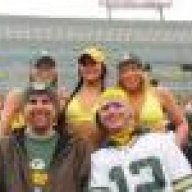 Joined

Nov 23, 2006
Messages

3,084
Reaction score

9
Location
http://www.packersnews.com/apps/pbcs.dll/article?AID=/20061204/PKR07/612040504/1959
Chris Havel column: There's no defense for this performance
By Chris Havel
Ten minutes into Sunday's onslaught, I had a feeling Jets-Packers might be the New England disaster all over again.
I was wrong. It was worse.
Thoroughly beaten and demoralized by halftime, the Green Bay Packers trotted off Lambeau Field trailing 31-0 with no solutions in sight. In a mostly regrettable and entirely forgettable game, that surreal scene endures as the season's defining moment.
It was humiliation on parade.
In the first half, the Jets scored on every possession, racked up 22 first downs, threw for 241 yards and rushed for another 99. They ran 47 plays. They gained 340 yards.
They did what they wanted, when they wanted.
No halftime adjustment exists for what ailed the Packers, and there isn't any way to sugarcoat it. The Packers' 38-10 loss is unacceptable. Changes need to be made in the defense's starting lineup and on the defensive coaching staff.
If Bob Sanders were a player, rather than the defensive coordinator, a performance this substandard would get him released. To say the Packers have had four defensive coordinators in four years is incorrect. They have had only one: Jim Bates. The only way to ensure defensive continuity from last year to this year was to retain Bates.
Sanders' promotion from lieutenant to general doesn't make it so, and Packers coach Mike McCarthy may have no choice but to find another defensive coordinator.
I don't know if Sanders can cut it. I do know he isn't cutting it.
The Packers' defense gave up 100 points in 10 quarters, beginning with New England (35-0), including Seattle (34-24) and through halftime against the Jets (31-0).
The run defense has been bad, and the pass defense has been worse.
It is time to fire secondary coach Kurt Schottenheimer, and name Lionel Washington to replace him. That gives Washington four games to prove himself.
Likewise, Sanders has four games to prove himself, but I can't envision a rally that could save his job. This isn't about one bad half of football. This is about a pattern of giving up big plays mushrooming into a full-blown trend.
It also is about players cheating their fans, teammates, coaches and themselves by failing to perform. If Sunday's game were a rock concert, the promoter would have been forced to cancel the show and offer a refund.
Brett Favre advised players to look in the mirror. He said they shouldn't place blame or point fingers, and he is right. That's what the fans and media are for.
The Packers made Jets quarterback Chad Pennington look like Joe Willie Namath. They made Cedric Houston look like Curtis Martin. They made Jerricho Cotchery look like Don Maynard. They made the 7-5 Jets look like Super Bowl contenders.
Mostly, they made the 70,527 fans ill, and this may not help: Afterward, a subdued and deflated Favre didn't sound like he has a 17th season in him. Favre may want to come back, but there has to be something worth coming back to.
As it stands, this isn't it.
Chris Havel can be reached by voice mail at (920) 431-8586 or by e-mail at
[email protected]