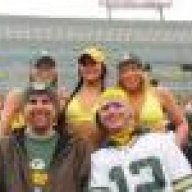 Joined

Nov 23, 2006
Messages

3,084
Reaction score

9
Location
I'm listening to McCarthy's press conference, and here's the question he gets about 2 minutes into it:

"Do you think he'll(Brett) go on and play next year, or is it still up in the air?"

Are these guys retarded? And yes thats a serious question. Its the same old stupid questions everytime. And people wonder why Brett declines to talk sometimes.

Btw, McCarthy's response was , "You know, I wish I could get through one of these things without answering that question. Its something that will be addressed in the off season"


Then Brett comes out, and he gets asked the same question!!!! His answer?
"You know, I dont even really think about it unless you guys bring it up."

This reminds me of when we were kids and we would bug our parents with, "Are we there yet?, Are we there yet?, Are we there yet?, Are we there yet?"