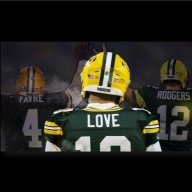 Joined

May 2, 2012
Messages

6,429
Reaction score

1,057
So I posted this in another thread..however hating how threads don't stay on topic, once this is posted I'm going to go delete that post as it isn't truly on target directly with the post. Many folks, especially lately, have been making absolute comments about the Packers inability or incompetence at the higher rounds of the draft over the years.

I'll be honest, I've not always agreed with the players picked myself...I've ate crow many a times, and I've been able to say "I told ya that guy wasn't good"...but ultimately like even the organizations with full time committed scouts, the draft is not a sure thing. There is very RARELY absolute known commodities in the prospects...so how have we done with the top shelf of drafts?

Let's look at purely the first two rounds over the last 10 years:

2020 - Jordan Love & AJ Dillon - both are promising in entirely different ways, one an offensive weapon for the present, the other the future. No verdict can be cast logically either way before neither step foot on a field.

2019 - Rashan Gary, Darnell Savage and Elgton Jenkins - This class has a freak athlete the verdict is still out on learning behind two massive FA success stories (Gary). A safety that quickly proved to be more than capable of being the future back there with Amos and I expect we see more and more of (Savage). Then the CREAM of this draft so far, a Guard that wasn't just one of the best rookies in the NFL, but one of the best guards period last year as a rookie.

2018 - Jaire Alexander and Josh Jackson - One is proving to already be considered one of the best at his position under 25 (Jaire) while the other is still way too young to say bust, but that door option is unlocked and just as likely as not.

2017 - Kevin King and Josh Jones - One is a headcase that proved ability doesn't mean anything sometimes (Jones) and the other when healthy is a SOLID #2 CB in the league.

2016 - Kenny Clark and Jason Spriggs - One is the biggest bust we've had in the last five years draft wise (Spriggs) and the other is arguably the biggest boom pick (Clark).

2015 - Damarious Randall and Quinten Rollins - Both are contributors, just not for us any longer. Average NFL players with shining glimpses...sadly just didn't work out here.

2014 - Ha HA and Davante Adams - Ha Ha is a starter in the NFL and I suspect will be for a time, just wasn't a fit here after a while, or should say wasn't worth the cash he was going to take (also a factor). The other (Adams) would argue as the best player we've drafted the last 10 years in the first two rounds (fight with Kenny Clark atm)

2013 - Datone Jones and Eddie Lacy - One NEVER translated to the NFL (Jones) and the other was AWESOME for us for a very short time (Lacy).

2012 - Nick Perry, Jerel Worthy and Casey Hayward - All three served great for a time. One never grew beyond contributor (Worthy), another was awesome and priced himself out of us (Hayward) and the other if injuries hadn't become an issue I think would still be here; he was a starter out the gate as well many forget (Perry).

2011 - Derek Sherrod and Randall Cobb - One is the epitome of what might of have been stories for Green Bay had the catastrophic injury not happened (Sherrod) and the other was a HUGE part of some near SB runs (Cobb).

2010 - Bryan Bulaga and Mike Neal - One is arguably one of the best Tackles during the past decade and the other served us as a starter four seasons and then gone....

So for argument sake let's throw out three categories SOLID PICKS, BAD PICKS and NOT FAIR TO SAY: If a guy started well for us in that rookie contract or was a solid contributor I don't think you can argue against putting them in a solid picks...I get some will argue against Lacy, but they forget just how awesome he was when he was good for us.

SOLID PICKS: Bulaga, Cobb, Hayward, Perry, Adams, Ha Ha, Lacy, Clark, King, Alexander, Jenkins, Savage

BAD PICKS: Neal, Worthy, Datone Jones, Spriggs, Josh Jones...gonna put Randall and Rollins here as they couldn't consistently hold spots for us, but are NFL guys. Crazy thing is all of these guys except the two Jones I'd argue weren't bad picks persay, but given their high draft profile spots - the "bad pick" label is very much acceptable to argue. Believe 4 of them still are NFL contracted players, which says something.

NOT FAIR TO SAY: Sherrod, Gary, Josh Jackson, Love and Dillon - All but one of these is due to simply not being enough time to see either way.

Incase counting that is 12 Solid, "7" Bad and 5 Not Fair to Say.....in something as unpredictable as the draft, honestly stepping back that's better than even I guess I thought we'd done.


What do you think? Getting 12 solid guys spread over 10 years with 4 current unknowns yet to be determined...is that bad?

I'd argue despite my disagreement in some years, that is a rather impressive amount of solid picks we've had over the years in the first and/or second rounds.

You?