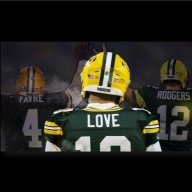 Joined

May 2, 2012
Messages

11,616
Reaction score

3,476
"HATE THAT I LOVE IT"

So I'm pretty firmly entrenched in the camp that our first pick needs to be a offensive lineman or a cornerback. To me those are the two largest and most glaring needs this team has to continue our pursuit of double digit win seasons and ultimately a SB chance.

That said an interesting thing played out which honestly given Gute's willingness to ignore critics, expectations of fans/pundits and to an extent ignore his HoF QB's desires...the following is my latest mock which is fittingly titled "Hate That I Love It"

Watching the CB's he has circled as worth a pick in the first go...and passing on a game changing ILB in Zaven Collins Gute elects to trade back instead. #29 nets us the Chargers #47, #77, #200 we also throw our #174 in to seal getting their 77th and not later 97th pick.

#47 - Azeez Ojulari EDGE 6'3'' 240lbs GEORGIA

The expectation with this trade back was to nab a CB or OL that would still be there while pulling in some awesome capital in the top 100 picks...however when the bell rang for our pick there was a player I've ignored given my focus on OL and CB at the top of the draft (and WR I'll admit). Azeez is a beast and instantly allows IMO this team to enter 2021 without Preston Smith, but also have a guy fully capable of being the #3 in the room behind Z and Gary. He is easily the best of the Edge guys in this draft not from Miami or named Pay or Ossai. Gute grabs the BPA on his board even though sitting right there next to him on mine at least were OTs Radunz and Carman, starting center Creed Humphrey and CB Melifonwu.

#62 - Jay Tufele iDL 6'3" 315lbs USC

You know it, I know it - the league knows we need CB help...and there are some special WR's (Elijah Moore was still there!!!!) available...but for the second pick again Gute stays to his board - which again doesn't draft Melifonwu or Adebo or a Dylan Moses ILB or nab the oft injured but amazing ****erson to replace Linsley. No, instead he nabs to some the best interior defensive lineman of the draft. Tufele to me is arguably the guy with the highest floor in any category you might judge for a iDL. Is he the best in any of them...perhaps not, but you will find no holes in his game and I find it scary what him and Clark might be capable of (not too mention add Keke for pressures...). This pick leaves many fans and pundits alike scratching their heads....we leave the 2nd round behind and still haven't answered the CB need, OL need or nabbed Rodgers a weapon....

****That is when we get the alert the Packers have traded up into the front end of the 2nd round...which is crazy right? We already picked up the #77th pick in that trade back scenario...but we also have seen a small push on CBs happen so perhaps Gute wants to make sure he grabs one of the few remaining guys he sees graded above here??? Or is he going to nab Jabril Cox to change the ILB room...others speculate this is where Elijah Moore's slide finally stops - others yet predict a St. Brown reunion as Amon is going to GB....

#70 - Paulson Adebo CB 6'1'' 190lbs Stanford

I've spoken to Adebo some before....to me he has every tool you'd want an outside corner to have, the question is how much room for growth is left or has he tapped in to nearly all of it? Gute clearly had him circled and we trade away our 3rd rounder in 2022 (comp picks coming will help make this not hurt) plus a 6th (#200) and 7th (#250) to the Eagles whose cap buried team need cheap rookie picks for that roster.

Just a few picks later the draft finally hears the name Elijah called to Green Bay...Aaron Rodgers has his multi-tooled wid.....wait hang on....it isn't Moore.

#77 - Elijah Molden CB 5'10" 191lbs Washington

Just like that Green Bay may very well have built their most dynamic and complete cornerback room they've had in a LONG time (if it pans out as expected). Molden is arguably to some the slotCB1 of this draft, but is rarely outside the Top 3 projected slot guys. He will instantly come in and contribute....BUT....we still have no offensive lineman picked and zero offensive players...somewhere Aaron is pouring a three finger pour....

#92 - Amari Rodgers WR 5'9.5" 211lbs Clemson

Folks we have an offensive weapon...and honestly a pretty dang nice one at that! Amari Rodgers is the type of WR in the slot that I love and is rare. Built like a RB, but has the speed and burst of a WR he is a rare mixture of the two worlds in one body. His route tree will grow and if it does I could easily see him becoming one of the better slots to exist in this draft class by his second contract in the league. Rodgers finishes off that pour from above in celebration.

#135 - Josh Imatorbhebhe WR 6'2" 215lbs Illinois

This dude has the wildcard about him. So insanely gifted physically, may be the biggest "athlete" in this entire WR class, he simply is worth nabbing. Josh is more about 2022 than 2021 IMO...he is the insurance incase we see a 2022 with no Lazard, EQ, MVS and Funchess....Adams is gonna need a guy competing for that other side of the field. If drafted I like him to be fighting for that #4/#5 role in the room with EQ/Funchess and perhaps another unknown presently.

#142 - Trey Sermon RB 6'0'' 213lbs Ohio State

The thing that attracts me to Sermon is he is a physical but bursty type RB. He fears no contact like Dillon, but has the ability to shift it up a gear quicker and faster than Dillon (just not part of his game) Not quite the opposite compliment to Dillon many would hope for, but that is a two-headed beast I wouldn't want to game plan against personally. Three straight weapons selected for the offense...folks are happy but I'm screaming OFFENSIVE LINE!

#178 - Tommy Kraemer iOL 6'6" 319lbs Notre Dame

Tommy is one of my mid rounders that I think could be a VERY solid guard in the league. I have him highlighted in a similar place I had Runyon last year...and he goes about 20 picks higher than Runyon did here. Tommy would allow us to possibly put Jenkins at Center with Runyon and Kraemer on either side....or Jenkins at LT till Bahk is back....Kraemer will succeed at either the first up role or as a starter - despite no doubt having some rookie growing pains.

#215 Drew Dalman iOL 6'3" 286lbs Stanford

Adebo sees a teammate's name called to us and is one a few of us are familiar with. When Linsley's future pretty much became apparent wasn't in Green Bay - many know Hanson was a guy I wanted us to grab last draft and did for development....Dalman is a guy I like as well. While I don't believe he is the answer this year, I see the tools and experience to possibly surprise some folks. A true - blue center adds depth and another body to a fight for a position I have my eye on for 2021.

#221 Landon Young OT 6'7" 305lbs Kentucky

Landon is a guy that wins and delivers blocks because of his motor and meanstreak style more than his technique. IF he ever learned to harness his "pissed off motor" and combined it with some finesse and technique he could easily become a starting lineman in the NFL. He's a wildcard of a pick, but is a guy I will promise you this much - if his name gets called he won't fail because of a lack of effort and most likely could get called for a late block after the whistle LOL Dude is just a nasty lineman that loves to hit.


So there it is...the draft that I hate, but love at the same time...thoughts? I'm going to moving forward post a separate thread as my mocks are conducted - as comments upon old ones end up burying new ones and so on and so forth. Makes it easier.