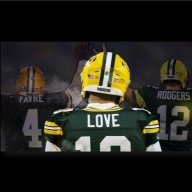 Joined

May 2, 2012
Messages

10,417
Reaction score

2,817
Had a friend, who is a Colts fan actually, immediately ask me what I thought it would take for the Colts to get Gute to come off of Love (under the hypothetical situation they got rid of Wentz...and today they did)...I was quite quick to respond with "I think ceiling is two Day 2 picks of some sort, is what I would take...they just can't catch Gute on a stubborn day."

That said, this mock really isn't anything crazy special, we don't trade back or up...we do however make a trade for Love to the Colts. In my scenario we get a 3rd this year and a 3rd next year. Many will argue it isn't worth it, it's admitting things didn't go as we thought when picking him...yada yada yada. I don't care. At this point we've committed to Rodgers, I say move Love before he is of even less value, the pan is hot this year with poor draft prospects and limited guys on the trade or FA market IMO.

That all said, this draft in some ways fell "great" IMO, but there were some crazy near misses of guys I really wanted to see at certain picks...I'll share those as we go:

First Round Pick #28 - Arnold Ebiketie EDGE/OLB Penn State 6'2' 250lbs

This joker had an AMAZING 2021 season for the Nittany Lions after coming over from Temple (where he was solid but used differently). At Penn State he was a lethal weapon for that stout defense producing 9.5 sacks, 2 FF and over 60 tackles. Production was his name - and personally as much as I was disappointed Boye Mafe went just a few picks earlier, I'm ecstatic to pick a guy I see with a massively high ceiling, but a formidably higher than most floors as well. His first year I can easily see him handling somewhere between 200-300 snaps - often times in passing situations as he works on his strengthening at the next level for edge setting and block shedding. His burst and athleticism is special - I expect more measurements at Pro Day but at combine dude jumped freaking 38 inches (elite level for position) and nearly eleven feet in broad. I expect Preston to still be here, but with an ascending Garvin right now the favorite as our #3 we need someone to come in and steal that from him and Arnold does that instantly.

Second Round Pick #59 - David Bell WR Purdue 6'1' 212lbs

Many are watching Bell drop down boards due to his forty at the combine, 4.65 is not what he wanted, his camp or anyone else. That all said honestly the shuttle and the cone drill were more concerning to me for it wasn't his top end speed that is why he was constantly finding space and being open; it is his route running and body positioning/catch timing even on deep balls. He excels for a college receiver at not educating the defender looking at him as to where or when the ball is coming - remember how there are times Davante's body language doesn't illustrate the ball is coming till it is nearly touching him? Bell isn't that good, but he does this continually. A HIGHLY PRODUCTIVE wide out in college for years at Purdue (even when Rondale Moore was there) Bell is the type of cat I'm going to trust his tape and his productivity and cannot pass on him in the second...if Pickens had fallen I might have picked him instead...but the hardest decision was not going DL or CB given some of the ones that were out there like DL Travis Jones or CB Derion Kendrick....which speaking of....

Third Round Pick #73 - Alontae Taylor CB Tennessee 6'0' 199lbs

Fully admit some would not like this pick, and others will like it but say it is early for him...however he is my highest CB on the board and is higher on overall board than some guys that might shock folks...one being LB Leo Chenal. The first word that comes to mind with Taylor is PRODUCTION. Right out the gate in 2018 as a freshman this dude played and did so well...but most importantly when it came to PDs and coverage responsibilities he seemed to grow every single year...and in 2021 put up 60 tackles, 6 PDs, 1 FF and 2 INTs (one returned for a TD). Athletically he checks all the boxes eclipsing 6 foot for height, his arm length is a full foot longer than Jaire at 32.25, ran a 4.36 forty with a 1.53 10 yard split - and while he won't blow you away with his vertical it is respectable at 34.5 inches. His broad was excellent as well nearly hitting eleven feet....all that makes his RAS nearly 9.8. We have Jaire, Stokes and then essentially no one ready...Alontae brings in a guy that I argue is ready if needed as a teams' #2, but will be blessed to be our #3 and fills a real need in the secondary too good to pass on.

Third Round Pick #92 - Jalen Wydermyer TE Texas A&M 6'4' 255lbs

Jeremy Ruckert went just a few picks earlier at 87 to the Cardinals and I was pissed....but I'll get over it. Wydermyer is right there with Ruckert (albeit behind slightly) as one of the more complete and seemingly high floor type TEs in the draft. He has put up in his three years 6,6 and 4 TDs while averaging right around the 500 yard figure each of those years as well...yes he is only a Junior so young as well. I expect at the A&M Pro Day he will do some testing and illustrate to some how his measureables will be solid. This is a guy that with Tonyan out and Lewis's age can line up in line or be split out which plays to MLF's system and adds a weapon for Rodgers in 2022, SOLID in the redzone.

Fourth Round Pick #130 - Dare Rosenthal OT Kentucky 6'6' 290lbs

Originally at LSU as a starter at times, transferred to Kentucky and instantly started and did awesome in 2021. Originally a DL coming into college, but now is a long athletically built Tackle prospect with a power and edge to blocking through the whistle that few have. He only ran at the combine, but ran a SOLID 4.88 with a very quick for OL 10 yard split. If he does more at his pro day it will just confirm more that this dude is an athletic big man with an immensely high ceiling and could end up being one of the best steals on Day 3 in the draft IMO. He instantly give us SOLID depth incase more injuries befall and could if the team feels really good about Yosh - cause a cap saving post draft cut of Turner even.

Fourth Round Pick #139 - Thomas Booker iDL Stanford 6'3' 301lbs

Booker is one of my favorite Day 2/Day 3 borderline DLs, and yes I have him that high (as I did Rosenthal). Most would argue with me this is early, some picture him as a 6th rounder....I push back on that hard. This dude has simply been a staple and a rock along his teams' front for years. High character locker room leader type that has production to match it. Putting up Great and Elite testing figures (his Shuttle and Cone amongst the BEST) showcased he isn't just a gap plugger but has the quick feet and agility to make chaos happen as well. His floor is high IMO and it will be interesting just how much of his ceiling can be achieved with our coaching staff.

Fifth Round Pick #170 - Jeffrey Gunter EDGE/OLB Coastal Carolina 6'4' 258lbs

This is a guy I'm a bigger fan of than some as well - averaging 5.5 sacks a year and consistently providing solid run support along his edge as well. His measurables offer up the argument he should be able to win multiple ways between his 33 inch arm length to engage and shed with separation or his speed and quick burst (he's a 4.7 type guy with awesome cone and vertical measures). Overall RAS is 9.39 and was an intersection of need and BPA on my board at this spot - Montaric Brown is a guy that was still there which I had rated higher actually but with a CB already added I looked elsewhwere...same for Obinna Eze OT as well whom I had higher but we also already added an OT as well.

Seventh Round Pick #225 - Baylon Spector LB Clemson 6'0' 233lbs

I argue that if Spector was even 6'1' but definitely 6'2' he would be an upper Day 3 pick but his lack of height is concerning to many of just what all he will be able to do at the next level...that said this is another guy that simply flat out produced in college. He is VERY athletic however and the one reason this pick should be embraced is the upgrade he provides to the ST unit if nothing more...but I do feel he can quickly provide help alongside Campbell or Barnes or someone else in 2022 as our ILB#2.

Seventh Round Pick #246 - Ben Brown iOL Ole Miss 6'5' 312lbs

I've touched on him before and he IMO is exactly what I want along my OL depth chart. He has starting ability in his time at essentially every position, has the arm length to offer Tackle snaps but excelled inside in the later part of his college days. In short Ben Brown to me has a real good chance to instantly be the new Lucas Patrick - a versatile and athletic OL with immense positional flexibility.

Honestly, this draft intersected need and BPA for me quite frequently. IMO we leave this draft with upgrades in pivotal spots along our defense and finally adds that WR weapon early many have always looked for.