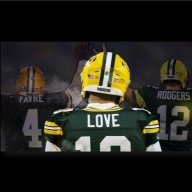 Joined

May 2, 2012
Messages

9,152
Reaction score

2,164
I've shared many times a Packer buddy of mine, much less devoted in researching and such, more of a Sunday passionate fan he says likes to pose discussions or questions to me for us to discuss. The most recent one was "Ty, Gute makes a trade this draft at some point during the first two rounds...give me your most likely scenarios of a trade up and most likely of a trade down..."

So I'll share my top three most likely scenarios we trade up and the three we trade down as I see them and I rank them IMO from order of likelihood if a trade plays out:

#1 - A TRADE UP FOR WR1
One thing Gute has made clear in his time here so far is he isn't afraid of bucking the trends in GB...from the massive FA year that saw us add four starters (Smith, Smith, Amos and Turner) to trading up for a QB when the need didn't indicate...Gute could 100% break the trend in GB for YEARS and not just draft a WR in the first round, but moves up to grab one he and his staff 100% feels is worth the equity to do so. Now I don't believe this trade goes higher up than #15 (Eagles). To me the Eagles who hold the 15th, 16th and 19th are the perfect trade partner for this move but I'm not going to predict a partner outside of the just saying the scenario is we move up to grab a WR. Personally I think if we do this move it will be after the first WR is chosen and Gute immediately starts measuring and discussing trades IF "player x" is still there we want your pick type deal. I think IF Gute goes up to grab a WR it is for Drake London but could see any of the concensus top guys Olave, Wilson, Williams and Burks being his guy too.

#2 - A TRADE BACK OFF OF #22 BECAUSE A QB HUNGRY TEAM FEELS THEY HAVE TO
Similar to how GB moved up to grab Love, this is a scenario where a team like the Colts, the Lions (less likely given division) or the Falcons in a limited QB pool see "their guy" however get past the Saints and start thinking of a move, they see the Packers setting on two first rounders and give Gute what he wants to come off the pick. Again not making this a part of the prediction but I think the Colts are the leading candidate here as they have the 42nd pick this year, that 3rd that could become a 2nd in the Wentz trade next year and enough other picks this year or next and a roster that is already good to be a QB away from catching fire and making this move worth it.

#3 - A TRADE BACK OFF OF #28 BECAUSE TOP SHELF VALUE AT SPOTS OF NEED ARE GONE
This is a scenario where Gute got "his guy" at either DL or WR and never could go get the "guy" at the other position before his pick at 28 came on the clock. He is sitting there with no WR he has a first round grade on or on his board above others there that aren't close to being necessary...same as DL....so he looks for a guy that fell farther than he should that maybe he had as a top 15 or top 20 guy and either there isn't one or it is a position of need for the team that just called his phone. Gute cashes in the pick and gets in return two additional top 100 picks and maybe a Day 3 even as well...Knowing tremendous value is there for the taking in Day 2 Gute now hits it with perhaps as many as 5 picks and TONS of room for movement again if needed.

#4 - A TRADE UP FOR EITHER JORDAN DAVIS OR DEVONTE WYATT
Kenny Clark is our only STUD, Lowry has been solid but nothing special...Keke is gone, the Lancaster experiment appears over and we have Slaton and Heflin now as #3 and #4...massive help is needed. Gute in a swing similar to the WR makes the exact same type of trade up (#15 or so back) to grab not a WR, but a DL named Davis or Wyatt....because they ARE THAT DANG GOOD.

#5 - A TRADE UP FOR A WR RIGHT AT THE BEGINNING OF DAY 2 AFTER NO WRs ON DAY 1
Gute shocks the entire state of Wisconsin...pissing off Green Bay fans everywhere (not all, but many) by NOT picking a WR on Day 1 of the draft for whatever reason (maybe no trades could be had, maybe no one was there he rated high enough to justify...or other guys that he felt shouldn't have fell did and couldn't be ignored). Either way, he's setting there on the evening of Day 1 calling GMs trying to get back up to the next handful of picks should "player x" be there and I predict this scenario only happens for a WR.

#6 - A TRADE UP TO THE MIDDLE OF ROUND 2 TO SWING AT THE TOP SHELF OF THAT SECOND TIER OF DEFENSIVE LINEMAN
Wyatt, Davis (maybe Winfrey or Leal) are the top tier of DL....here Gute has a favorite in that second wave he feels is worth trading up to get once about pick 45 has happened and he sees his next guy still there...

If you were going to predict the most likely trades in the parameters provided, is there one you would add?