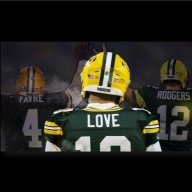 Joined

May 2, 2012
Messages

10,423
Reaction score

2,823
Just for fun since Steelers have reportedly provided Rodger's camp what they could do while he debates....

Details of the deal of course don't need fleshed out but we do get their 20th overall and their 52nd overall picks in this year's draft for sure.

**not even two hours after posting this hypothetical longshot became even less likely...still a fun exercise nontheless.

First Round Pick #20 - George Karlaftis DE/EDGE out of Purdue 6'4' 266lbs

The trade back options were healthy here and thought long and hard as I eyed Wyatt who was still there, and Zion Johnson iOL (instant starting guard) to name a few...but Karlaftis to me is too good to ignore. He can dip down inside without missing a beat, has the strength and skillset to win and pressure both as an outside OLB or down and it is that ability that attracts me immensely as Green Bay slides into the Love era - we will need a deadly and versatile defense early in this era. He is a Day 1 starter level player IMO, it would just be interesting to see how Barry uses him.

First Round Pick #28 - Perrion Winfrey iDL out of Oklahoma 6'4' 290lbs

This pick was tough for me as numerous guys I like are on the board but true first round graded guys at this point are tough to justify, but with no trade offers I liked and didn't want to manifest one myself unrealistically I went with a guy yet again to build up the front 7 and at a position of greater value than most; not too mention providing Kenny Clark again much need help as we saw Keke leave and Lancaster most likely done. Perrion is a beast, and is IMO the 3rd best true iDL in the draft. A JUCO transfer who excelled at Oklahoma once he earned his time and this last year even put up 5.5 sacks with multiple pressures and illustrated time and time again an ability to beat OL with his quick burst and versatility as Oklahoma moved him everywhere up front. Not a ton of fans might like following up the Karlaftis pick with Winfrey - not a **** pick - but I guarantee you MLF, Barry, Gute and Kenny Clark will all be smiling on this one.

*TRADE UP* Second Round Pick #36 - Christian Watson WR out of North Dakota State 6'4' 208lbs

Gute has constantly said he has his eyes on WRs in first and beginning of second days of the draft - even a few suspected trade attempts have fallen through for some. He watches and sees Watson still there as Day 2 starts and springs on the NY Giants pick, who already has two top 10 picks and gets solid draft capital back in the form of our #52 (Pittsburgh pick) #225 in the 7th and a 2022 3rd rounder (either ours or maybe one picked up in the Pitts trade) - in return we get this pick and their 6th rounder Pick #180.

Watson is an insanely gifted athlete in his raw skills which many christen "uncoachable" the dude was one of the biggest WRs at the combine yet put up a 4.36 forty, freaking set the mark on broad jump and hit 38.5 inch vertical. Many would label this a high ceiling type pick or a project...I think some might be very shocked at how well this young man might come in and put up respectable numbers for his team in year one...especially in a MLF system.

Second Round Pick #59 - Nik Bonitto EDGE out of Oklahoma 6'3' 248lbs

Some reported he needed to balk up some on his frame (reported as low as 230 in season) and he did just that and came in at 248lbs at the combine, and you truly didn't notice it. An athletic edge guy that is gifted with the ability to drop into coverage seamlessly, tackles in the open field very well...and showcases a solid tool-bag for getting to the quarterback (15.5 sackes over his final two seasons). Initially a guy I had circled as a 3rd rounder and boarder line top 85 or so prospect, the more I watch and look into the more and more this guy continued to creep and push his way up. As a testament to this in this mock I even selected him over Kingsley Enagbare who was still there....a gifted powerful edge rusher, but there is something about the fact Bonitto seems to be a 7 out of 10 across the board of skills (Kingsley has some 8s and 9s) with room to grow still. I just see him projecting as an extremely well rounded Edge for years to come.

Third Round Pick #92 - Jeremy Ruckert TE out of Ohio State 6'5'' 250lbs

There were some excellent LB options here, but IMO Ruckert is one of the most complete TEs ready to go in the draft, albeit perhaps at the cost slightly of a lower ceiling than others. We get a TE that is a more than willing blocker who helped clear lanes for years at Ohio State AND was a MEGA Red Zone threat....his receptions to TDs in his career is an astounding 54 receptions and 12 touchdowns....crazy.

Fourth Round Pick #130 - Matt Waletzko OT out of North Dakota 6'7' 312lbs with freaking 36.125 arm measurement.

This prospect from a small school at North Dakota explodes off the chart for measurables and illustrated awesome quickness running elite speeds with his 10 yard split, and explosiveness is seen on tape but captured with a 30inch vertical and a freaking LONG broad jump that was smooth for a big man at 9 feet 5 inches (5th best among all OL tested at combine). Whether we need him year 1 to start at tackle isn't the issue - with Turner maybe cut this year for cap costs, or after this season when his contract ends Matt instantly provides Yosh with competition for RT, and would become the new Yosh in that case as first tackle up depth wise. Immense frame, long arms and his quickness just cannot be taught...our OL room gets a lot better and it's potential elevates with Matt added to the room.

Fourth Round Pick #139 - D'Marco Jackson LB out of Appalachian State 6'1' 233lbs

I'm assuming Barnes at minimum is back, Campbell in the scenario of no Rodgers isn't without possibility of signing as well...but D'Marco projects as a side line to side line LB that has the speed (4.55) but also the short distance speed (1.61 10 yard split) to cover ground and eat up ball carriers or cover the flats. At App State he was an excellent play recognizing LB that quickly attacks the play and would stuff runs often....even illustrates skills and chops at rushing the passer as well. While his 233 pounds might seem light, he is on the shorter side so that is a SOLID frame and is more than willing to bang in the trenches to make plays.

Fifth Round Pick #170 - Montaric Brown CB out of Arkansas 6'0' 196lbs

Isn't the fastest in the forty type guy but his 10 yard split was above average and over the past two seasons was a LOCK down consistent tackling cornerback for the razorbacks. I love his projections and really want to see how he does in the slot, despite not having a ton of experience in there. He was a ball hawking playmaker this last season with 5 INTs in 2021 alone. I see a very sufficient floor type guy with not a lot of unknowns outside of just how much will he grow - good news is with Stokes and Jaire ahead of him it will not be a sink or swim scenario hopefully and as he grows his snaps will increase - he will also most likely be an excellent addition to STs.

Sixth Round Pick #180 (in giants trade) Nick Grant S out of Virginia 6'0' 191lbs

Grant is a Safety that doesn't seem to have any bigtime highlight plays, but that is primarily because of how efficiently he has played the position and smart IMO. His speed isn't ELITE level but he uses it well, he is a surefire tackler it seems and despite not having incredible ball skills (only four INTs his entire college career) he did put up 9 PDs last year and his attacking nature created two FF as well in 2021. He is the epitome of that late rounder that has the chance to excel, but worst case you expect to get solid rookie contract depth and ST play that will help the team with a pick like him.

Seventh Round Pick #246 Ty Fryfogle WR out of Indiana 6'1' 205lbs

Fryfogle came on BIG TIME in 2020 and won the Big Ten Receiver of the year award even...but 2021 dipped production for yards and touchdowns (both were less than even his 2019 season). Now how much of this was the fact IU was 0-9 in conference games and only won 2 games all year...that is up for debate. The truth is though Fryfogle has produced at a "sub-par" type school for multiple years just didn't stack another year of growth like he had 2018 to 2019 and to 2020...but his measurables are impressive, he is QUICK and I think with time his routes should get better due to his quick twitch and acceleration being a weapon in his routes. He is a late round flyer that has an outside chance to contribute in small ways at the next level for certain. I never see him competing for a starting position, but a role receiver depth type guy I could see him fighting to become.
Last edited: