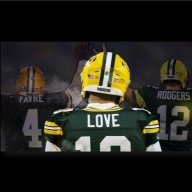 Joined

May 2, 2012
Messages

10,041
Reaction score

2,593
Not wanting to bog down any one single thread with my long winded narrative of the current situation...I will place it here instead.

Either Way, GO PACK GO!

I apologize in advance if this is too sappy or in some respects too emotional for some, but honestly I've been putting a ton of thought and reflection into this entire decision far more than any fan should. None of us are tasked with making the actual decision, our thoughts and our opinions do not actually influence or impact anything to do with the franchise. Yet, when you have such a deep rooted passion for something it finds a way to consume your mind.

I cannot imagine being in the shoes of Rodgers or the decision makers in GB. The last 10 years have been perhaps the best definition of a double edged sword. Look at one side and that blade is pristine, clean and razor sharp. Success can be found in many places during those years.

The NFC North crown has been won by the Packers 7 of those years.
The organization has been to five NFC championship games in that stretch, more than any other team in that time.
The Packers have been an astounding 131-45-1 in the regular season in that stretch, that's winning 88% of the time we've cheered on the victor during the season - INCREDIBLE.
The league's most valuable player was found on our team 4, soon to be 5 most likely, of those 10 years!
We've seen one of the best starts an NFL coach has had in the history of the entire NFL...

Put simply this team has seen a ton of success, wins and victories in that time.

However, flip that blade over and we haven't been without crushing failures as well.

2011 season after nearly going undefeated - we just get throttled on our home turf by the Giants...
2012 we watch the Colin Kaepernick coming out party at Candlestick and the end to our season in a big fashion...
2013 season we get to host on our turf for redemption Kaep and the Niners...only to fall short on a last minute field goal (foreshadowing the future)...
2014 season we watched a team literally gift the NFC Championship Seahawks the win in OT that just minutes early was firmly in our grasp...that onside kick failure...
2015 season we accept defeat only to watch the miracle to Janis force another OT - which ends no different than the year prior, defeat...
2016 season we get on roll and finally after FIVE failed runs make it back to the NFC Championship game....only to get decimated by the dirty birds of Atlanta...
2019 season we watch a new era (MLF) start and quickly force our way back into the ELITE - and a 3rd chance at redemption with the Niners...and lose again in the NFCCG...
2020 season we watch yet again a team that assuredly is heading back to the SB, the ultimate game...yet again Lambeau field watches us unravel and lose to the Buccs...
2021 season...the curse is for sure on its way to being broken, our defense is solid and our QB is focused more than ever...and like 2013 we watch unable to feel as a field goal is kicked to win it for the Niners yet again.

After all that many would simply say we are cursed. A team unable to actually pull through when all the chips are on the table and backs against the wall. Many would say we have been imposters in a way, never as good as we seemed to be...and with each year it seems more of our fan base believe that sentiment. With each year it confirming that no matter what we overcome, no matter what our team delivered during the regular season, in the end we were still the Packers everyone had grown to know; losers in the playoffs.

That double edged sword has cut both ways, but it seems that one side has cut a little deeper and a little more each year. Some would say that the time is now to usher in a new era...I mean fool me once, shame on you. Fool me twice, shame on me, so what does fool me nine times mean?

Others would say that surely at some point the wall we've been banging our head against will crumble and it will be all the sweeter when finally accomplished with the one that has been with us through all the failure!

Honestly, I think it is ignorant to believe we know the right answer. There is no simple and clear path to choose, yes failure has been seen time and time again so there is merit in seeking a change even if there is just more failure that comes, BUT I also find nowhere in my life where I would give up after going through so much. I live personally with a belief system structured around someone that despite my failings each and every single day pours out on me a grace which I cannot properly describe. So it is extremely difficult for me to 'abandon' one which has been through so much "with me", since doing so almost seems hypocritical of my core values. Rodgers has literally bled in the pursuit of reclaiming the ultimate goal of the entire franchise. We've watched him hobble through injuries some would say he shouldn't have played through. We've seen him sacrifice his body so that "we" might have a shot at watching him and his brothers on that field achieve glory.

So how do you reconcile it all? Personally I've flip flopped more about this than Favre ever did about retiring. I've said numerous times I despise the arrogant aura of the man, and it would be refreshing to not have that be a trait of the man leading our team (please do not construe this as saying he is a bad man, not what I'm saying)...BUT I truly believe that same man, spins the football better than anyone ever has, and until proven otherwise, ever will. He is not just a good QB. He isn't even a great QB. He is a rare QB, the type that don't come along often - the type that only the Patriots, the Colts, the Niners to name a few that got to watch young wide-eyed draftee become a generational type talent behind center.

The one common trait recently of these rare QBs has been they don't always stick around forever. Montana didn't always play for the Niners...Manning wasn't always a Colt...and Brady of course no longer a Patriot. If time has taught us anything in life it is that it catches up eventually in all things and it doesn't promise that it will happen in a way we all envision or would embrace. Rarely does the fairy tale ending happen with confetti falling down around the player as they lift up the Lombardi trophy as their final act in the game they have given so much to and with the franchise they grew up with. No, sometimes a franchise's last act of gratitude has actually been letting the player go, realizing that the amazing road they have been on together has nowhere left to go.

Perhaps that is where we are in Green Bay...maybe the best thing and arguably the right thing to do, if we want to thank Aaron Rodgers for all he has done, is let him go. Give him a chance to do something we've proven unable to do for ten years now. That wouldn't be admitting defeat. That wouldn't be blaming anyone. That Packer nation, would be a final act of gratitude for all the memories on the good side of that sword; for as months turn to years and we have all added (or lost) a few more grey hairs, it is the successes which are remembered far more than the failures.

Or...

Maybe that wall really is crumbling finally. Lord knows we have rammed into it so many times, that the chunks knocked out of it leave it ready to fall...just like the confetti, as the Lombardi is hoisted yet again once we break through – with that same California kid from Chico that has been through it all as one of us.

Either way, I'm ready.
Either way, I'm thankful.
Either way, GO PACK GO!
Last edited: