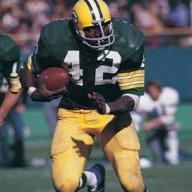 Joined

Jan 21, 2017
Messages

11,549
Reaction score

2,467
Seeing the names that are being thrown around as coaching candidates right now has reinforced something I've been thinking for a while.
The NFL coordinators who currently seem to stand the best chance of landing a HC gig are:
Robert Saleh, DC
Eric Bieniemy, OC
Arthur Smith, OC
Brian Daboll, OC
2020 Hires:
Kevin Stefanski, OC
Joe Judge, STC
2019 Hires:
Matt LaFleur, OC
Vic Fangio, DC
Brian Flores, DC
Freddie Kitchens, OC
2018 Hires:
Pat Shurmur, OC
Matt Patricia, DC
Steve Wilks, DC
Mike Vrabel, DC
Frank *****, OC
Matt Nagy, OC
2017 Hires:
Vance Joseph, DC
Sean McDermott, DC
Sean McVay, OC
Anthony Lynn, OC
2016 Hires:
Doug Pederson, OC
Adam Gase, OC
Dirk Koetter, OC
Hue Jackson, OC
Ben McAdoo, OC
So in the last five years, of the 21 coordinators who have become head coaches, 13 were offensive coordinators, 7 were defensive coordinators, and 1 was a special teams coordinator. And now three of the four strongest candidates are offensive guys as well.
Offensive coaches are just in higher demand. This makes sense. The best avenue to sustained success in the NFL is on the offensive side of the ball. Strong offense and good QB play are much more stable, year over year, than defensive success.
This increased demand for offensive guys means that even if you find a great defensive head coach, that guy's OC position is either going to suck or be a revolving door.
For instance, Vrabel is about to hire his 3rd OC heading into his fourth season.
McDermott hired Roman, fired Roman, promoted Lynn, lost Lynn, hired Daboll, and is now about to lose Daboll.
And then there are guys who have struggled to even find OC's that they want to keep, let alone who other teams see as HC material (e.g. Patricia in DET, Carroll, Fangio, etc.).
Because OC's are in higher demand for HC jobs, there are just fewer of them available for coordinator jobs, and it's harder to keep them. Great DC's will get jobs too, no doubt, but at a lower rate. And of course, the opposite is true-- with fewer getting HC jobs, there are more available to be coordinators.