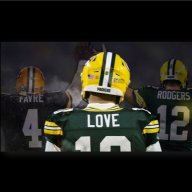 Joined

May 2, 2012
Messages

12,929
Reaction score

4,328
Most will say a true grading and reflection on a draft class cannot happen till three years have passed and majority of the group is entering their potentially final year of their rookie deal (excluding any 5th year first round options picked up).

Here we are now getting set to start the fourth season for our 2019 draft class - I'll attempt to summarize and provide a letter grading. Brief explanation of my grading, I only reserve or believe in providing a pick an F grade if it in every way possible was a bad pick due to no need, no production, and I personally felt it was a wasted pick at the position in the draft; so even say a Josh Jackson type pick that never panned out the lowest I'd go is D or so because many at the time thought he had NFL potential and at worst case was a teams' CB2 - CB4 on their depth chart for awhile.

That said here is the 2019 draft class and grades so far in my opinion:

Pick #12 - Rashan Gary
When it comes to judging this pick in the moment, many felt it wasn't appropriate given we had zero need at the position. Fackrell had just had a breakout year in production, Preston and Zadarius Smith were added quickly in the offseason...and any rookie OLB was at most battling for the #4 spot most likely. However, this incredible athletic OLB was chosen and especially over the last season and a half has illustrated IMMENSE ability to put pressure on opposing QBs and offensive playcallers. His 2021 campaign was a near 90.0 rating on PFF which is insane (was 89.3) with tons of pressures, 28 QB hits and 9.5 Sacks.

Yes normally you want a first rounder to be your starter sooner than Gary did, but you also cannot place fault on a GM if they had a guy that in their mind was too good to pass up adding him to a roster which simply doesn't allow immediate starting level snaps.

In the end it appears we hit a home run with Gary here, can it be classified as like a grand slam (A+) given all things considered arguably not - but IMO anything less than an A grade on Gary is foolishness.
Grade: A

Pick #21 - Darnell Savage
Darnell came in and essentially was a starter his entire time here except for when missing due to injuries. Starting 46 games out of a possible 49 regular season games he checks the box of immediate contributor/starter for a first rounder as you usually hope with them. While his second year was definitely an improvement it seemed over his rookie year, his progressions simply hasn't seemed present each season (his second to third) with last season just not being good in many ways arguably - his PFF grades just for reference sake were 67.1 (2019) then 75.3 (2020) then 59.7 (2021). Now I tend to believe there is more there than his struggles in 2021 show, and he will bounce back in now second year with Barry and his defense.

He showcased what he can be in 2020, and if he gets back to more of that he truly is a first round worthy pick from a production for his team perspective. He is however still a starting safety here in Green Bay and has been since coming...and that means something for a pick, however he cannot be an A grade at this time for me personally - however he could change that with a 2022 that mirrors or tops 2020.

Grade: B+

Pick #44 - Elgton Jenkins
I won't waste words here. From a expectations, pick position and production since drafted - Jenkins was a Grand Slam that scored 5 runs IMO. I've said it before and I'll say it again he is our best Offensive Lineman in GB, and I pray he still is when he comes back from injury.

Grade: A+

Pick #75 - Jace Sternberger
Man...the pick that might have been. At the moment of the pick it made a lot of sense from a what he had done and what he might be or projected to be at the NFL level. Very productive college TE (however only one year) that seemed promising. I'll be honest however after posting only a 5.2 RAS and his limited year at A&M of production - I personally had him as a Day 3 candidate and felt the 3rd was not right....however as most know the draft is never a guarantee type thing - this sadly just didn't pan out and he was only here for two years and since has not been active for any regular season games and constantly is fighting to retain PS status elsewhere.

Grade: D+

Pick #150 - Kingsley Keke
Man how I appreciated this pick when it happened and throughout his time here until the weird departure last season. As a 5th round pick you rarely expect much early and if at all ever. He saw play his rookie year but it was year two where his role player (44% of snaps) really saw an uptick and the pressure he was able to create from the inside held a lot of promise...2021 saw him on pace for a record number of snaps and still despite only being here 12 games saw 51% of the total snaps AND started 17 games for us over the two final years here.

While a LOT of rumors and such swirl around what precisely caused the issues here and then even to be released again elsewhere is one thing. What he was, was a 5th rounder that was working into a role as a starter at times and possibly full time of the future...not a whole lot more you can ask for a 5th rounder honestly - but his leaving takes this pick down from A range for me to B+.

Grade: B+

Pick #185 - Ka'dar Hollman
6th rounder that surprisingly made a decent number of appearances in the 2020 campaign for us (108 snaps) and one start. He allowed 6 receptions on 14 targets and recorded 7 tackles in that limited time. However, he never earned a spot back after that season and is no longer in the league best I could find. A guy with the size and apparently athleticism was 100% worth the gamble of a late round flyer, and turned out about like you suspect despite wishing maybe he at minimum provided depth through his rookie contract...which is what brings him from a C down a tick for me.

Grade: C-

Pick 194 - Dexter Williams
I LOVED this pick at the time and warned people if he can actually apply himself and learn the playbook he could be an absolute steal late...or could not even make the roster. Showcased enough to be kept around for a couple years but never clicked if you will and is battling elsewhere for a roster spot. He is the definition of a Day 3 worthy pick that odds are may not pan out and he didn't...

Grade: C-

Pick 226 - Ty Summers
A guy that most wrote off as probably a PS guy first season, made the 53 and logged 16 active games - being part of 73% of the ST snaps that season (76% both of the last two as well). 2020 he was asked to do more than ST play, and posted 39 tackles, a PD and one start for us. Far from a starter, or a guy you want to have to rely on for defensive snaps - he has done fair well on ST's and in a pinch served for snaps defensively. For a 7th rounder that is excellent - despite him as a LB not being excellent of course.

Grade: C+...valid counterpoints do justify Summers being elevated to a B- given his time on the roster and most likely may see the entirety of his rookie deal is a successful thing for any 7th rounder.


What do you got?
Last edited: