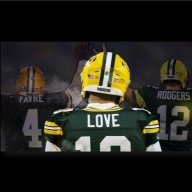 Joined

May 2, 2012
Messages

10,960
Reaction score

3,094
Okay, so we all know we gotta have a CB and a ILB, and some DL help would be awesome...no doubt some depth help at TE and OL as well. I decided to put a list together of 5 or so players at each position of "need" that I feel we NEED to leave the draft for me to not have some justification for worry.
-------------------------------------------
CB's
- We must get a CB, it all hinges on who is available and how strongly TT and company have faith in someone in house taking over the starting role as to whether we spend our first pick on one or not. I am not going to list Trae Waynes on this list because in all honesty EVERYONE expects he'll be gone well before our first pick and we are doubtful for a trade forward to grab him. Outside of him I want to see us get one of the following:
Kevin Johnson, CB, Wake Forest
Height: 6-0. Weight: 188.
40 Time: 4.52.
Labeled with the only issue of being too light by many scouts has many teams looking his way...I have a hunch he'll be gone by our first pick, but if there I think it could be tough for TT to go ILB even if both Kendrick and Anthony are available. Johnson has the size, the speed and the character it would seem of someone GB would embrace.
Byron Jones, CB/S, Connecticut
Height: 6-1. Weight: 196.
40 Time: 4.35.
Perhaps my "guilty favorite of the bunch" is Jones. His 40 time (4.35), his vertical jump of 44.5 inches and the fact he played safety prior to switching to CB intrigues me and his versatility is something I bet GB would covet. Little rawer talent than Johnson but dude has a huge upside that I know I personally would have a hard time to resist. Projected to be late 1st early 2nd...I could see him as a possible with our first pick or even if we trade back depending how things go be the player we pick up with that acquired trade pick assuming it is a second pick.
Jalen Collins*, CB, LSU
Height: 6-1. Weight: 203.
40 Time: 4.48.
While Jones is my "guilty favorite" Collins is in my opinion the safest favorite of all of them outside of Trae. Dude has height, weight to hit people, speed, and a solid vertical....not too mention experience playing in a tough tough SEC division. If I wanted a CB and him and Jones were both available....I do feel he's the safer bet, as I feel we know more of what we get with Collins than Jones. Some say he'll go first round...others 2nd. He's a guy that TT could want but have him disappear at any minute with picks in front of us.
Ronald Darby*, CB, Florida State
Height: 5-11. Weight: 193.
40 Time: 4.38.
Darby honestly just lacks size...yet GB has had decent luck with sub 6 foot CBs that have speed, something Darby definitely has. His relations with Winston and witness to some of the allegations on Winston raise character flags I personally can't avoid. If any of the others listed and even some lower on the rankings are there I would opt to not pick him....despite his potential and athleticism obviously being there.
Marcus Peters*, CB, Washington
Height: 6-0. Weight: 197.
40 Time: 4.53.
Peters has begun to show more and more as a potential pick of ours in the 2nd...however rumor has it more and more teams are liking what they see in the Washington prospect. Having all the measurables, save perhaps just a touch more average straight line speed...the only question on him is character. Sources and Peters claim he's cleaned all that up, but I feel our potential of drafting him lies solely on interviews and feelings he gave our scouts and TT as a man more than a football player...anytime you get kicked off a team due diligence must happen.
Eric Rowe, CB/S, Utah
Height: 6-1. Weight: 205.
40 Time: 4.45.
Projected Round (2015): 2-3.
I am a big fan of Rowe, but not with our first pick...what little film I've seen seems good and forecast is good. Another versatile DB which could shift between Safety or CB...perhaps not an outside CB stud right away but his inside/nickle ability I think could be very good. If TT and company truly feel Hayward or Goodson are the answer on the outside I could easily see them seeking to get a guy like Rowe in the late 2nd to 4th depending on how it goes and being very content with that.
There are some others but those are my short list of a group I'd like to see one out of them taken if it falls accordingly....I do have some sleepers but for length let's move along.
-----------------------------------------
ILB
- Everyone knows we will take one the question isn't if it is when and which one. I see it as a 5 horse race....2 clear frontmen and then the other 3:
Eric Kendricks, ILB/OLB, UCLA
Height: 6-0. Weight: 232.
40 Time: 4.61.
Dawson may be my personal favorite, but this guy is the best fit and need filler for our team. We need a 3 down, coverage capable guy and Kendricks is the only sure fire no doubter for a 3 down backer.
Stephone Anthony, ILB, Clemson
Height: 6-2. Weight: 243.
Projected 40 Time: 4.56.
Out of the obvious 3 Down backer in Kendricks, Anthony holds the most potential in his skillset to also be a 3 down backer...If Kendricks is gone, Anthony is the best fit.
Paul Dawson, ILB, TCU
Height: 6-0. Weight: 235.
Projected 40 Time: 4.93.
I've not be bashful about my love for Dawson. I love his motor and his football skills. Dude has the desire and want to be a 3 down backer I just don't see him capable of such, at least not right away and possibly ever. He's my favorite but I wouldn't pick him unless the other 2 are gone.
Benardrick McKinney*, ILB/OLB, Mississippi State
Height: 6-4. Weight: 246.
40 Time: 4.66.
He's good, actually great at what he does and if drafted will most likely be on our team for a long time...however he is another backer just like Sam Barrington....if possible we don't need a run stuffing 2 down backer...I'd take him but not if the top two are there.
Denzel Perryman, ILB, Miami
Height: 5-10. Weight: 242.
40 Time: 4.78
*See write up under McKinney
**Keep an eye on Hayes Pullard...he holds the potential to surprise people and could be available some say as late as the 5th.
--------------------------------------------------
TE
- It's a need yes, but not a desperate one to me personally. If we leave the draft with any of the following (5 for length's sake) I'm a happy man....I don't see us getting the Maxx kid.
Clive Walford, TE, Miami
Nick O'Leary, TE, Florida State
Blake Bell, TE, Oklahoma
Wes Saxton, TE, South Alabama
Ben Koyack, TE, Notre Dame