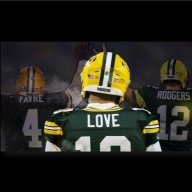 Joined

May 2, 2012
Messages

8,986
Reaction score

2,103
Looking back at the 2019 draft and the 2021 Green Bay Roster might lead someone to wonder, just how did Yosh Nijman go undrafted...and dig deeper and that question only gets bigger?
I mean here is a giant of a man, with two years starting blindside experience (32 total while at Virginia Tech) - minimal injury history and an off the chart RAS score. His measurables were:
6'7'
314 lbs
34.125 inch arms
10.125 inch hands
An ELITE 9.8 RAS SCORE
4.88 Forty Yard Dash
30.5 Vert
906 broad
4.5 shuttle...folks this is insane for his size
Those measurables + his experience in D1 alone would almost always assure someone a draft spot on Day 3 WORST CASE. Perhaps someday we will hear the story of Yosh from the perspective of Gute and others upon realizing he was out there in the UDFA pool. Now remember we weren't desperate for any real help along the OL, and what we did need I'm sure in house they felt picking Elgton Jenkins in the Second Round of 2019 did just that....but Yosh projected as someone worth trying to get in house.
THE ANSWER
Fast forward three years and here we are watching Yosh playing 157 of the 176 possible snaps at left tackle in the pre-season and seeing his name on the starting lineup due to injuries for the 2021 season. As I type this it is claimed by PFF that one Yosh's 474 offensive snaps this year, he has allowed a mere 3 sacks and only committed 3 penalties. His overall grade: 64.2. For a little reference, Elgton Jenkins in 2020 regular season graded out at 67.7...so while it is a far cry from Bakhtiari's normal 80+ grading, Yosh answered arguably the biggest call Green Bay had to place this year to one single player.
THE QUESTION
With games yet to be played and no doubt more snaps to occur, everyone would much prefer to focus on the pursuit of the highest goal: a super bowl. However, no doubt in the back of many minds is just how and what does Yosh represent for the future and how does it play out in post season decisions? With his level of play there is little doubt that if the tender placed on him is not high enough, a man of his stature with now the experiences he has put on tape at LT - will draw attention from other teams. So while it isn't a question anyone needs to worry about now...the question still remains: What to do or offer/tender Yosh Nijman for upon this year's end?
In the end it all can wait for another day to decide, we've got a game on February 13th to fight to get to...for now let's just appreciate a man that is and has played a massive part in somehow getting us to where we are. A man no one expected or if we are honest wanted to see have to play a ton...yet here we are.
You must be logged in to see this image or video!
(Picture from Dairyland Express)
Last edited: